Do you want to automate your social media account, but Massplanner is no longer available? Then look no more, and read our article to know reliable alternatives that offer the same services as Massplanner.
Automating social media tasks has become so easy. There are many tools that can help you auto-pilot all Instagram tasks and save time. These include scheduling posts, automating likes, followers, and unfollowing. Thanks to MassPlanner. It helped marketers achieve their goals. However, it was shut down, leaving most people in total darkness.
But, that is not the end of automating social media accounts. There are other social media automation tools with more advanced features. So in this article, we will be highlighting the best MassPlanner alternatives in detail. However, let us know why this MassPlanner was shut down.
---
MassPlanner Review
Massplanner was a perfect social media management software. It was ideal working on Facebook, Instagram, and other platforms. Most people used to gain followers, engagement, and subscribers. And in the long run, many of them made a good revenue using monthly subscriptions.
Massplanner was able to help marketers reach their natural market. The tool worked across many social media platforms. This software comes with many advanced features for managing your account. On Instagram, it could automate following, unfollowing, and commenting. The same applies to Twitter, Facebook, Pinterest, and LinkedIn platforms.
It offered various customization features to input your details, instantly boosting engagement. It was the easiest way of building the audience base with an easy setup. It was reliable and saved time for posting manually, pinning, tweeting, and many other tasks in its days. It offered 5 days free trial, which users could test before subscribing. Anyone could use this tool to create brand awareness, evade manual tasks, create audience interaction, and do other things. But why was it shut down?
A good question, you might ask. This management software got a discontinuation letter from Instagram requesting them to cease its operation. Since Instagram is the leading social media platform, it managed to shut down MassPlanner.
This was a tool primarily for black hat marketers. Meaning, it offered fake engagement and spam activities, which lowered Instagram servers. So Instagram could not take the pressure and ended it forever. For that reason, many people are looking for the best alternatives to MassPlanner on the market. Let's dive deeper into that now.
---
Best MassPlanner Alternatives
MassPlanner was shut down, and Instagram automation still must continue. The anti-spam software has become strict and is working even more competently. However, you must be careful when selecting an automation tool to grow your social media account. Below are our best alternatives to the MassPlanner management software.
---
There is no significant difference between MassPlanner and Jarvee. Jarvee has a simple user interface and works with the same functionality. We are inclined to believe that Jarvee is a skimmed version of the MassPlanner tool. Like the developers are the same. Though we cannot confirm that, Jarvee is the best alternative to MassPlanner. It is effective in social media management. It does automate not only Instagram but also other social media accounts.
Jarvee is also effective in scheduling posts, increasing followers based on the niche, liking, and commenting. It can also unfollow the audience. All these activities are automated, among other features. When you compare Jarvee with other tools on the market, you will find that Jarvee is a bit expensive.
It comes with downloadable files which are easy, secure, and reliable. Though not beginner-friendly, it still offers excellent customer support to help you set up. It guarantees rapid growth on all social media accounts, generates traffic, and increases your leads through a social media marketing strategy.
---
socinator is a social media automation tool. It supports almost all social media platforms from Instagram, Facebook, Quora, Pinterest, Reddit, and Twitter. This tool can manage accounts and grow them safely and organically.
Socinator lets users auto-publish content and schedule the posts on different networks simultaneously. You can also use this tool to curate content by importing from RSS feeds and monitoring folders. Thus, this is the best auto-post scheduler tool on the market.
Besides automation, socinator also comes with powers like auto-shortening a URL, submitting captcha verification, and offering a detailed analytic report for every automated task. It also provides growth metrics and embedded browsers for each network. It can help you grow your Instagram account 10 times faster. This is an affordable alternative and reliable. It would be best to consider it the best choice for a MassPlanner.
---
Followadder is an easy-to-use and affordable Instagram automation tool. This is also a black hat tool and the best alternative to MassPlanner. It also works with the same functionality by automating all Instagram tasks.
These include following, unfollowing, dropping comments, and scheduling your Instagram posts in advance. This is a good choice when you don't have time to post manually. It's a perfect alternative on the market, but users must be careful when using this tool.
Followadder comes with many other advanced features like photo commenter targeting, audience targeting based on location, and hashtag targeting. You can also use it to set it to ignore accounts on private mode. Users have complete control in timing the quality of actions per day. Make it happen and grow your Instagram account and engagement with its automation services and DM. It is simple to use.
---
Inflact is a top-rated Instagram bot on the market. Its features comprise advanced options for automating Instagram growth services. When you sign up for their services, all users are prompted to select either client, audience, or content.
This means they offer very advanced audience targeting tools. They can take you through all Instagram marketing processes and remain active even when you decide to go offline. This is also another perfect MassPlanner alternative in this industry.
Inflact is also good at curating content that can easily feature on the explore page. They claim to offer targeted growth services with a high conversion rate. Be confident that these guys will provide you with the best service with the right audience. It always tries to keep its users safe. It uses a hashtag to expand its reach, and its kanban board is powerful for orders.
---
Flock Social is an analytic tool. It helps marketers and businesses improve their Instagram growth services. This platform relies on artificial intelligence technology to automate Instagram accounts. They can help you find targeted Instagram followers with no bot or spammy activities.
This is because they only target and engage your account with real people to keep your account active. It has helped many influencers build a long-lasting relationship with authentic services. Their website guarantees organic growth with real engagement and a high conversion rate. This Instagram stardom is fast and easy to use.
Users of Flock Social can access a centralized dashboard to gain performance metrics based on a specific range of time. Also, influencers can use this tool to target multiple locations, hashtags, and competitors. It is good at establishing a brand identity with the audience. This is a perfect alternative for a MassPlanner. Currently, they have also introduced TikTok automation services.
---
Social Boost is also another marketing agency that can help you grow your Instagram with real followers. They guarantee an active audience who engages with your content. Meaning, all followers are targeted and have an interest in your brand. They offer supercharged growth services to your Instagram account. The tool acts as a personal assistant to widen your market. The team members are always available to help you grow, and they look so promising on their website.
Social Boost has real people who manually engage with your account and get clients. And up to date, they have managed over 23k  Instagram accounts. It is handmade growth and offers advanced optimization and analytic reports. This is a good alternative for MassPlanner tools also.
---
Kicksta is a powerful social media growth tool. It can get you real Instagram followers powered by artificial intelligence technology. They guarantee you no risks on their services and 14 days money back. They claim that their organic growth tool does not involve fake followers. Instead, they offer real engagement that brings instant differences to your Instagram account. This is a good MassPlanner alternative.
It has been in the market for the last 5 years and is reliable and secure with its unique approach. Since it targets an audience based on the niche, it gets you the right audience for conversion. And they have helped over 100k Instagram influencers. These guys guarantee that their services will save your time and get you high-quality services. Join the growth marketer today and get impressive targeting and actionable insights.
---
Sprout Social is a social media management tool. The website divides its services, ranging from scheduling posts, mentions and providing analytic reports. This platform can help you automate tasks on Instagram and other major social media platforms.
On Instagram, it works well on managing Instagram business accounts. You can use this tool to gain intelligent and detailed powerful insights. It can schedule Instagram posts in advance, execute your comments, monitor the hashtag, and run the reports.
Sprout Social supports many platforms just like MassPlanner was doing. It is easy with a clean UI and can schedule multiple posts at once to keep your audience active. It also comes with a tagging feature, which is another powerful tool.
---
SocialPilot is a social media automation tool. It can help you with anything you need to get started and hit your social media marketing goals. Users can connect and manage social media profiles on a single dashboard.
It comes with bulk post scheduling and offers analytic reports. This management tool guarantees seamless clients and team collaboration. If you need content curation, RSS feeds automation, social media calendar, and a browser extension; then this is the tool for you.
The SocialPilot also allows users to engage efficiently with the audience using its social inbox feature. Thus, this is a trusted social media engagement tool efficient at managing multiple accounts, filtering conversations, etc. You can also boost your Instagram or Facebook content through social pilot to reach more target audiences. And using the browser extension, influences or marketeers can post, schedule, and even share the content anywhere and on any platform.
---
Lastly, there is Crowdfire. Though a social media management tool, it is perfect when it comes to offering a simplified strategy. It supports different social media platforms, and users can utilize it on scheduling Instagram posts and managing multiple accounts from one point.
You can use it to create stellar content, publish, get analytic reports and even include mentions. This tool follows the targeted audience and unfollows inactive profiles. It is perfect for maintaining interaction with your audience and keeping an eye on your competitor.
Crowdfire also helps research the relevant content, which you can automatically share on your Instagram profile or other social media platforms. One of its strategies Crowdfire uses is following the follower method. This enables it to reach your target audience that has an interest in your brand. It is a good choice too on the market that you should consider other than MassPlanner.
---
The Warning from MassPlanner Turn Off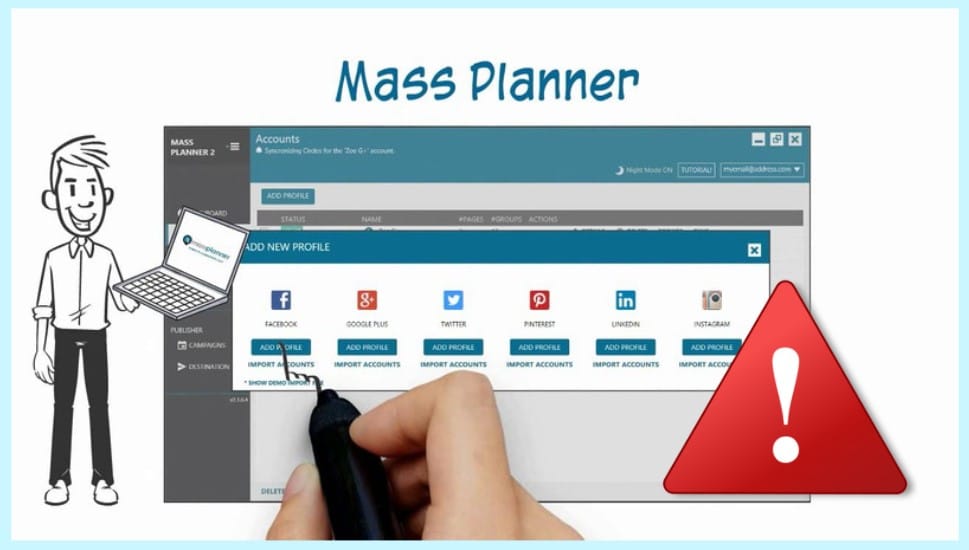 Since nothing lasts forever, social media automation tools come with risks. Though it MassPlanner saved time, its downfall can teach us a lot of lessons
Always have a backup tool
When using automation software or tools in your social media account, it is also advisable to have a backup tool. It is good when one tool gets banned or shut down. So, please don't depend on them entirely because they do not last longer
Massplanner has a lot of spam sources during its days. However, Instagram hates spam, and this tool created many fake accounts and managed them. Thus, these armies of accounts appeared as spam hence detected. We would recommend using automation tools, but be smart and go slow. Keep new accounts looking natural instead of spamming them simultaneously.
However, there is always a risk in the end. Even if the user follows all stipulated protocols while using a bot, there are chances that the algorithm will detect you. And when Instagram realizes weird tasks, it will suspend your account, and it will ban it when you continue. Therefore, any automation tool must have strict rules and daily limitations to minimize the risks.
---
Conclusion
The shutdown of MassPlanner does not end Instagram automation. Social media automation is still at its peak with other alternatives on the market. But, these tools easily trigger anti-spam software. This is because Instagram consistently updates its algorithm to try and reduce bot usage. You can lose your social media account when not careful. We highly recommend the above automation tools to keep you moving.