What will happen if TikTok suddenly disappears today? TikTok is a popular platform but not the only app available online. There are multiple TikTok alternatives known for sharing short videos and trending challenges. Please read our article to find out more about this.
One of the questions you have ever asked yourself is, what will people shift to if TikTok disappeared today? Since its inception, TikTok has been growing astronomically among social media platforms. All the previously trending platforms are long gone. When Microsoft ends up buying TikTok, people will be left looking for other alternatives online. Influencers and marketers will shift their attention to other options online to market their business brands and get new customers.
Then, this is the right time to look at the TikTok alternatives, which are also short video-sharing platforms. We have decided to research and develop a detailed overview of the TikTok alternatives to check out just in case anything happens tomorrow on TikTok.
Understand that TikTok is not the only application online well known for the dancing move and trending challenges. Come across multiple alternatives to such applications. Before going to the alternatives, let us first find out why you need to get prepared with the alternatives at your fingertips.
---
Why Should You Prepare Alternatives for TikTok?
Most people and businesses fear the unknown and are constantly striving to prepare for anything anytime. Like other applications, TikTok might as well disappear at any time. Though it is currently the safest platform, it has been trending in the news for a long time.
This is because governments banned TikTok in some parts of the world, such as parts of the US, unlike India, where this platform has the most active users. This is why the app can disappear or get banned, and there is a need to find another solution from our list to promote your brands and get followers in case the unknown shit happens.
In reality, TikTok is trending what they do best, which is why its rapid growth and popularity over the last few years. It is among the social media platform with a large user base and high engagement. Its algorithm is based on the psychic, accuracy, and short-form video content. Thus, in case anything happens, we still got you covered. Here are the best TikTok alternatives.
---
Best Apps Like TikTok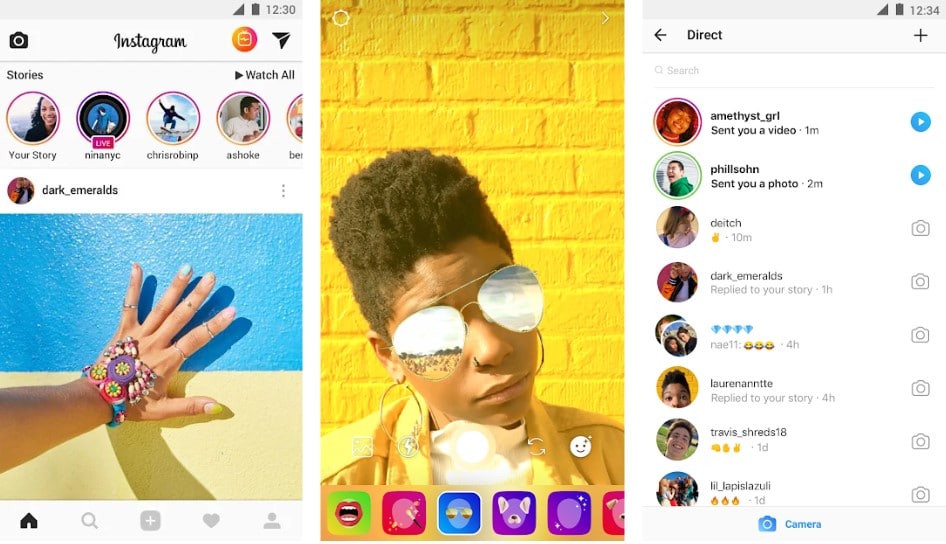 Instagram Reels is the best TikTok alternative. However, it is a new app in the industry and is gaining popularity through Instagram. It is the best app like TikTok, which guarantees users' reach. This app is available on Instagram, and its usage can make you feel like it is a feature found on Instagram.
But in a real sense, it works just like a TikTok app but limits users to only upload or record short-form videos for up to 15 seconds. If the duration is your concern, then look for another alternative.
This is the best option, especially for Instagram marketers and influencers that have already established the followers base but do not have any traction on the TikTok platform. Instagram itself is still a possible TikTok alternative even without Instagram reels. This is because it performs everything TikTok does, ranging from popular short videos to trending topics and stories.
You can also use hashtags to get audience attention and be discoverable in the search results. But with reel, you can share the short-form video to the Instagram feed or use the new exposure feature when you want to make them available. This is only possible if you are using a public account.
---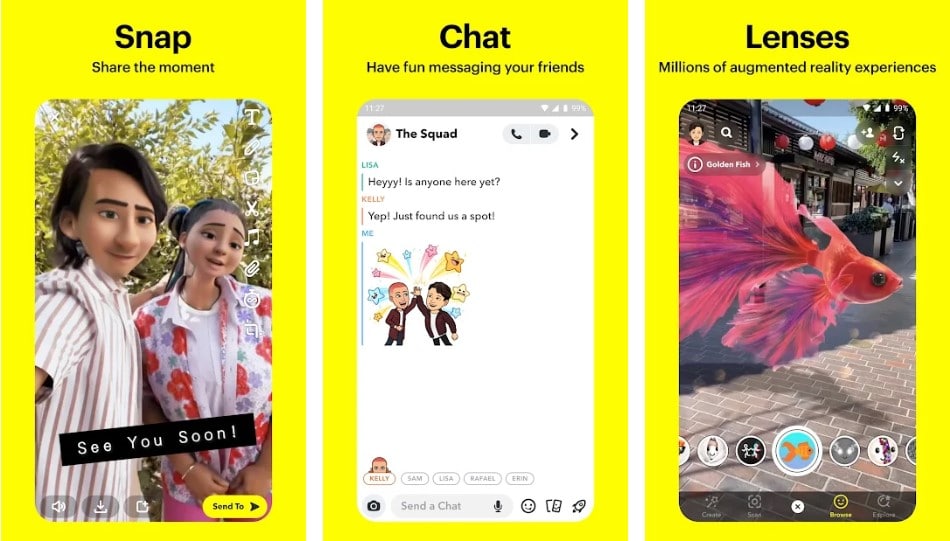 The second next to the TikTok alternative is Snapchat. This is a chat and messaging platform which has been around for a long time. In the past few years, Snapchat has gained popularity which is also claimed to have nee caused by the TikTok.
Snapchat is also known for creating sort form videos going up to 60 seconds, but the only difference is that these videos tend to disappear after a certain p[eriod ot time. This platform effectively shares content like photos, sends messages, and connects with people worldwide.
However, Snapchat does not offer much but is still a reachable TikTok option, though not perfect, especially looking at the short-form video pers[ective. It also has a large user base with active daily users between 238 million. Thus, it is an excellent social media platform that has recorded a perfect reach.
---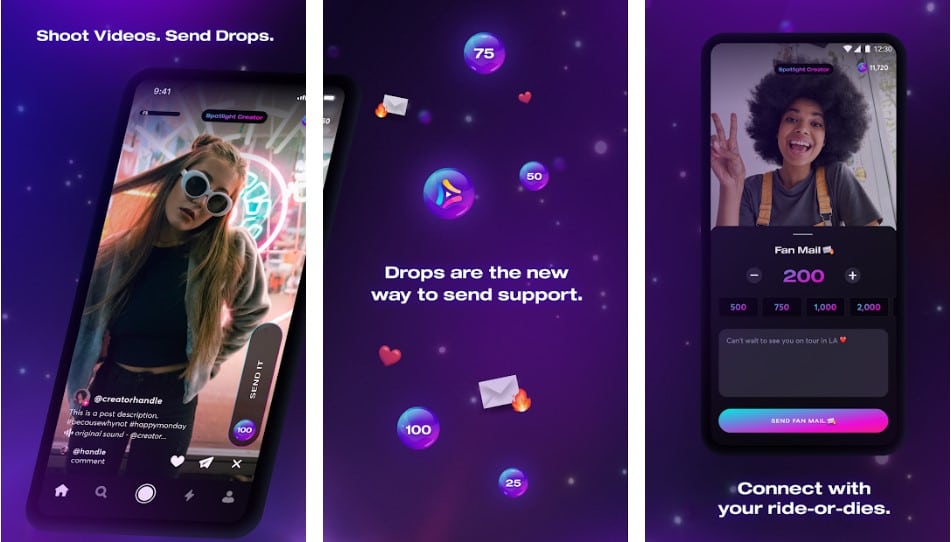 Clash is an application that Brendon and other marketing veterans created. If you love doing what you love most and want to make it easier, Clash can help you. Join the platform and start earning by sharing short-form videos what other people. This is also the best TikTok alternative but what makes it unique is that it restricts its short looping videos to 21 seconds.
The videos are shared among the popular content creator on the now serving page. It is more of Vine that it is related to the TikTok. It mainly places its emphasis on the inclusive community and collective content creators. However, unlike TikTok, this platform does not allow creators to use sounds and popular music. This means the creator has to use their audio.
Clash is still new in the industry but growing fast enough to gain an explosive user growth rate which is now appeaching a quarter a million. The app is also trending on social media platforms, especially after some regions ban TikTok. Clash aims to help creators succeed and generate income in real-time, prioritizing authenticity and community and improving their creativity.
This platform is also planning to implement DROP systems like TikTok for other people to be able to reward video content creators with a certain amount. It is expanding to cover the whole world and currently supports android and iOS devices, with more to come in the future.
---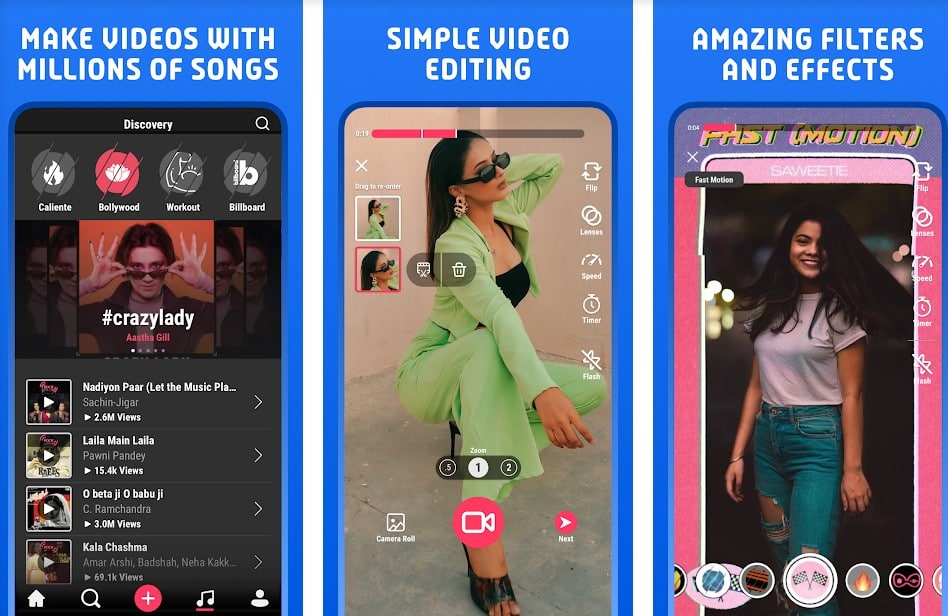 Triller is another TikTok alternative online. This app is known for celebrity content. And it always gravitates towards recording and editing the content of celebs. It is attributed to its simple user interface. You only record video content, but the rest of the activities automatically works on their own.
You don't have to waste time editing and doing all things. It is perfect for trimming and cutting your video as well as adding filters, just like TikTok. You can also use it to drow over other green-screen effects videos, which help you increase your creativity to another level.
Though Triller allows you to collaborate with friends and families, it is not more of a social media platform. You can use this application to record, edit, and share the final videos to other social media platforms like Instagram, TikTok, and Facebook. Give it a try today.
---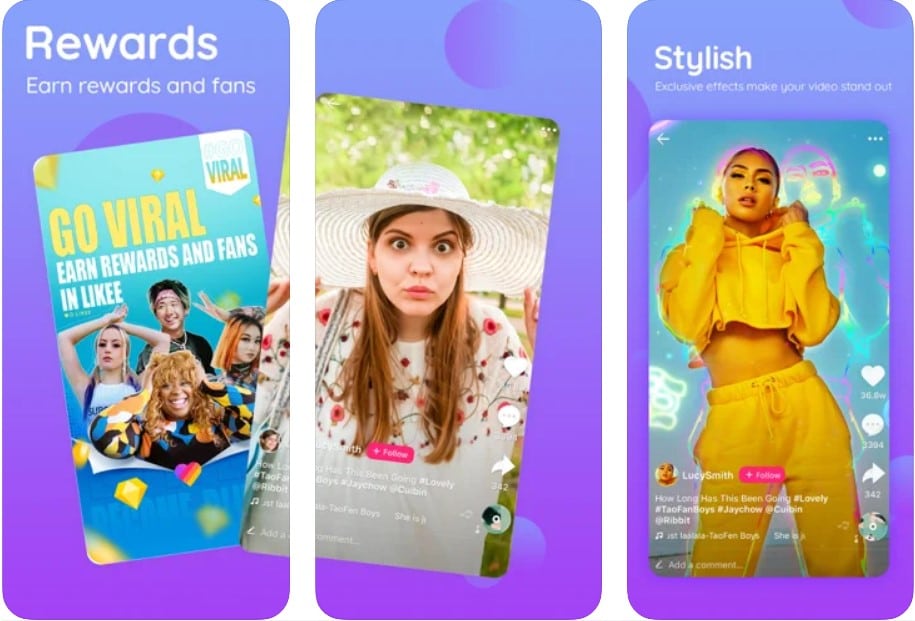 Likee is also an excellent TikTok alternative you can consider going for. It can help you shine among your audience. It is more of TikTok, even its operation, design, and features. The app also has a vast library of music and trending audio. You can also use the music magic filter from this platform.
You can filter your music and add needed effects while changing music intonation and volume. Among its best features like TikTok, Likee consists of an extensive collection of filters vital in speeding up footage or slowing down when necessary. It is also perfect at combining numerous videos to develop one clip.
Likee does not only deal with sharing short-form video content but also involves the community interacting and mingling with the content creator. This way, one can discover new video content. Like TikTok and other apps online, Likee allows users or content creator to share their final videos to other social media platforms. This allows one to attain maximum attention and increase engagement to rank higher.
---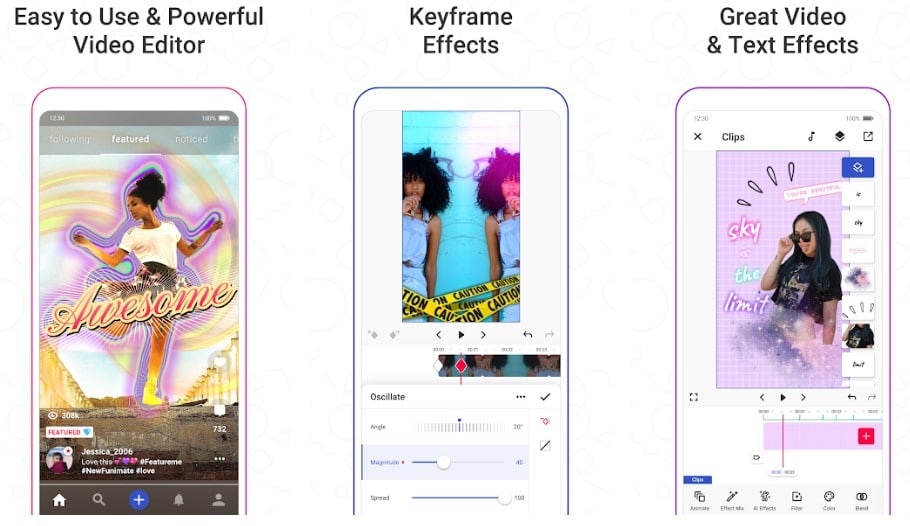 Funimate is the next TikTok alternative which is incredible and versatile. You can use this app to create powerful video loops, combining numerous videos into a final clip as well as making it easy to add slow motion to your video contents. It offers other best services just like TikTok. It also consists of an extensive music library, and any great sound you need is in its database. This enables content creators to use Funimate in creating fun and lip-syncing video content.
The app has over 20 effects you can use, just well placed at your disposal. Like TikTok, Funimate can also edit a video after recording and add text and stickers at a click of a button. Collaborating on Funimate means the app allows you to pick a sound and then merge it into your video content as a single clip. However, it does not offer some functionality like reaction and duet like TikTok. But still, it rocks among the audience.
This is among the excellent TikTok alternatives. However, it has a premium package that limits one to use its advanced features unless you subscribe to the paid plan. It is a powerful video editor and offers advanced motion design techniques. While it is a video editor tool, it is also a fantastic image editor for electrifying video content.
---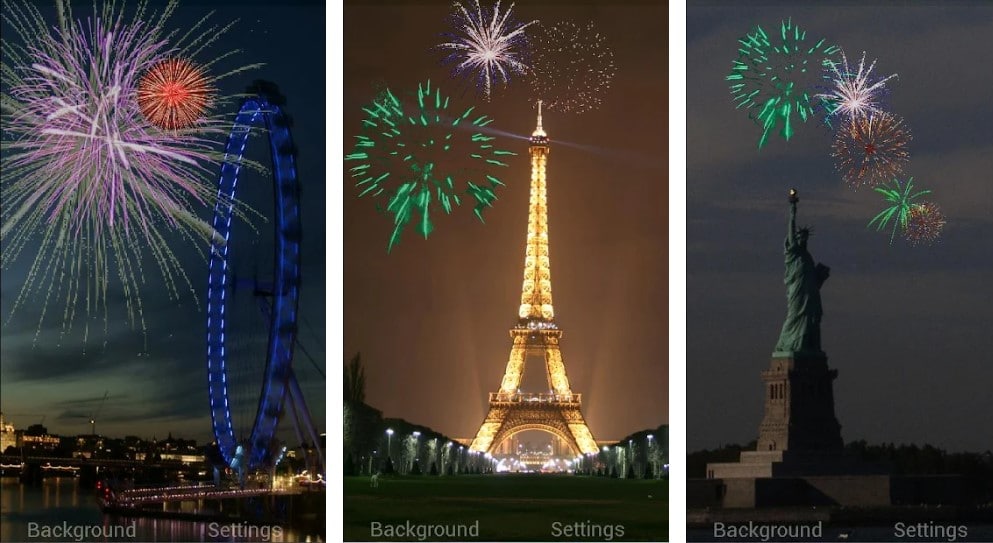 Firework is the best app for streaming shoppable video on a website. It has all TikTok features thus ranking it as another TtikTok alternative online. It mainly emphasizes curating high-quality video content than any other app paying attention to getting more followers. Thus, if your concern is to create high-quality content, this is the best app you can ever go for. With only great video, it is enough to focus on this app.
Like TikTok, Firework has all the diting features, including cropping, video trimming, and adding background music. It is one of the best apps with a potent in-built video editing tool. Anytime you want to curate a lip-syncing video, try out Firework, which is readily available.
Additionally, this app also has weekly video rank challenges, which enable creators to earn rewards. To win the cash price like on TikTok, one must follow all trending videos and come up with high-quality video content. If you are a content creator or have unique skills to display, Firework is the best platform to help you get noticed by the world. While Firework provides shoppable video services, it is also an excellent place to live stream and commerce.
---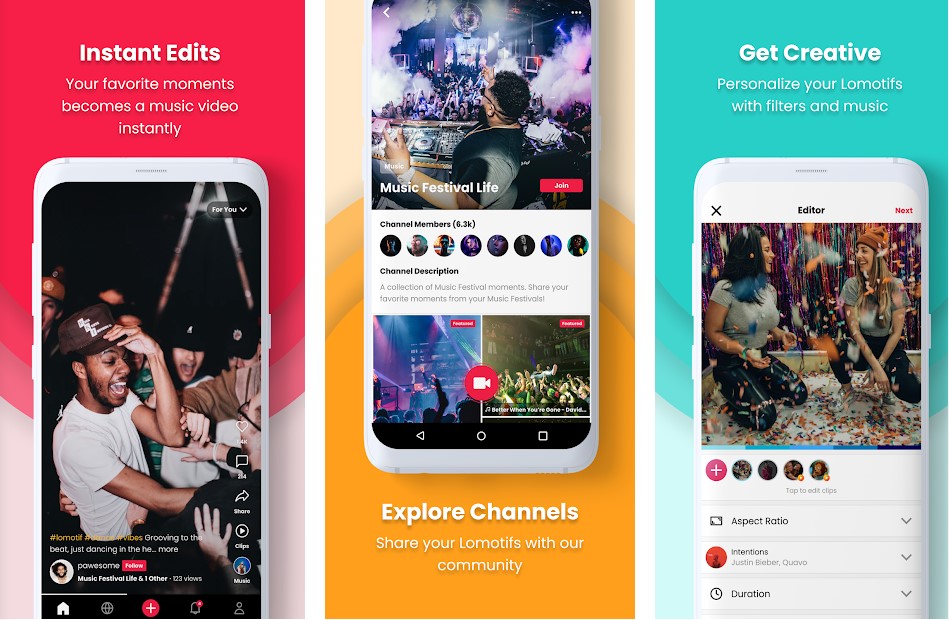 Lomotif, like all the TikTok alternatives, also offers you all video editing, recording, and posting services. The platform has millions of users, and when you join, you can interact and share your short videos with the community. They also have an extensive music playlist where you can search for your preferred song to use on your short video content. They range from trending and still-hitting songs from favorite artists around the world.
Lomotif allows you to trim a video using the in-app edit tool as well as add the slow-motion effect if need be. It also has an extensive effect library full of emojis, stickers, and unique filters. Like TikTok allows you to collaborate, duet, and react, Lomotif also allows its users to collaborate and come up with a perfect video through the app.
You can also use Lomotif birthday features when boosting the profile during such a time. Even in the festive seasons, you have plenty of new year features. This guarantees you an increased online presence.
---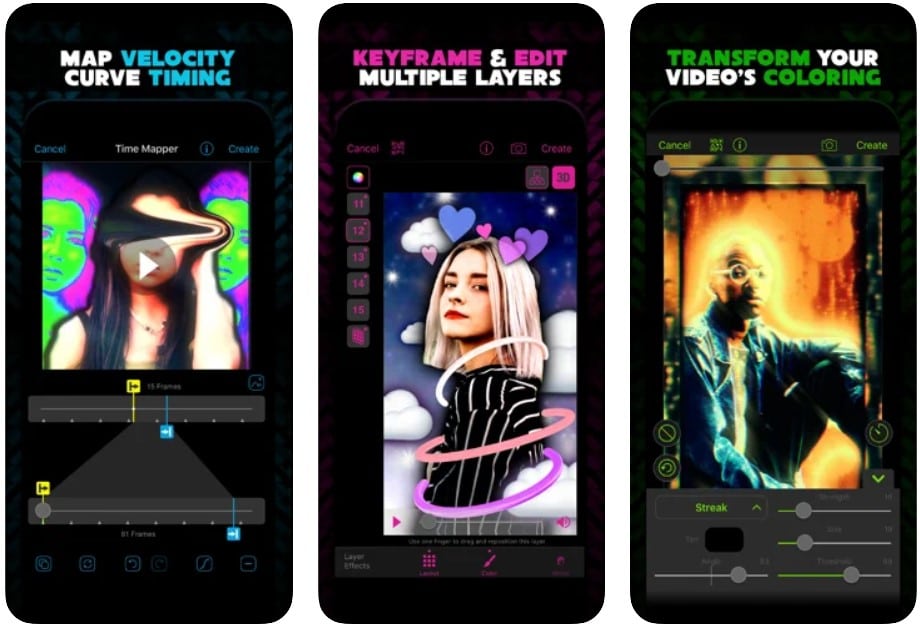 Video Star claims to be the number one video editing tool online. Like TikTok, it also enables users to collaborate and share video content. However, it only has an iOS app that we hope will soon release an Android app. It is also an excellent TikTok alternative, and anyone can use it to create engaging yet fun short video content. After that, you can also add music to the video from their extensive music library containing popular and trending audio.
But when the straight-up video content is not your type, you also decide to add the slow-motion effect using the Video Star app. You can play a video in reverse like TikTok while adding cool effects.
And if the green screen and cloning are your targets, it is not only the TikTok offering but also Video Star that has these powerful features. There are many positive reviews online. However, while Video Star lets you create video content, it is not a vlog site and does not support any other format of videos.
---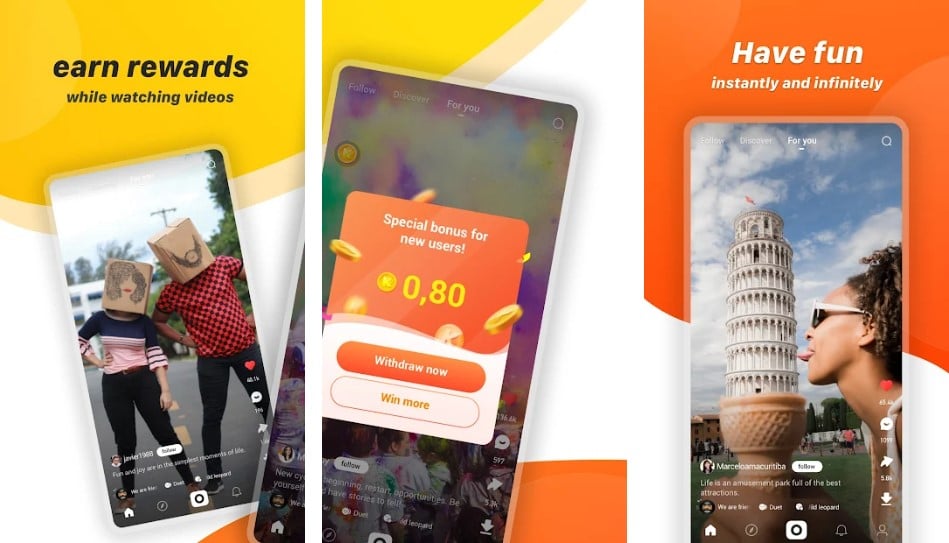 unlike Video Star, KWAI is a great TikTok alternative. It does not only feature short-form videos across one category. Instead, it covers many categories, including vlogging and trending dance moves like TikTok. It also reards the creator upon meeting some requirements. The more you have followers, the better the rewards increase.
This is one of the best apps that often hosts content as well as challenges, which helps keep the content creators and audience engaged. When people participate in challenges, it keeps the trend going viral and updates the community on what is trending and what is happening across the world. Like TikTok and Instagram, KWAI also has a stories section where you can share stories, but they disappear after 2 days.
---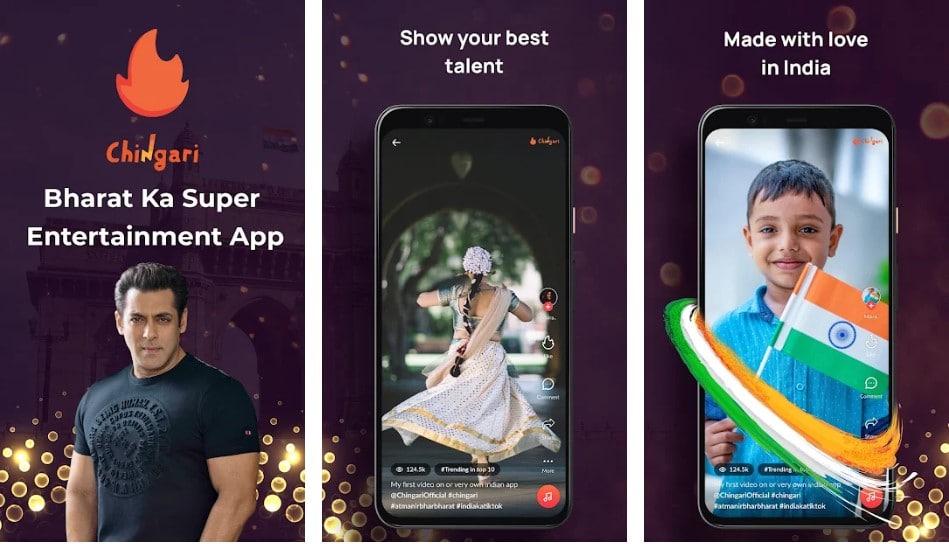 Chingari is the best TikTok alternative but for Indians. It consists of short video content involving trending and dancing challenges and styles as well as all kinds of music. however, sometimes, this app feels clunky and very slow though that does not discourage users. Despite this claim, the app rapidly grows at about 300k new users reported per hour.
Within one hour, the approximate views are reported to be 2.2 million. Besides a complete tile interface, the app also has a game section where you need to play quizzes and win some reards.
When considering it as a TikTok alternative, Chingari offers a comprehensive selection tool to help you add filters, edit videos, and set the background music from an extensive music library. While it gives content creators a tool to set timers, one can also regulate the speed of a video.
---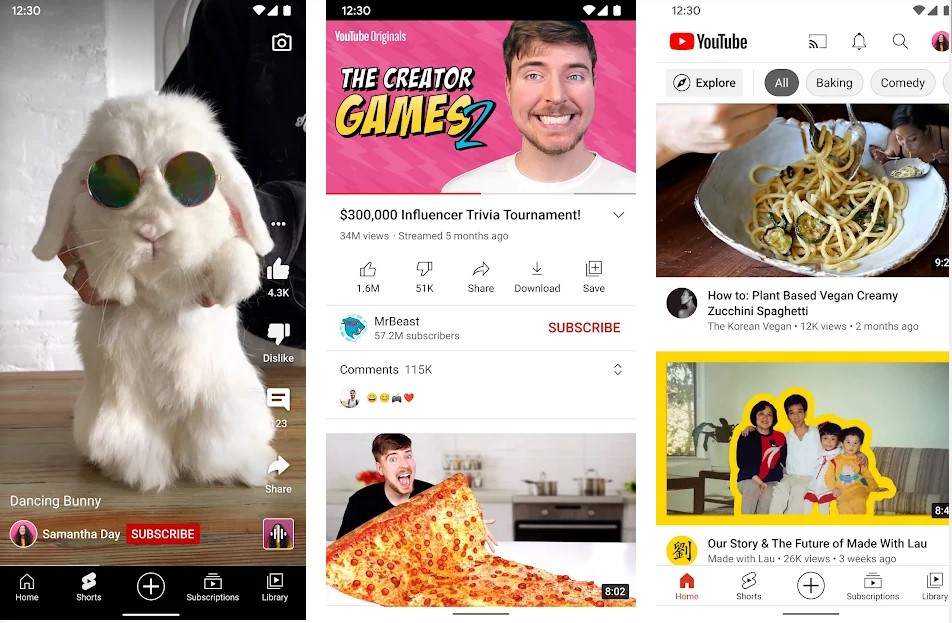 And lastly, on our list, we have YouTube as a TikTok alternative. However, it is not perfect for short videos but incredible for generating engagement and getting the audience or promoting brands through content. YouTube consists of an extensive video compilation from various social media platforms like TikTok, Vine, and Snapchat.
You can find the latest trends on YouTube. However, from the compilation, creators are not being rewarded; hence one way to violate the community guidelines instead to spread the love to the content creator.
---
Conclusion
There are many and a high number of TikTok alternatives online. The above list consists the app like TikTok. Even though the platform has gained popularity, it is prone to ban anytime. Meanwhile, TikTok stands to be the best social media platform for short video content and trends. Be prepared and have the above alternatives if anything happens since we all know apps come and disappear anytime.