Do you want to keep track of your Twitter followers or audit account? With the best Twitter followers tracker, you can quickly identify new followers, track their accounts, and access different insights. Please read our article to find the best tool and save time tracking and auditing Twitter accounts.
Many businesses spend a lot of time marketing their products online. There are various social media platforms you can use to create brand awareness on the market. Our article will narrow down and focus on Twitter. Twitter marketing is increasing, but you need to keep tracking its performance to be effective. One must keep the existing followers and strive to get more audience on Twitter to access targeted customers.
Therefore, when you monitor the growth of your Twitter followers, it helps you effectively analyze the performance of your marketing strategy. This is where you need effective Twitter follower tracker tools. Twitter follower trackers offer you different insights to leverage in managing your marketing tactics.
This article will analyze the best Twitter follower trackers on the market. Having a high Twitter follower count increases your brand engagement and reach. You Can easily influence more people, convert them to become your customers, and track new followers. It builds trust and improves brand engagement with an online audience.
There are different Twitter follower trackers online. However, we have only listed the best trackers that effectively give you accurate, real-time results.
---
Best Twitter Followers Tracker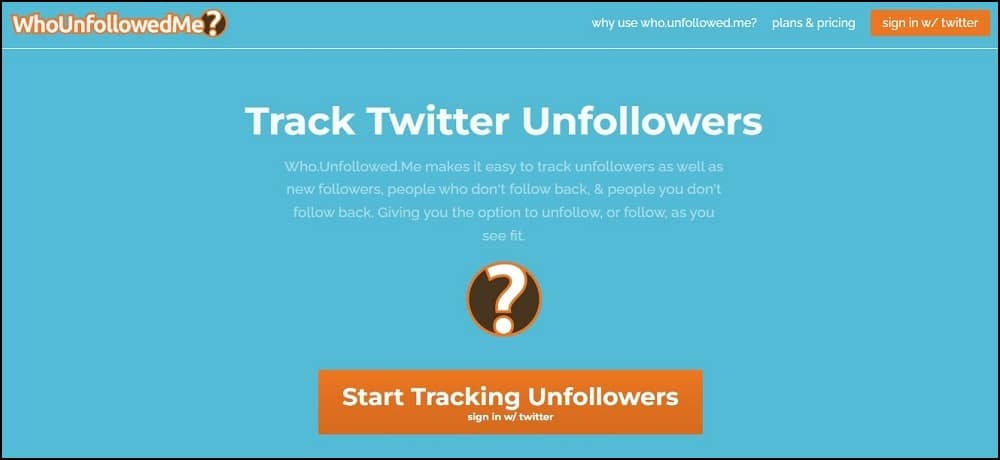 Who Unfollowed Me is a perfect platform used to track Twitter accounts. This is because it does not only trace who unfollowed our Twitter account and lets you evaluate and track if someone has blocked your account. You can also access the lists of Twitter accounts that do not follow you back when you follow them.
And the good news about this Who Unfollowed Me platform is that it also provides you with data on who you have unfollowed on Twitter and gives you a report on all your recent new followers for a specific period.
Who Unfollowed Me is an excellent Twitter follower tracker that optimizes your Twitter. They not only have a premium package, but also you can access a free version to taste the quality of services they offer. This tool makes it easy to track those who unfollowed you and new followers. It provides you with all the following history since account creation, including pending, follow requests, who have muted you, etc.
---


Fllwrs is an efficient Twitter follower tracker. It provides you with all the records on who followed and unfollowed your account daily. It also notifies you when someone unfollows your profile. IT is a perfect tool to monitor all your Twitter followers at a specific time range and give you data on who you lost or added to your profile.
Fllwrs also allows you to tweet automatically all about your unfollowers. It also provides twitter management services such as deleting tweets, blocking, muting and managing delete lists. You can also see those tweets on your timeline when you sign up and allow the application to access your account. It is simple with a friendly user interface.
---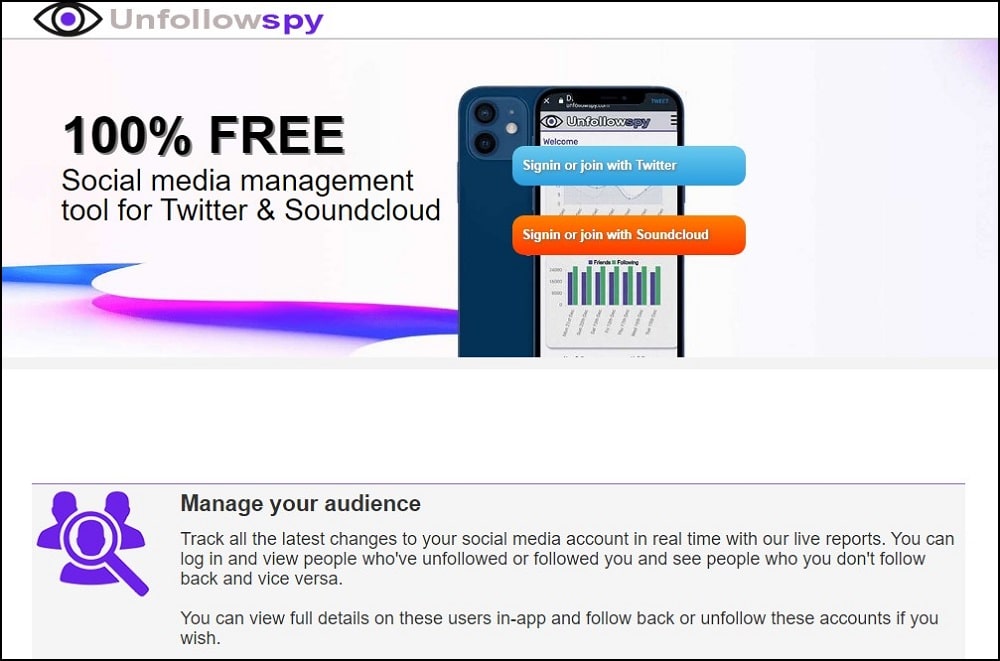 Unfollowspy is an incredible Twitter follower tracking tool. The developer made it with bloggers in mind. This is why they came up with a free unfollow feature. Unfollowspy is a tracking tool that not only manages your Twitter audience but also helps you monitor and analyze account statistics, locate inactive or spam followers, and many more. It goes beyond to help you schedule your tweets.
You can also identify if the two or more accounts follow each other using the friendship checker tool within this tool. It has eliminated all the manual work of trawling through your followers' pages to access the data. And also, when you are looking for an old post, you should not fear. The tool can also scan the last 3200 tweets on any public. Also, the device comes with a whitelist that you can use to evade unfollowing all your high-priority users.
---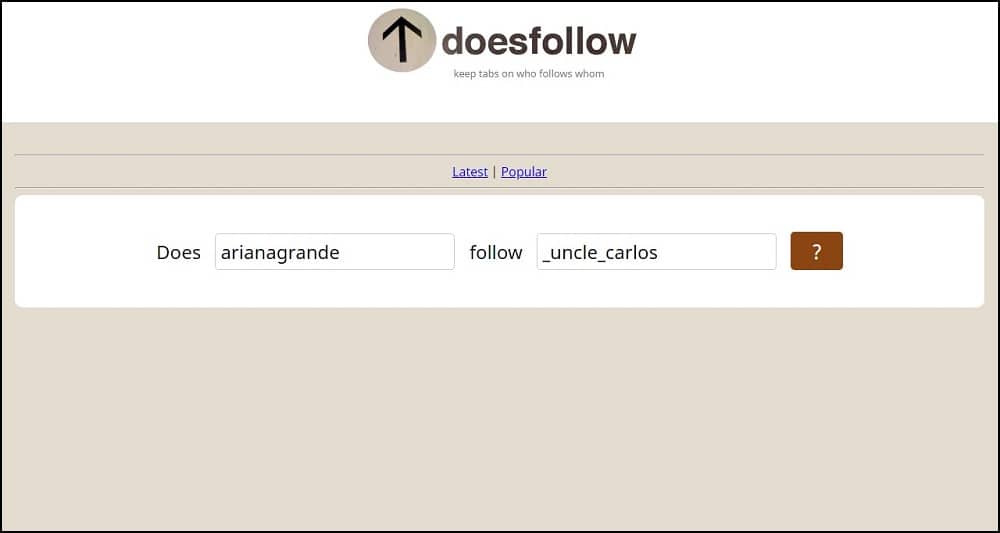 DoesFollow is a different Twitter follower tracker. It works uniquely. It is more of a comparison than any other tool on the market. You can easily find a mutual relationship between two Twitter accounts. What you need is two usernames of different accounts. When you plug in the names, it gives you all the details and lets you know if the two accounts follow each other.
It is a great option, especially when you are targeting to expand the  Twitter followers base and create a contact network. You can keep track of who follows whom. It shows you all the latest and most popular information.
---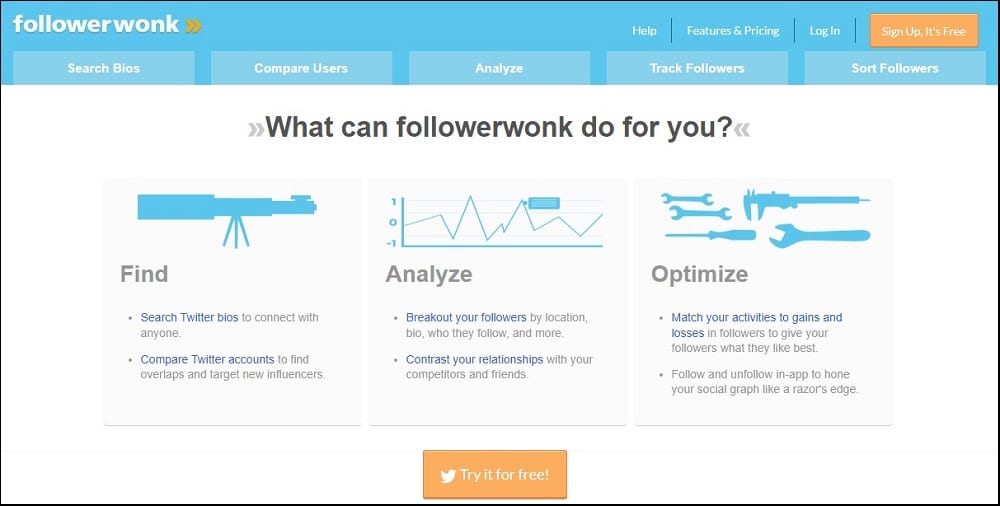 Followerwonk is a well-known platform as a Twitter follower tracker. This tool is reliable in tracking your Twitter account growth. You will find growth metrics daily, weekly, and monthly basis. It also helps people get to know their Twitter follower demographic pattern. It is easy to navigate its dashboard and access all the features which offer you tons of insight into your Twitter account.
Among the critical features of FollowerWonk is tracking and analyzing Twitter followers, tracing new Twitter followers and all unfollowers, and comparing different Twitter accounts. You can also sort your Twitter follower list using other metrics.
FollowerWonk offers a free plan which you can use to track only one account. However, you can subscribe to a premium plan to access more advanced features and track multiple accounts. This is the best option for optimizing Twitter accounts.
---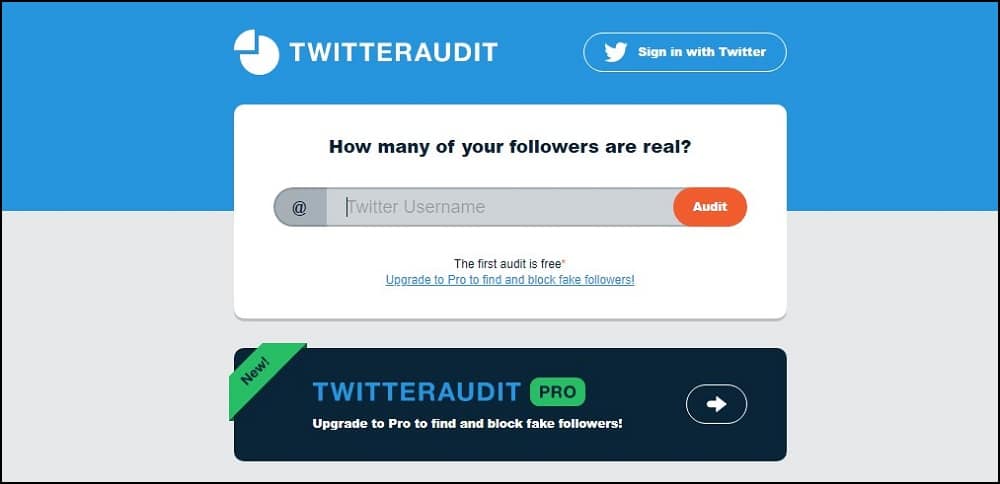 TwitterAudit is another perfect Twitter follower tracker. This tool is capable of tracking your Twitter followers. However, that is not all. It is also ideal for auditing any public Twitter account. You can use the Twitter auditing option to identify the right advocate to help you promote your brand.
This allows you to evade any possible fraud influencers or marketers. It is simple to use, and you only need the username. They also guarantee you a free first audit report. When you want to find and block followers, you must upgrade to the pro version.
---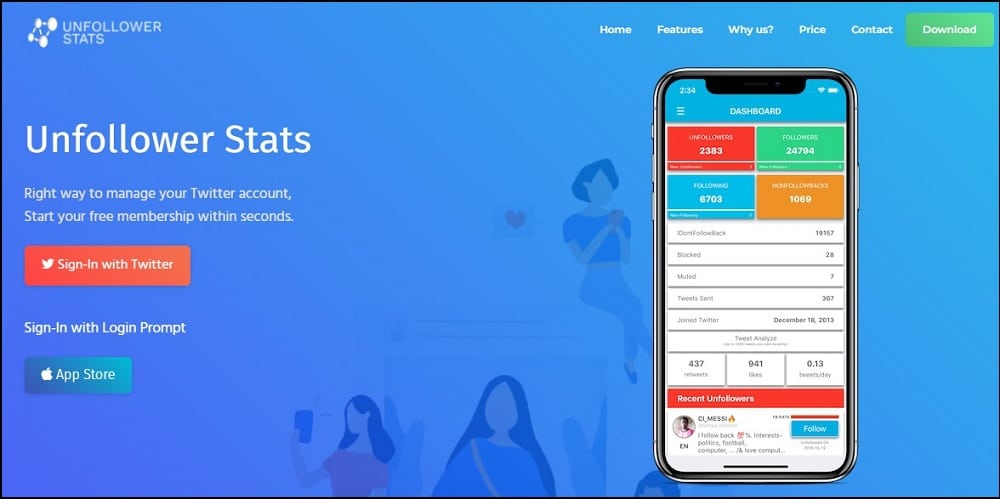 Unfollower Stats is among the best social media account management tool. It can track Twitter followers' unfollowers and provides multiple account data. This is an excellent third-party application. That can help you track Twitter statistics.
The application comes with a friendly dashboard that gives you access to countless features to evaluate different twitter metrics. These include managing inactive Twitter accounts and s list management tool. Their free tier version allows you to manage up to 30k Twitter followers. However, a free version comes with annoying ads.
However, when you are tired of ads, you can select a premium package and even access more advanced options. While it is affordable, it gives you extra administration options to manage countless Twitter followers. It presents statistics with handy features and impressive graphs. It can reveal people that are not following you, and when you find your fans, you can follow them back. Get it anytime from the app store.
---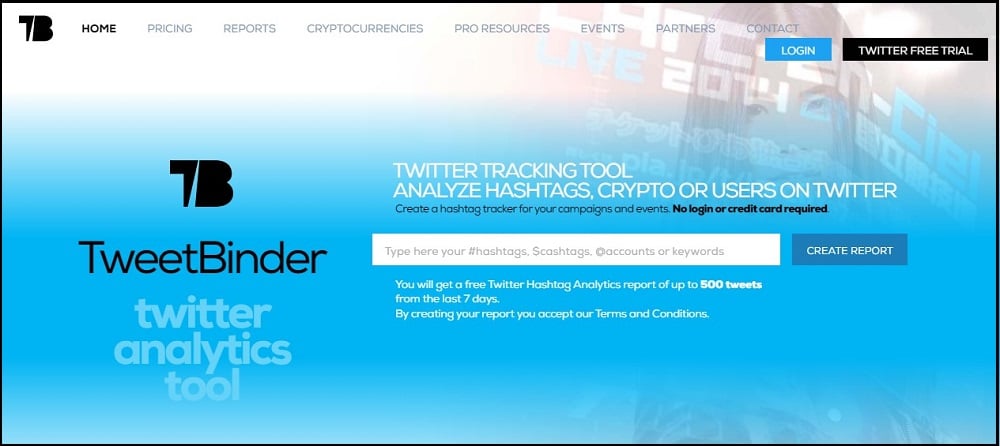 TweetBinder is also a fantastic Twitter follower tracker. It can analyze your Twitter followers and engagement growth metrics on any public account. You can track influencers and get to know high-engaging Twitter users at any time.
TweetBinder can also trace and analyze your historical information on a nonprivate account. This tool comes with many outstanding features such as performance metrics in real-time, influencer identification, and many more. They do not need any login details or credit. It can help you analyze hashtags and generate reports of up to 500 tweets at no cost.
TweetBinder has 7 days free trial, but you can also get a premium package at an affordable price.
---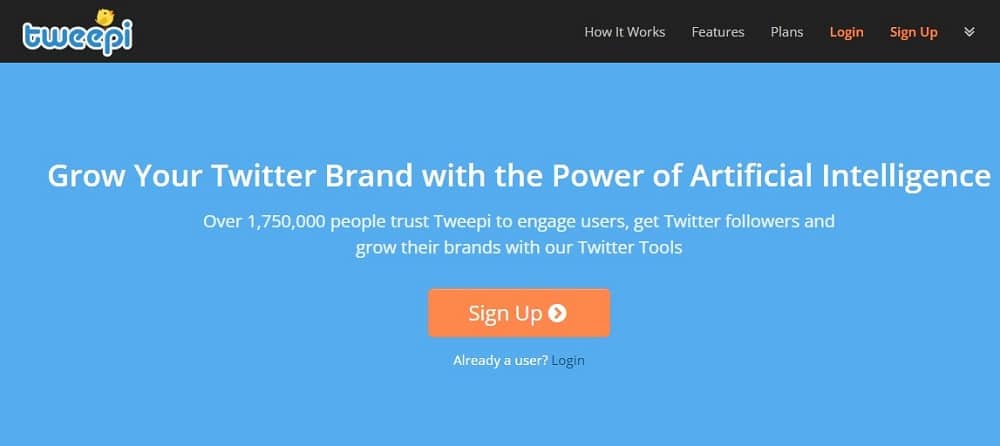 Tweepi is more of a Twitter analytic tool. It uses artificial intelligence technology in digging into Twitter follower insights. The tool searches Twitter followers based on a hashtag and influencers. You only need the target audience details to get the targeted Twitter followers.
It is a simple tool to use and set up. The tool helps you get new followers through engagement. This way, you can grow your brand reach and increase sales. It is a simple but powerful tool that saves your time finding new followers and engaging with them. It can also clean up a Twitter account to remove irrelevant and inactive followers when using insightful Twitter stats.
---

FollowerAudit is the next best Twitter follower tracker that can help you on track and analyze and monitor your Twitter followers. However, it only works on a public account. You can use this tool to track the competitor's followers. The report is generated based on the monthly, weekly, and daily. You can also use this tool to identify a bot and block any spam Twitter account which does not engage with your profile.
The key features of FollowerAudit are Twitter audit, tracking growth, and tracking multiple Twitter accounts. Even though they have a free plan, you can still upgrade to the premium versions. It provides twitter growth metrics such as the followers in real-time. It guarantees you precise growth statistics.
---

One of the fantastic Twitter follower trackers we cannot fail to mention is ManageFitter. This is a perfect Twitter analytic tool effectively tracking Twitter followers on a public account. You can also use it to identify an influencer and sort your followers using multiple options.
ManageFitter brings you Twitter followers who have an interest in your niche. This means it can quickly identify a fake and inactive account. It is so unfortunate that this tool does not offer a free trial. But all in all, it has helped millions of users worldwide in managing multiple accounts and generating tracked analytic reports.
Again, it is terrible news to mention that the follow and unfollow options have been removed as a request from Twitter. But other features remain functional.
---
The Follow-Up Work After Tracking Twitter Followers
It is easy to identify effective tweets when you monitor real-time follower counts. It helps you rework your marketing strategy. So, there are plenty of benefits when you track real-time Twitter followers. Some of these follow up work includes:-
1. Analyzing and improving content
There is a high possibility that your previous audience and influences of celebrities unfollowed your Twitter profile due to the low quality of content or tweets. It becomes necessary to evaluate the time your audience unfollowed you and analyze the tweets you posted. Evaluate then tweets and work on them to improve and make them unique.
2. Analyzing the quality of your followers.
When you analyze the followers, it becomes easy to examine the base of your followers. Therefore, it eases your tasks in identifying the content that the audience engages with most on your profile. You can also specify the influencers to engage your followers and convert them to potential customers.
And more important, analyzing the quality o your followers lets you spot inactive and fake Twitter accounts that do not engage with your profile or tweets. The manual work is made easy for you.
3. Evaluate the interests of your audience.
Immediately you notice an increase or a reduction in the number of followers; you must then examine the quality of content you shared on your profile. It helps you understand the quality of content that engages your audience the most. It also becomes easy to examine the best tweets and media with high engagement.
The engagement can increase based on content like videos, photos, blogs, updates, tweets with links, and maybe news. It is easy to know what content or adverts interest your audience most. After that, build your content around that niche and curate it according to their needs.
4. Track campaign performance
You can determine the effectiveness level of your campaign when you track the growth patterns of your followers on Twitter. Therefore, when the performance or growth level is low, it simply implies that your marketing strategy is not effective. But when the indicators such as followers are high, your campaign is working well. So you can complete such a  strategy in the future to optimize your reach and marketing.
5. Identify influencer
The most sight after marketing strategy is through the use of influencer marketing. Since influencer marketing offers higher conversion rates, most businesses are empressing its usage today. For that reason, most influencers are signing agreements with agencies and connecting with brands.
However, to identify influencers, you need to focus on insights, and so you need to keep tracking your Twitter followers and check statistics with the above Twitter follower trackers.
---
Conclusion
You must frequently analyze your Twitter followers if you intend to promote your brand on Twitter effectively. The above Twitter follower trackers are essential. This is because they can help you uncover different actionable insights concerning your target followers on Twitter.
Therefore, with reliable and real-time insights, you can quickly develop a marketing plan to increase your social media presence and improve ROI effectively. The above tools track and help identify and lock fake, and spam Twitter accounts. Please select the best tool from the above list and ensure that it offers you the best services to meet your requirements.