Are you looking for a genuine and expert review about Combin? A combine is an Instagram automation tool on the market. It comes with many advanced features. Please read our article to learn more about this automation tool.
Most brands are focusing on Instagram when it comes to social media growth. Instagram has billions of active monthly users. Thus, most businesses use it to create brand awareness and promote brands. Due to increased popularity, marketers and influencers invent new ways to manage and speed up Instagram and audience growth.
Because of this, Instagram automation tools have become popular on the market. Thus, it is hard to differentiate between safe Instagram automation tools. One of the famous Instagram automation tools is Combin. This tool effectively promises to jumpstart your Instagram growth services and brand promotion. You can use it to connect with relevant influencers and effortlessly engage with the target audience.
You must know that Instagram automation tools come with risks associated with them. Thus, it is important to understand an automation tool before using it. This is why our review today focuses on Combin. We will highlight every aspect and give you our final verdict. Stay tuned.
---
Combin Review
Combin is an Instagram automation tool that promises to offer growth and scheduling services. They promise to offer you growth and account management services. Combin guarantees to help you find, analyze, engage and grow your audience base by providing you with new Instagram followers.
They have a simple website, and according to the information, they claim to offer real Instagram followers, likes, and the rest of the growth services. This tool mostly works using search features. They not only help you schedule posts but are also effective in coming up with relevant hashtags related to your brand.
Besides having a free trial, Combin also offers targeted followers,  gives performance statistics, machine learning user analysis, and manages multiple Instagram accounts. It also comes with a scheduler tool that is important in planning Instagram posts and publishing in the future. This tool is compatible with windows, macOS, and ubuntu 64 bit only. The website is secure and contains a detailed FAQ page.
However, you must download it to your computer and subscribe to the email list to use this tool. Before going into the features of Combin, let us look at the pros and cons first.
---
Features of Combin
Combin is an Instagram automation tool that divides services into Instagram growth and post-scheduling services. Each service has unique features. Every feature is very vital when it comes to connecting with the target audience. Some of these features are as discussed below:
Advanced Instagram Search
You can use Combin to find target profiles and publications online through various search queries. You can also find relevant hashtags, following specific accounts locations, and bio. These parameters are good for locating and interacting with the audience increasing engagement. The location feature also comes with an interactive map to pinpoint the target audience closer to your location and interact with the competitors.
Advanced  Instagram Audience Management and Export
This feature on the Combin tool lets you manage your audience. This means you can control your followers and any profile you follow only using one tab. It also lets you discover targeted accounts you are following but do not follow you back in return. Thus, this tool is important and saves time, especially when you unfollow your audience in a batch.
It also keeps track of any Instagram account you previously unfollowed so that you cannot, in any case, follow it once again. Lastly, you can still use Combin to schedule activities you are performing in your audience group. Without forgetting, you can also filter your user list and export it to excel.
Since this tool offers different automation services, it can help you sort and preview posts before posting or scheduling them. This gives you control over an account you follow and the kind of post you want to interact with them. Meaning this tool is much manual since it cannot act without permission.
This is good as you cannot exceed daily limits with automation services. You can also use this feature to sort based on the date and the account's popularity. This lets you evade interacting with inactive accounts.
You can analyze your search result using this feature. This tool relies on the machine learning enhanced algorithm—this algorithm assures you 90% accuracy analysis results. This assures you that you can select to interact with only the best accounts.
Thus, you can easily go for active users who you are sure will return the engagement. You can use this feature in skipping celebrity and spam accounts and major brands. This is because such accounts rarely interact with your content.
Growth and Performance Statistics
You can view the statistics of this tool using daily, weekly, and monthly reports. The reports are available on the application. This tool monitors all activities performed for a certain period. Thus, it can enable you to track your Instagram growth and decide on areas to revamp your marketing strategy as long as Combin works properly.
Tratgeing is based on various aspects. Combin guarantees your target audience. You can target your followers based on gender or pick the audience with the preferred language. You can define your Instagram followers using many precisions like demographic filters. Thus, the tool promises to offer you an audience with the same interest and likely convert and become real customers.
Multiple Account Management
This tool lets you manage multiple accounts simultaneously. However, the number of account management depended on the plan you selected. This tool is compatible with proxy.
Thus, you can manage multiple accounts up to 15 on one computer without Instagram detection. It guarantees your account safety since it has an inbuilt proxy setup. You can reach audiences and interact with them simultaneously but on different accounts.
---
Price of Combin
Combin, an Instagram automation tool, offers 3 main pricing plans. Each plan comes with different features. Let us dive into every plan.
This is a free plan but convenient for testing their Instagram automation services. It comes with all the main functionality of the software. For account management, it only supports one account; you can use this option to search up to 2 simultaneous searches and supports up to 25 hashtags, locations, and results of a user. This is the best option for growing a personal brand.
This is the second pricing plan. It only costs $15 per month. This is the best option for managing business accounts operating only one Instagram account. But in the package, this option comes with unlimited searches, 100 users search results, locations, and hashtags. You can also access more additional features like refreshing your search results, unlimited daily actions, access to statistics and analytic reports, etc.
This is the best option for businesses that are operating multiple Instagram accounts. You can manage up to 5 multiple accounts simultaneously. It only costs you $30 per month. Besides having the option to manage up to 5 accounts, you can also buy additional account connections for up to 10 accounts.
This plan comes with many advanced features that allow unlimited simultaneous searches, search hashtags, location, and user results up to 1000.
If you are keen, you have noted that the pricing is affordable, but they do not have many features with increasing prices. Many other automation tools offer similar services but with more options at the same price. It is also good to note that, in pricing, they offer growth and scheduler services, both of which have similar pricing and features.
---
How Does Combin Work?
Combin is software that only operates on a computer. This means you must download the software and install it onto your desktop. After that, you must launch and log in with one account you wish to promote. But again, it supports multiple accounts, as we discussed above. It only depends on the package you purchase.
You can use this software to search for targeted audiences relevant to your niche based on their locations, users, and hashtags. It also lets you follow the audience and send direct messages. You do it in bulk or send messages to a single follower. This tool has a simple user interface, making it easy to navigate through and use.
---
Is Combin Legit and Safe?
According to our reviews and experience, Combin is a safe tool to use. However, the safety depends on the usage as long as you do not exceed the daily limits. Some of its features risk your account, and if you use it without limitations, you might end up banning the account.
But overall, this tool is safe and legit. They do not sell Instagram followers, likes, or any growth metrics. They let you search for relevant or targeted followers, which guarantees you the authenticity of the followers. It does not flood your Instagram with fake growth services.
This is a great option since they have a secure website. Meaning your personal information is not stored on their website, and thus privacy should not be your concern. Thus, keep reading to learn more about what customers say about this Instagram automation tool.
---
Combin Customer Reviews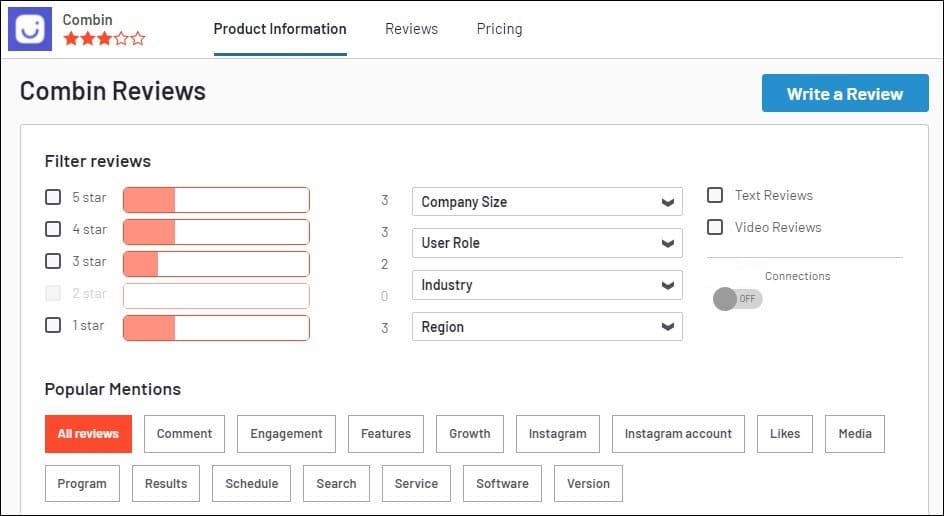 Combin is a smart Instagram automation tool that has many reviews online. The tool has got many reviews on various well-known platforms such as G5.
On the G5 website, Combin has recorded a 3-star rating out of 11 reviews. Most of the customers praise their genuine followers, comments, and likes. This is a streamlined Instagram assistants tool, as most people claim. It is easy to communicate and interact with the audience using this tool.
When it comes to Trustpilot, This tool has received a rating of 3.2 stars, an average out of 41 reviews. Though few have complained, most praise this great software for automation. According to the reviews on Trustpilot, the tool works perfectly and has excellent customer service.
---
Combin Customer Service
Combine has one of the best customer support services. First, their website has detailed information covering every area about the services. They have detailed guides when you encounter a problem operating Combin. They also have a workshop for newcomers. This is the best help center for offering quick solutions and elaborating any answers concerning the issue you have at hand.
They do not forget the detailed FAQ page. This is another good place to find a solution to some of the services they offer.
Never hesitate to reach out to the experienced staff through social media platforms such as Twitter or watch their videos on YouTube for guides. They have special email addresses for specific inquiries. They also have LiveChat support services though not available 24/7. However, you can always contact the support team concerning the software when you have a burning issue.
---
Combin Alternatives
Since Combin has an average rating and does not work across multiple platforms, you might also wish to have other alternatives with more advanced features. There are many other Instagram automation services. This includes Such as Jarvee, Inflact, Kicksta, Nitreo.
Another reason why you might consider Combine alternatives is that you must download the software and log in, and it is only compatible with the desktop. Most customers prefer a web-based automation tool.
Combin is an Instagram automation tool with many positive aspects and advanced features. We highly recommend it due to its simple user interface, affordability, and privacy concerns. However, you must download the application to your desktop to start using it to grow your Instagram profile.
Due to the long procedures that tell time, you might also like trying Combin alternatives on the market. The combine is still in the development stage, and we expect more features to be added.