Do you want a reliable Instagram followers tracker tool? We have compiled a list of the best Instagram follower trackers to help you save time and manage your Instagram growth.
Instagram has so many engineered tools to make it work perfectly. Though most offer management services, others can help you schedule posts and manage your Instagram followers. The less covered tool is the Instagram follower trackers. These tools are underdogs for Instagram growth but are worth your attention because these tools come with many positive impacts.
Previously, Instagram follower trackers were a bit underdeveloped. And this is one of the reasons this area has little attention. But today, they are becoming famous for the best customer interface and valuable benefits. Spam Instagram trackers have been shut down, making work more manageable.
The step has paved the way for reliable Instagram followers trackers, resulting in a better customer experience. The tools are vital in ensuring that the health of your Instagram followers is up to date as you maintain the online reputation when heading in the right direction. For that reason, we will explore some of the best Instagram follower trackers online before deciding. Let us get started:
---
Best Instagram Follower Tracker App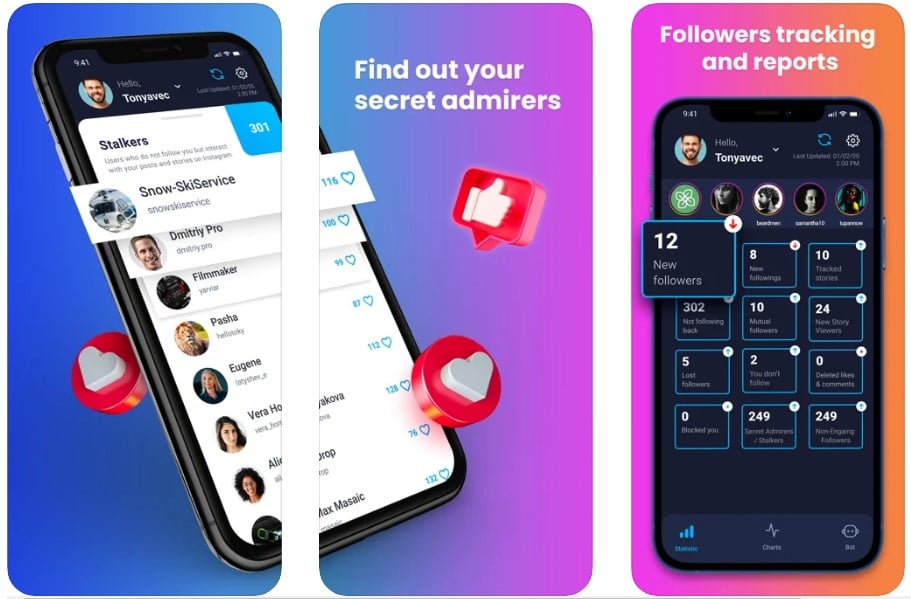 First and foremost, we have the Follower track. This is a powerful Instagram follower tracker tool that is accurate and fast in delivering followers' analytic reports of an Instagram account. This tool is powerful in tracking your followers, those who unfollowed your profile and followed you. This tool makes it easy to track who followed you back and any who does not follow your account back.
Follower track has recorded many positive reviews online as it gives a great general idea of how you should run your Instagram account. This data is derived from the statistics of your followers who have active accounts. It is a free application, but you can upgrade to a premium package to enjoy more advanced features like who checks on who blocked you. Even the premium package is still cheap. It is worth checking it out. However, it is only compatible with iPhone.
---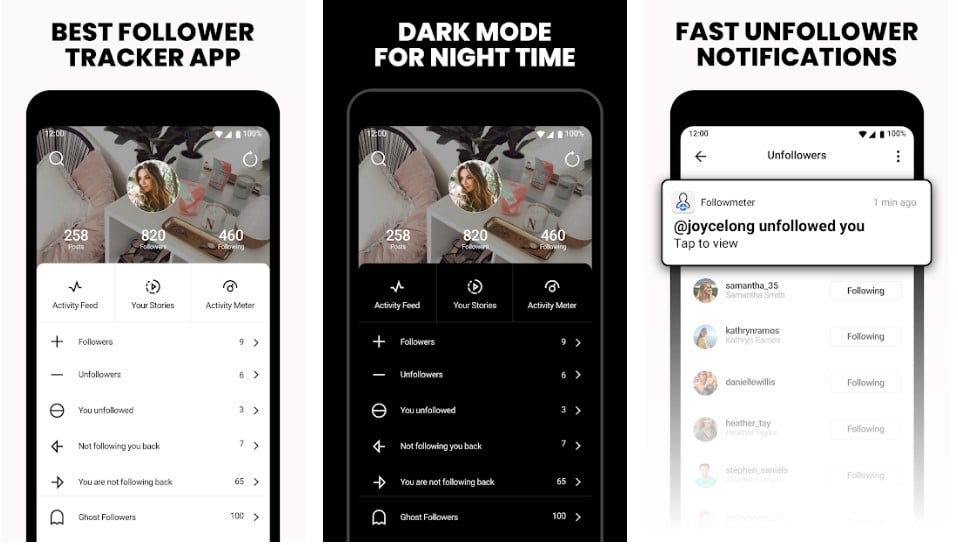 FollowMeter is an Instagram tracking tool that helps you manage your account. It has a deep analytic feature vital in accessing deep insights into your profile. It helps you monitor your followers. This means it gives you an overview of follower growth, unfollwoers, the performance of your Instagram post, and your story views.
FollowerMeter for Instagram is a reliable tool with a friendly user interface that is helpful and makes it easy to manage followers. The tool comes with more advanced features that enable you to detect the secure admirer ghost followers and see those who blocked your account.
They offer some insights for free such as followers' growth and unfollwoers. You can also evaluate the less liked Instagram content. And when you make a premium purchase, this tool can assure you to feature on the discovers section. Believe it. This app has 3 types of subscriptions, and all have customer-friendly pricing.
---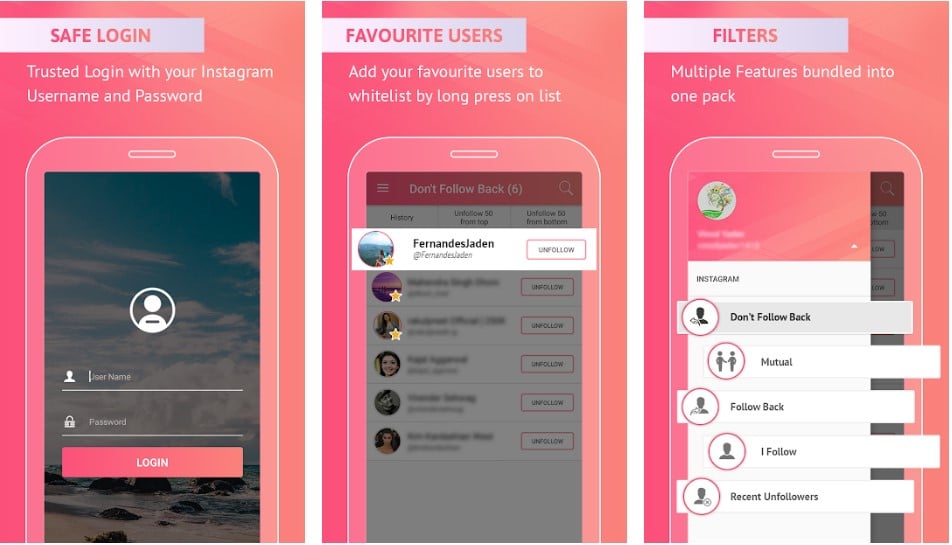 Followers & Unfollowers is our next follower track tool on the market. Even though this tracking tool is only compatible with android phones, it makes Instagram management activities super simple. It is easy to follow and unfollow the audience on Instagram.
This tool is perfect for figuring out various analytics around your Instagram profile and for you to access more advanced features, then go ahead and purchase a premium tool. It is even possible to white list people with the Followers & Unfollowers tool. It supports multiple account login, thus likely to switch between different accounts or manage them simultaneously.
Followers & Unfollowers can also discover people who are not following you back, the ghost followers, and give you statistics of the real Instagram followers on your account. The tool also presents you with performance analytics, thus easy to detect which posts are underperforming or popular on Instagram. Check this Followers & Unfollowers tool and learn more about its excellent rating.
---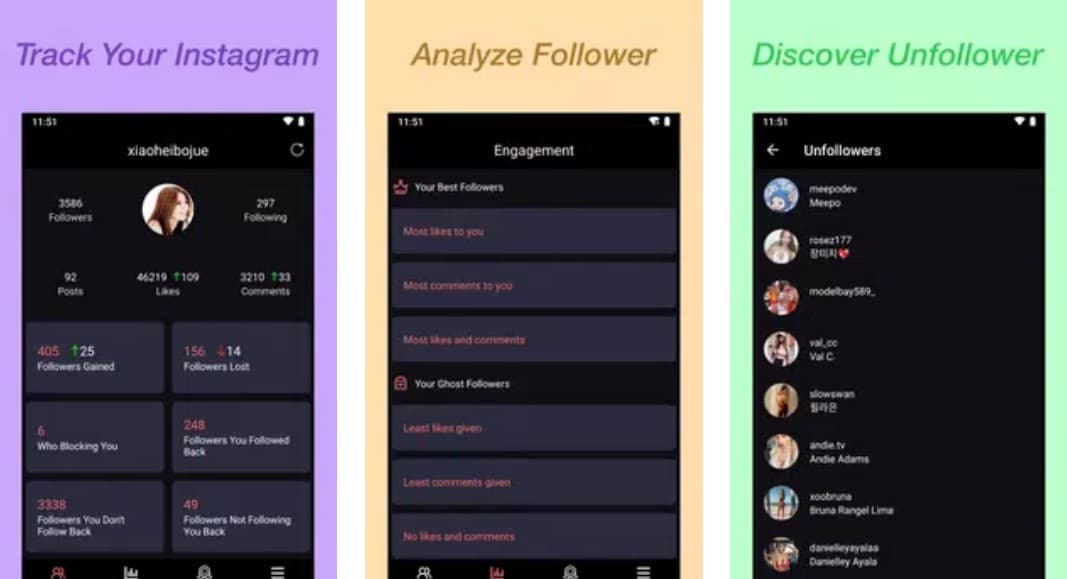 This is another Instagram follower tracker application. However, it is only compatible with android devices. It is a good option for managing your Instagram account growth. They have both free version to allow you to test their services and premium packages that comes with more advanced options.
They have helped many happy clients. And this has given this application popularity on the market. Otherwise, if you do not need advanced functionality, it guarantees you access to insights through tracking, and it generally has a simple UI.
You can use Followers Insight for Instagram for managing multiple Instagram accounts, which again promises you popularity and ranking. The statistics or analytic report includes the comments and the rest.
---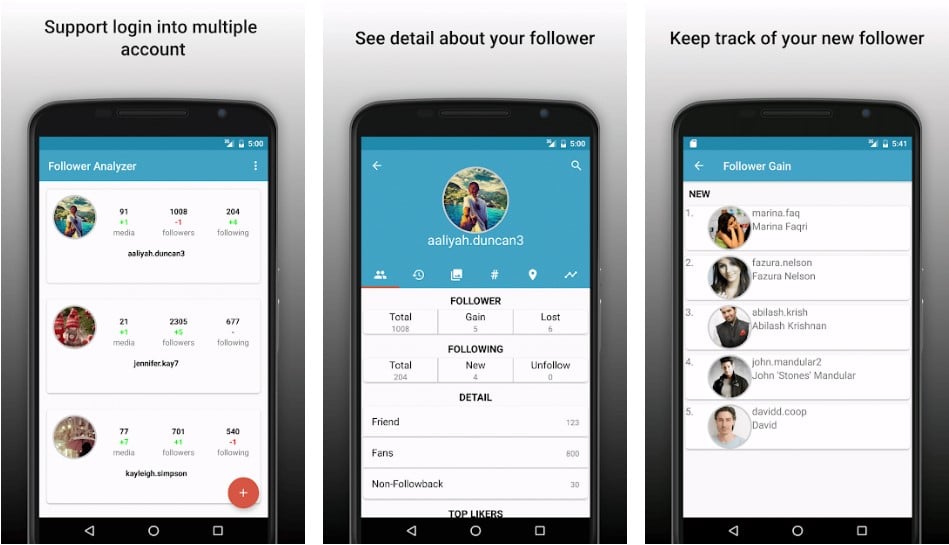 Follower Analyzer is a reliable  Instagram tracking application. It works perfectly on Android devices. It offers Instagram analytics that is perfect for managing Instagram followers and growth. So, if you come across an interesting profile or know who linked you and commented on your Instagram post, this is the application you need.
This is because the tool offers you insight alone and helps you unlock your follower's secrets. Do not take time and leave stones unturned. This is the time to get it right away.
Besides the above, follower Analyzer also lets you analyze the friends tagged often in your post. You can also use this tool to manage multiple accounts simultaneously. This is a good choice with many advanced features like analyzing the top watched videos, analyzing friends' accounts, etc.
---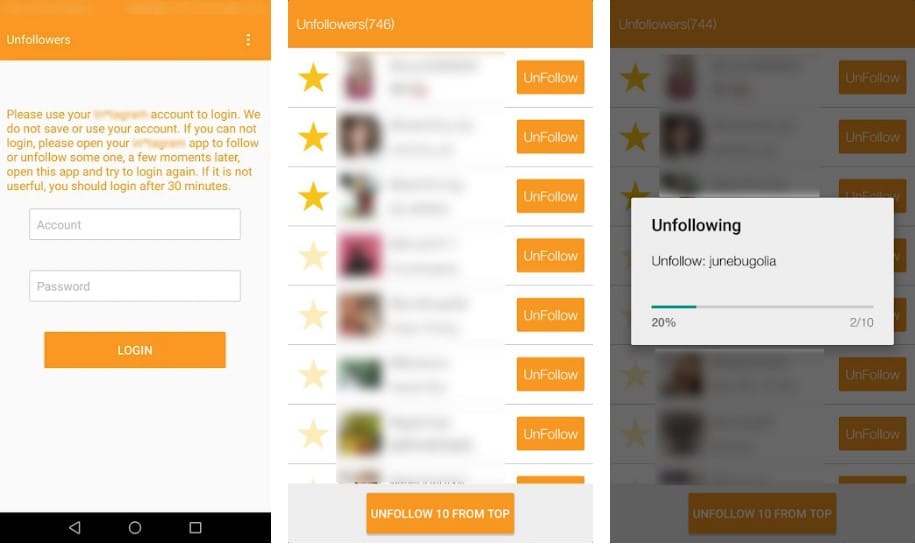 Unfollow users this is an Instagram tracking tool with a super simple interface. This tool delivers precisely what they promise you. They offer you a detailed analytic report to include those who have followed you and those who have failed to follow you back.
In short, this is a management tool. It does not only track your Instagram follower but also helps you unfollow multiple or single Instagram users. This is a must-have and the best Instagram growth management tool.
When you use Unfollow users to track some of the non-follower audience, it also allows you to unfollow them. Suppose you want to track friends who unfollowed you on Instagram. Note that the application does not increase the number of followers on your profile. Instead, it tracks followers. You can use this application to unfollow an unlimited number of followers. It is an incredible and straightforward Instagram management tool.
---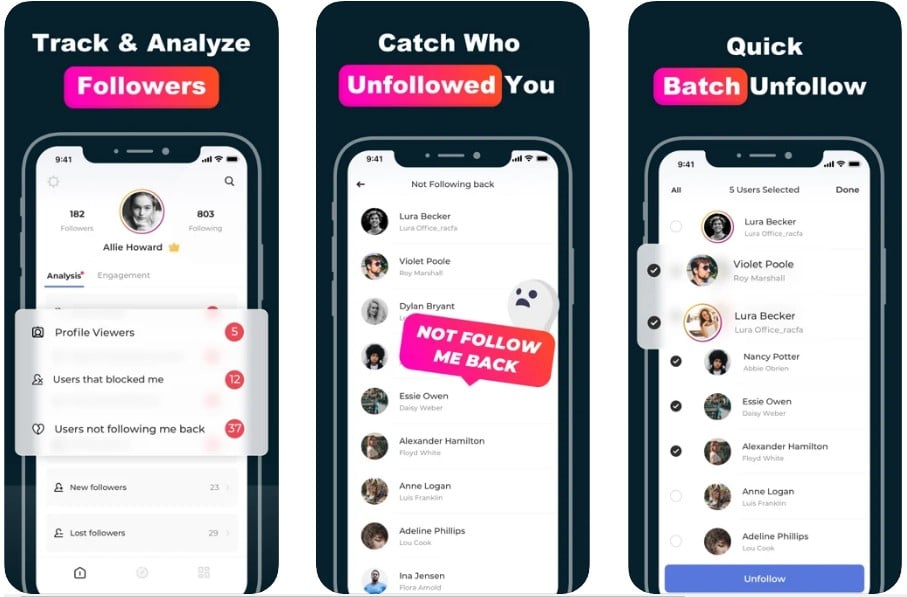 Followers Insights offers professional services to track Instagram followers and profile analytics like other Instagram follower tracking tools. You can use this tool to find out who unfollowed your profile, those not following you back, and evaluate the most liked users among your followers.
This tool offers the best features as you can instantly view all interactions on your profile, profile viewers, and even check on the follower that blocked you on Instagram. It also covers detailed analysis, including hidden by viewers that are not your followers, those people who view Instagram stories often.
You can get a real-time track report, making it easy to detect any new followers lost followers and group the audience based on the browse post. You can upgrade to the premium version anytime-either monthly, six-month plan, or yearly subscription.
---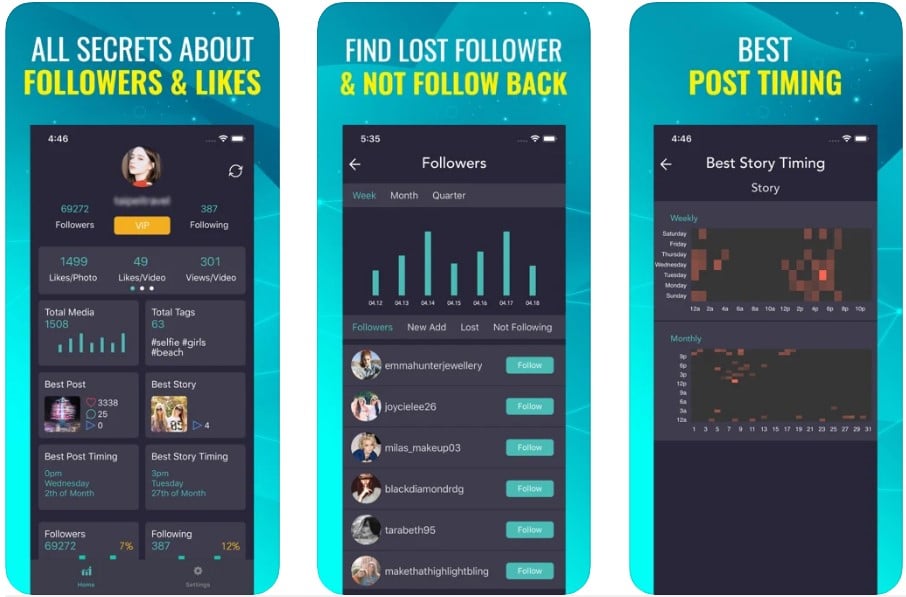 Followers Track for Instagram is another tool with the best Instagram followers trackers. This is a unique tool since it provides a complete report and deep insights concerning your Instagram account. In the insight and report, you will be able to access those followers, followers not following your profile back, new followers, the lost followers, and also groups non-active followers.
That is not all. You can still get to know those who like and comment but are not your followers, bring you the best engagement time for your Instagram posts, and rank your story and posts.
They take your privacy seriously, and thus, they never keep your data in the application. Currently, they have improved the application, and it now comes with a loading speed improved. Try it today since it has recorded a good rating and maintained a strong reputation online.
---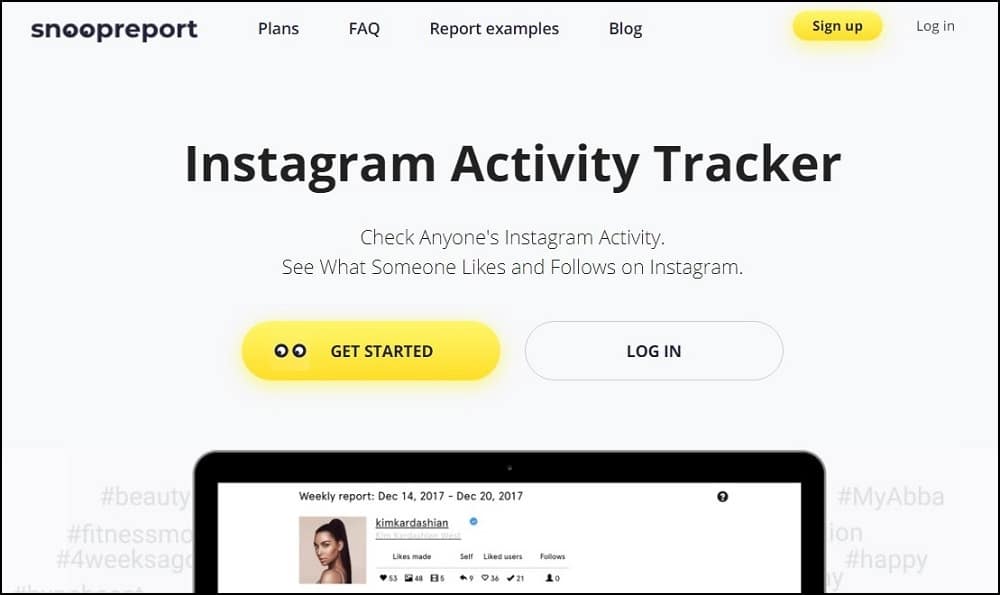 Snoopreport is a simple Instagram follower tracker tool. It is so simple to use and provides comprehensive data about your Instagram profile. It can keep you updated with any favorite influencer, marketer, or celebrity information. Track them with ease and say no more hassle.
Like on Instagram speaks volumes, and Snoopreport gives you Instagram history in volume with timely reports. There is no need to download the application since this is a web-based tool. The Snoopreport lets you access any insight from the cloud concerning your target Instagram profile.
But as long as it is web-based, you can download the activity log reports. Keep your jealousy at bay with Snoopreport and track your kids' interest, trace the target celebrity, and discover the interests of your audience as well with this tool. Snoopreport has over 26k active users and a good rating online.
---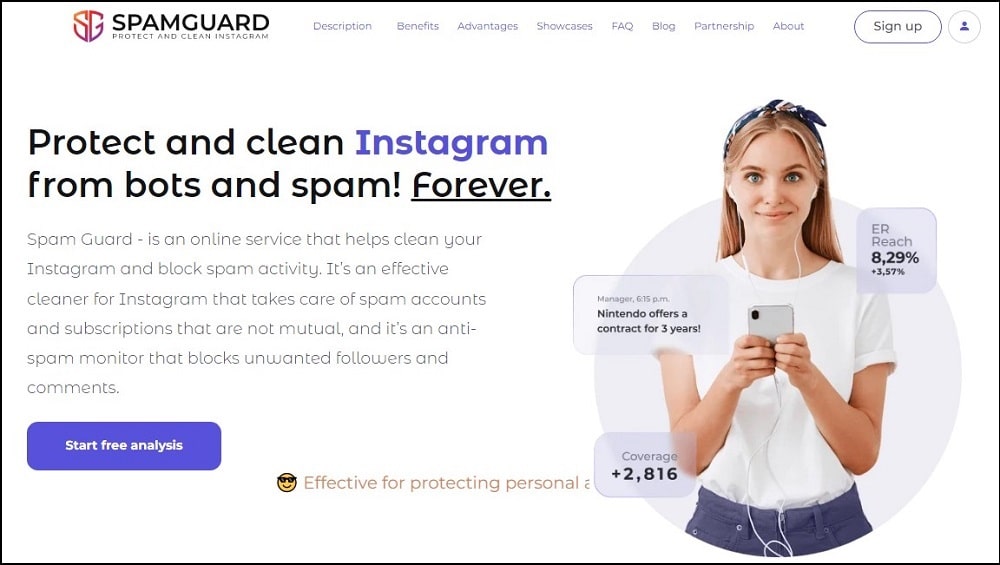 Spam Guard is an online-based tool that offers Instagram follower tracking services and helps you block spam activities. This is an effective cleaner tool for your Instagram profile. It can manage all the spam Instagram accounts and any subscription that is not mutual.
When we say anti-spam here, we mean the tool is capable of blocking any unwanted Instagram followers as well as the comments. This tool offers free analysis reports, and you can use it to operate multiple Instagram accounts.
Spam Guard also provides other insights about the followers. You need to pay for the subscription through a free tool if your profile is featured at the top of all applications. This is a suitable method of marking profiles and getting more exposure online. Again, this tool comes with many customizable features, making work easy when used. Spam Guard works on any device, and you can run it in the background.
---
Is Instagram Follower Tracker App Safe?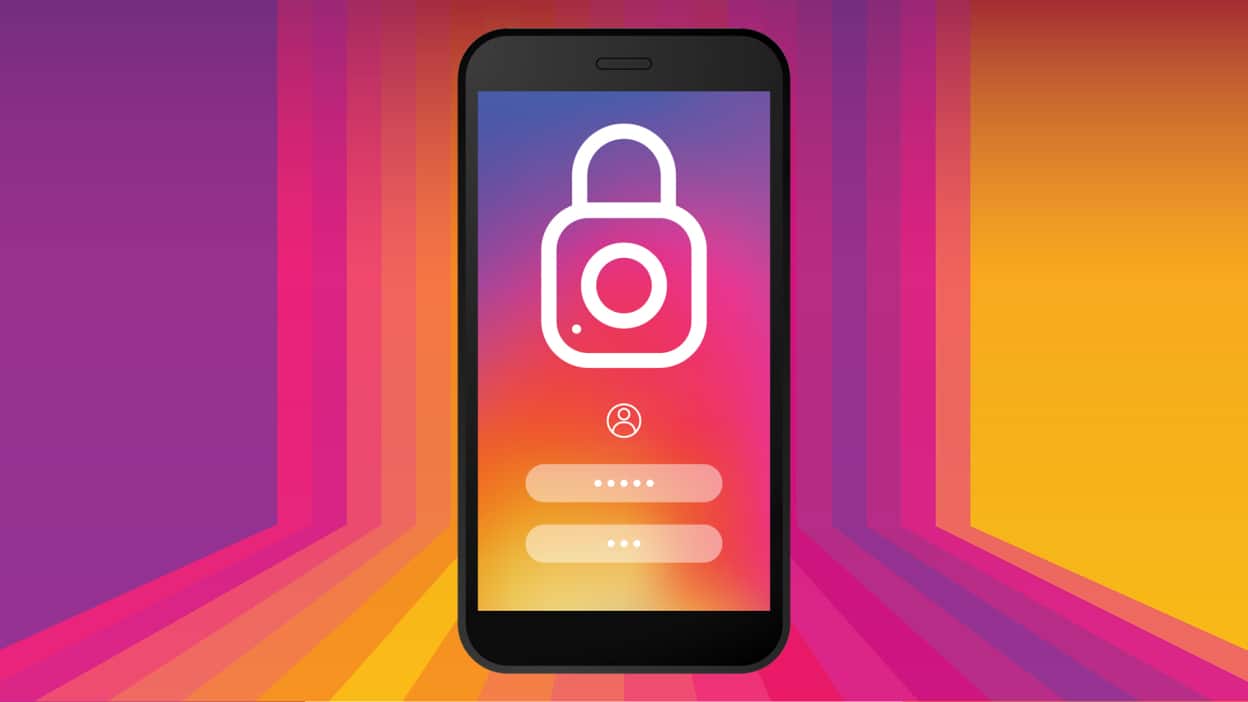 Before concluding, remember I said that not all Instagram follower trackers are reliable. There are still those illegal applications, but since they are being shut down, we can assure you that most of these tools are advancing and becoming safe for use. since everything here is going with API, not everyone can access it.
Thus, this service is only available to the approved third-party tool that sticks to the guidelines. The above-discussed tools are safe and reliable as well as comply with all API guidelines. These terms include pretty strict privacy restrictions. This involves things like password, your username, and the rest.
Previously, most Instagram follower trackers did not adhere to such rules in managing your private information. For that reason, they are not approved for API access and shut down. Yes, anyone can make an Instagram follower tracker tool and run it, but when you provide a safe service, Instagram detects it and spam since it is easy to steal personal information.
For that case, we do not recommend sharing your details on these third-party tools. This is because they might compromise your online safety. when tempted, ensure that you use the safe third-party Instagram follower tracking tool and complies with API guidelines such as the above-discussed tools.
---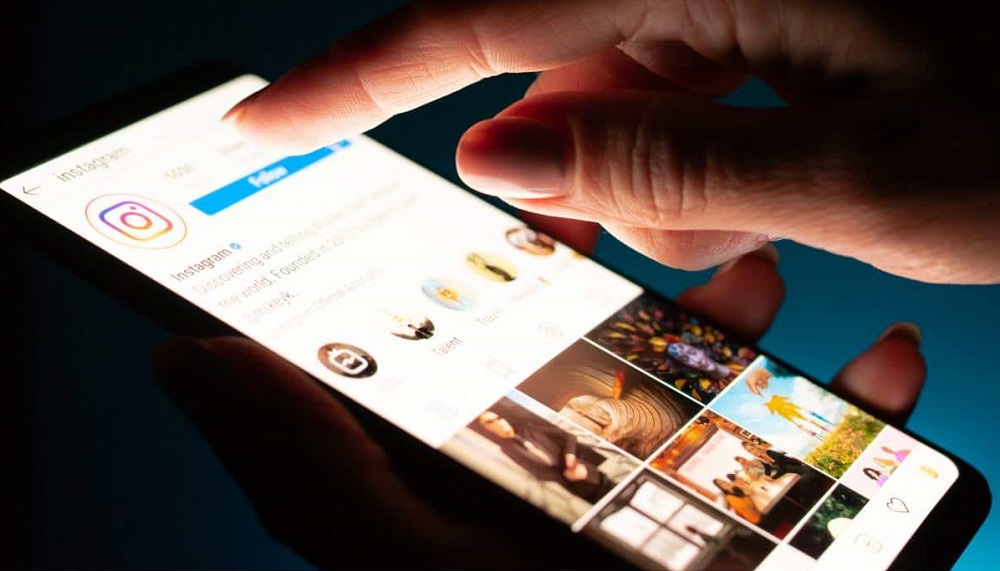 Differentiating between fake and legit Instagram tracking tools is hard when you are still new in his field. But we are here to get you covered. It is easy to identify unauthorized Instagram follower tracker applications.
Therefore, we will go through the step-by-step process to help you stay safe online, secure your data and also make sure that you do not risk the rest of your social media accounts at risk while online. Here is how to identify unauthorized Instagram tracking tools.
Step 1: Log in to your Instagram account, navigate to the settings,
Step 2: Go directly to the privacy option,
Step 3: And select 'apps and website'
Step 4: Then check on the 'active and expired' apps.
From the list displayed, you will identify if the tool you are using has expired or is illegal. You can also see the tool that has expired and doe not comply with the recently;y updated API terms. And in contrast, you will again access the official  Instagram follower tracking tools with brief details when promised by API access.
From this point, you will discontinue the tool when you feel it is not safe. But it is also worth mentioning that this option of settings is only accessible by authorized tools. Therefore, when the application you are using does not display, it is automatically that the app is unauthorized and immediately stop using it.
Some unauthorized tools utilize proxies in accessing login and details, and we highly recommend changing your password once noted.
Best Instagram follower trackers are vital in helping you track Instagram growth and get real followers. They provide deep insights into your Instagram profile and monitor the growth patterns, views, and even others giving you the post-performance. However, you should note that not all Instagram follower trackers are safe to use; most of them can hard and risk your personal information by exposing you to possible hackers online.
Now you have it; the above tools are the best Instagram follower trackers. They are safe, reliable, and secure for use without a doubt. This is because they comply with Instagram API and prioritize your online privacy. Stay safe as you monitor your Instagram follower growth.