Hitleap may have dominated traffic exchanges for years, but now it's a thing of the past. So, it's time to take a look at some of the best alternatives to Hitleap!
Traffic generation and content creation are becoming vital in our growing industry. Marketers are spending a lot of time generating traffic to their websites. The process needs time and more effort. However, several solutions are available on the market to help you save time and evade straining.
Therefore, it is important to use a third-party traffic generation platform so that you can save your time and effort for creating appealing content. Due to the rising demand, let us look at HitLeap before exploring its alternatives.
---
What Can HitLeap Do?
First, Hitleap is a service provider which offers traffic exchange services to your website. It was founded in 2008 to perform different options when you log in.
1. Traffic Exchange
Traffic exchange was the main aim of Hitleap, and it made the website famous. When you visit other websites while logged in to Hitleap, you could easily earn credit. That credit was important to help you get visitors to your website. Since its inception, the whole process has been free.
However, you need first to download and install this software. When you visit other people's websites, you also gain more traffic in the long run. It does not only allow a single website, but also you can add multiple websites that need traffic. Their software supported Windows and Ubuntu.
2. Buy traffic
Since most people had no time to spend visiting other websites, this software also could buy traffic. It was the fastest and efficient method of gaining traffic. However, you had to budget for it, of course. While traffic exchange was limited to certain devices, this option offered users unlimited devices.
They offered several packages. But when you bought more visits at once, the price was cheaper. However, they never indicated where the traffic came from. It was cheap, but the traffic was not real.
3. Making Money with HitLeap
The developers rewarded customers who invited other users to join Hitleap through a referral program. Once you signed up and became a member, you could access shareable links with other users to join. When a person joined through your link, they are offered a commission based on your membership type.
Free traffic exchange offered people a commission of 10%. It translated to the fact that when you invite people, and those users manage to visit 1000 websites, you could automatically get 100 visitors. But when one updated their membership, you could earn a cash commission which you could withdraw through PayPal. This was one way of making money.
4. Multiple Viewers
Upon installing the Hitleap software to your device, you could also access the multiple viewers' option. However, it would be best to have different devices with different IP addresses to earn more credit. This is also a good way of earning credit to drive more traffic to your website. And this fact explains their low-quality traffic. Therefore, it was worth considering it too.
---
Best HitLeap Alternatives
Due to the fake traffic offered by Hitleap software, it was closed down on 6th December 2021. Thus, there is a need for the best alternatives on the market.  We have collected the best reliable traffic exchange platforms to help you fulfill your dreams. Here we go.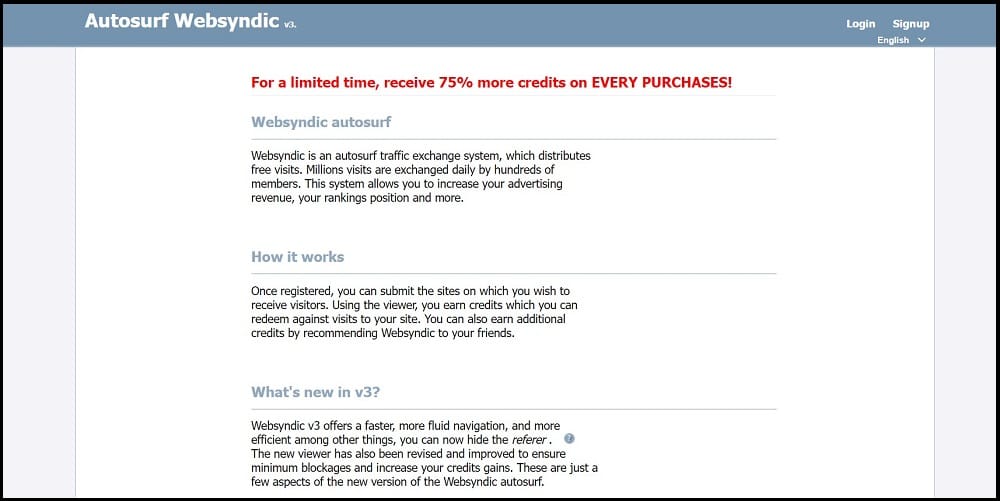 Websyndic is a platform designed specifically for auto-surf traffic exchange. You can exchange millions of visits using this platform daily. Besides, they also help you boost your SEO ranking, advertising revenue, etc. They claim that they have many members they rely on for traffic exchange. Anyone can access their free services, which is a good move.
Their software has many advanced features. The platform is simple and easy to register. You can submit your website and earn credit when visiting other people's websites. You can use the credit you earn from it to get more visitors to your website.
Also, when you recommend other people to the Websyndic website, you can get visits. When you use their V3, you can enjoy improved speed, easy navigation as well as hiding your referer. The software has been revised and updated to minimize the bans while increasing credit gains.
---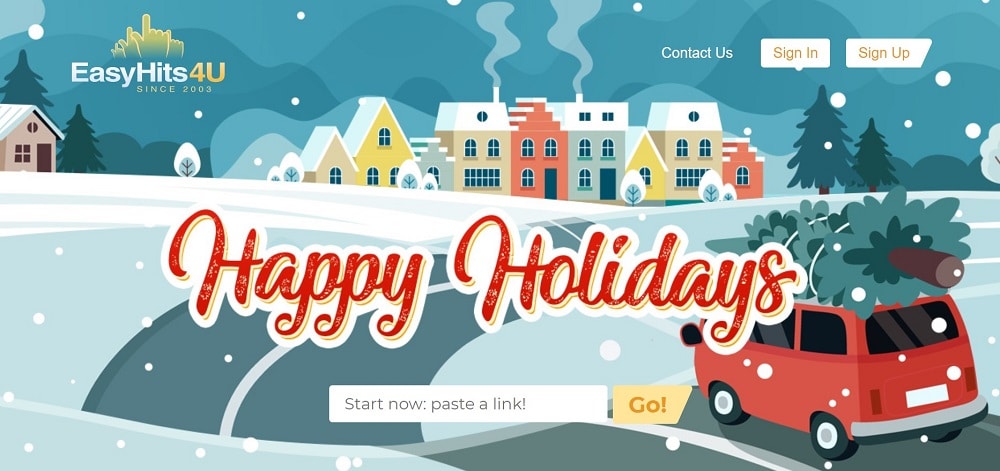 Easyhits4u is the best alternative to Hitleap software. It is mainly a promotional platform that can easily help you generate quality Ad views and visits. When you increase visitors to your website, you are also promoting revenue. The platform has been a leader in the industry since its inception back in 2003. They understand what lead generation is, and to this far, they have delivered over 4.3 million visits among 1.8 million members.
The site comes with easy features. For instance, easy networking allows you to connect with other members to receive free optional review ads. You can also use marketing tools to communicate with members as well. Their customer support is responsive and friendly. You can update their premium packages when you don't have enough time online and still get the traffic.
---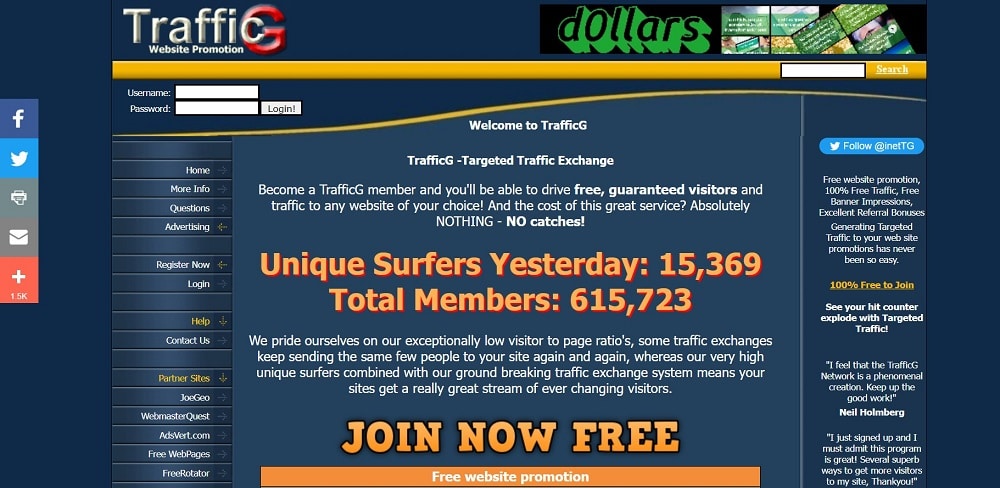 TrafficG is also a perfect traffic exchange platform that you can rely on to increase site visitors. Their services are free of charge but guarantee visits to your site. Their free promotion package uses a 1:1 exchange ratio. It comes with many features like geo-targeting the traffic, unlimited sites, unlimited banners, and supports over 38 languages. They also offer a 5 level rewarding program.
You can as well update and access more advanced features. Their pricing is friendly, and if you need instant traffic, they also have it ready for you at a cost. Their groundbreaking surfer uses a groundbreaking traffic exchange system to offer great streams and change visitors.
---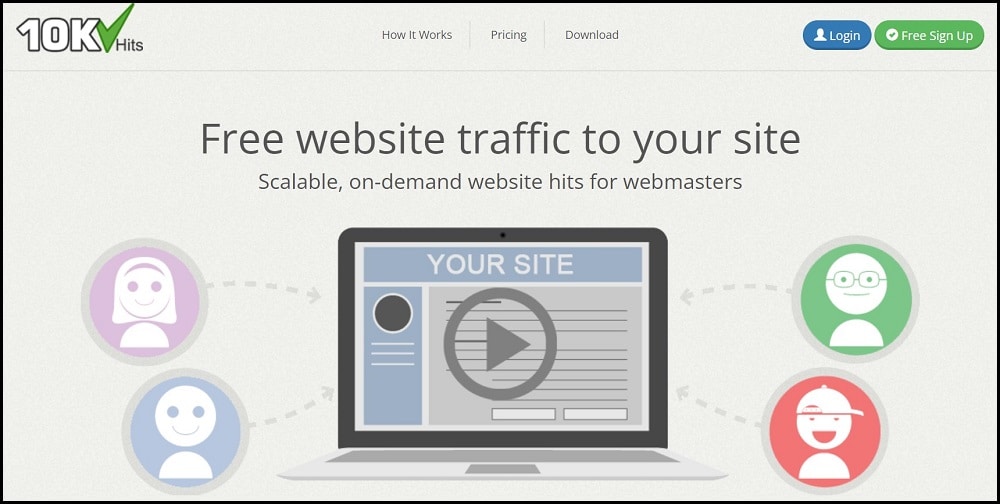 10KHits is a significant traffic exchange platform. Instead of Hitleap, you can also try their services. You can enjoy free website traffic to your website, which is scalable and comes on-demand to get you started. This platform comes with more advanced features than other providers on the market. The free plan is among their features you can enjoy and promote your website.
However, getting advanced features becomes an issue. You must first upgrade to their 3 pricing plans. Booster pack offers you 200k traffic points at only $20 per month. You can also manage 40 website slots to increase pages in a rotation at $10 monthly. However, the business plan costs $29 per month. Charges. It is an affordable provider. Thus, you can try it.
---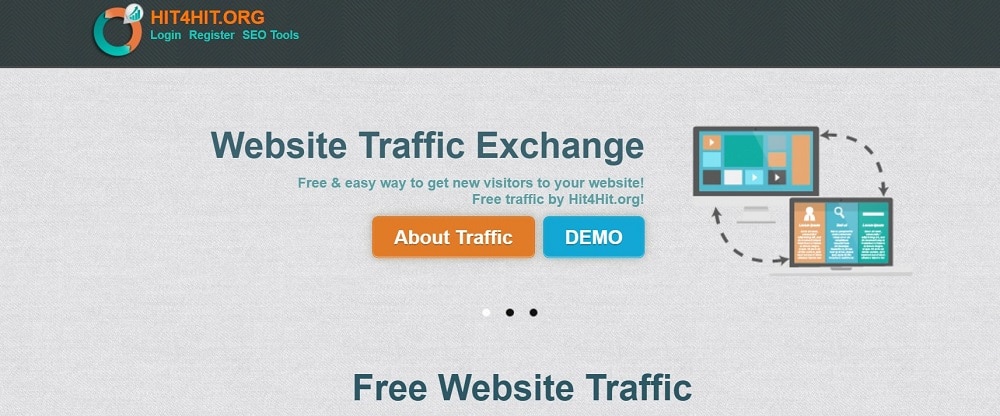 Hit4Hit is a newcomer but offers free traffic exchange services on the market. This is an easy way to advertise your website. They also offer free ads and banner exchange. Your websites appear on search engines with more exposure when you get more traffic. You can also use it to track your posts and optimize them on social media platforms.
Hit4Hit is a good option to try. This is because when you can track the audience and create relevant content, it means more followers to your website, increasing engagement. The platform offers many services—for example, SEO ranking, marketing, and promotion. You can also access a network of community and dedicated support teams. Registration is free and simple
---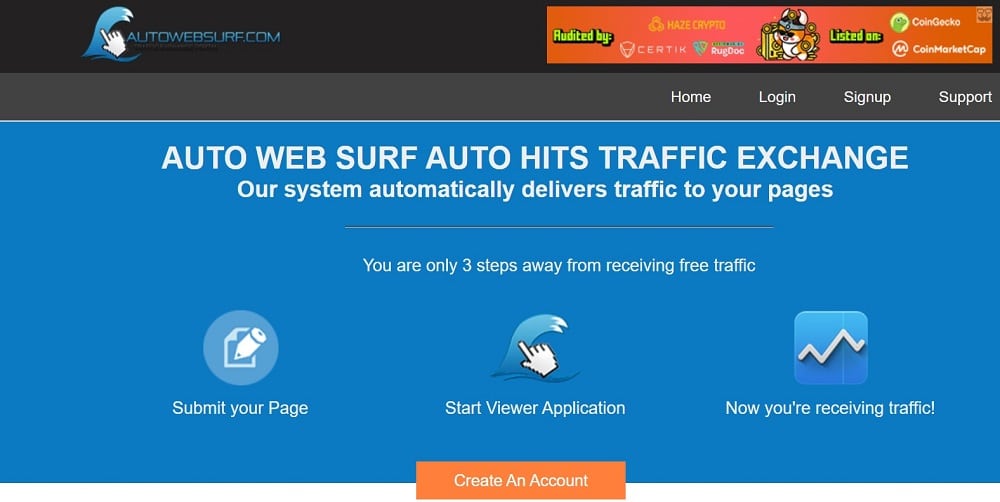 AutoWebSurf is a website-based service provider. It offers high-quality traffic exchange services. The delivery is automatic, but it is only limited to members. They accept family-friendly websites as well as videos and social media pages. The provider comes with more advanced features like real-time quality traffic, hourly traffic control, reducing bounce rate, anonymity, and adjusting your view timer.
This is a smooth web surf system that offers many benefits to your website. You can also earn from referral programs on this platform. Another thing you should note is that this platform offers different sessions with different IPs to evade detection. And lastly, you can post your website as a text or a banner to get more promotions.
---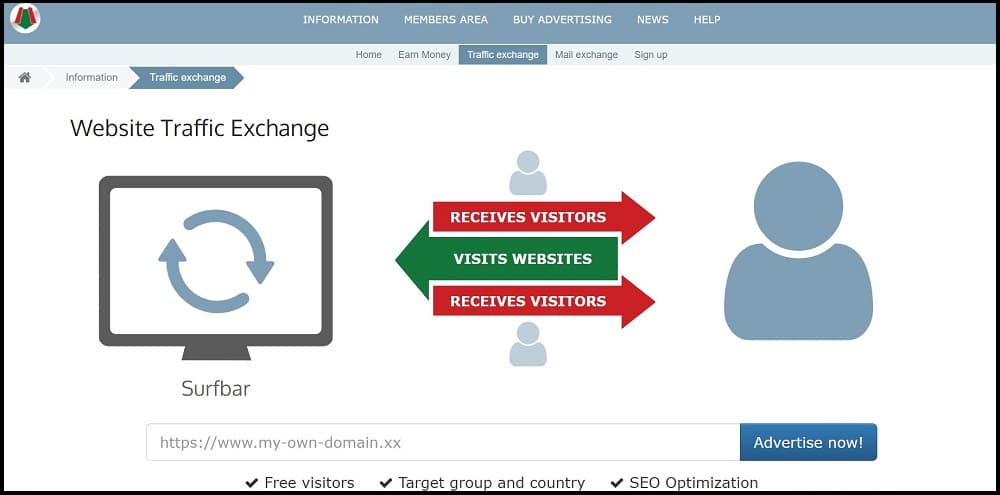 eBesucher is another proposed traffic exchange platform. It works similar to the Hitleap mechanism and has a friendly customer UI. So, this is the best option also available on the market. However, it offers you points when you visit a website. Thus, using the eBesucher bidding option, you can select the number of points to receive traffic on your website. As a promotion to their new members, you can access free website visits.
Geo-targeting is also another worthy feature. This enables you to select the location of your target traffic. Optimization and search engine ranking are also other perfect features of this platform. New visits and hits are now easy with this platform. Other than free traffic, which requires time as it is a visit to receive a visitor, you can also go for premium packages. You can get targeted visits or buy the US traffic with them.
---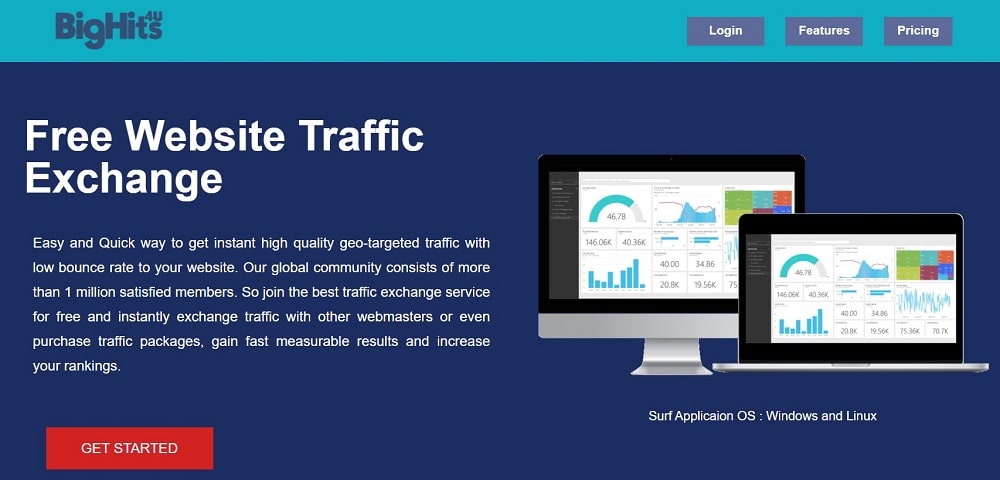 Bighits4u is a platform that allows members to exchange traffic with other webmasters worldwide. Their traffic services are free, and they validate instantly to your website. This platform has many unique features that set them apart on the market. These include a geo-targeting option to help decide on the target audience.
Also, Bighits4u has a meager bounce rate, and their community consists of over 1 million participants. They are all happy with this service. The platform supports both android and windows while exchanging traffic. It is compatible with all major browsers, and they promise you legit and organic traffic to your website.
They can as well extend the visit duration to your website. Their dedicated software offers scalable results and 24/7 customer support. Most of their traffic is sourced from social media platforms.
---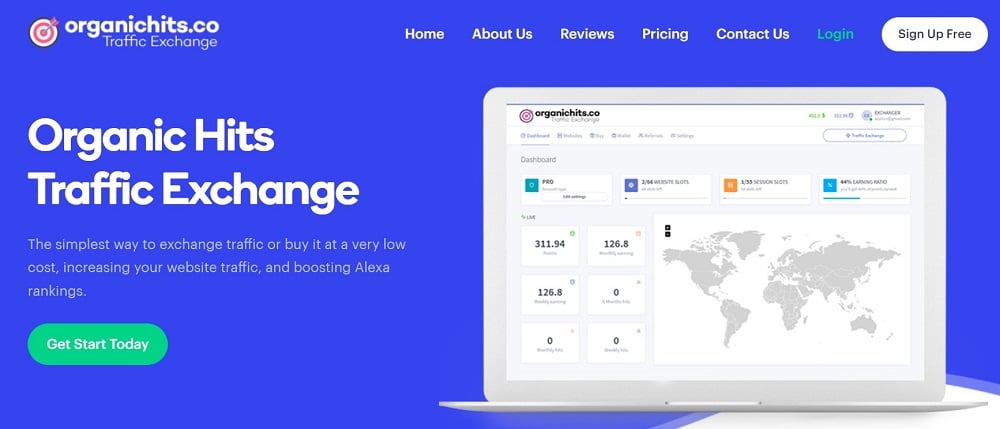 The name Organic Hits speaks for itself. It is among the few best organic traffic exchange platforms on the market. It comes with superb features making it outweigh other alternatives. It has a friendly user interface; hence, anyone can use it. They have a simple way of gaining traffic, but you can also access it at low pricing when you decide to buy it. They help you with the track and boost the Alexa ranking.
Organic Hits offers automated services and sessions to save your time. It is simple and easy with instant exchange immediately when starting a session. It is safe, secure, and reliable, allowing users to access your website directly.
They use a trusted auto-surf traffic exchange on the planet and have a large website base for exchange with participants. The platform supports 120 countries to date with anticipated 25k traffic per hour. When you register an account, you earn points that you can use to buy more traffic packages.
---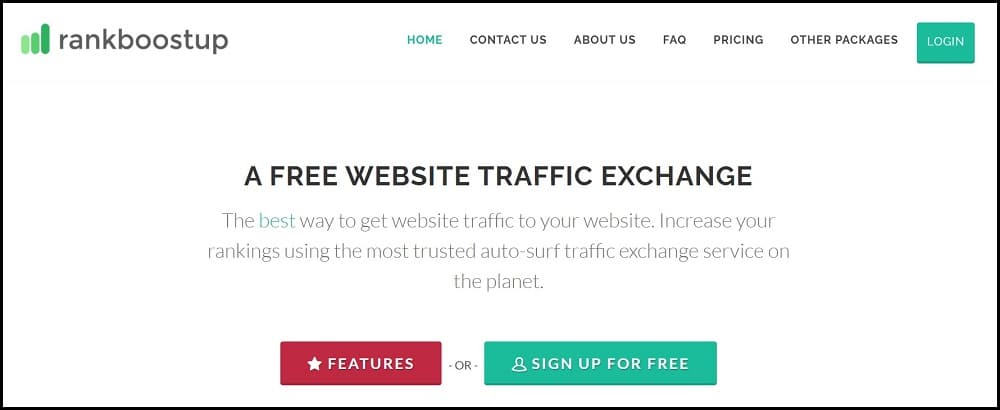 Rankboostup has a fantastic and best way to earn you traffic. You can easily exchange traffic on this platform free of charge. When you want to increase website traffic, go for this platform. This is because it has unique features and you can as well access it on your mobile phone.
They have a superb geo-targeting feature common among providers, but it is good for targeting a traffic location. It also drives traffic from social media platforms.
Rankboostup has a low bounce rate among other features, and its results are scalable. They also offer 24/7 dedicated customer support. You can also set a smart notification when the duration falls below your set level when using this platform. You can get 100 auto-surf traffic for free when you sign up today.
---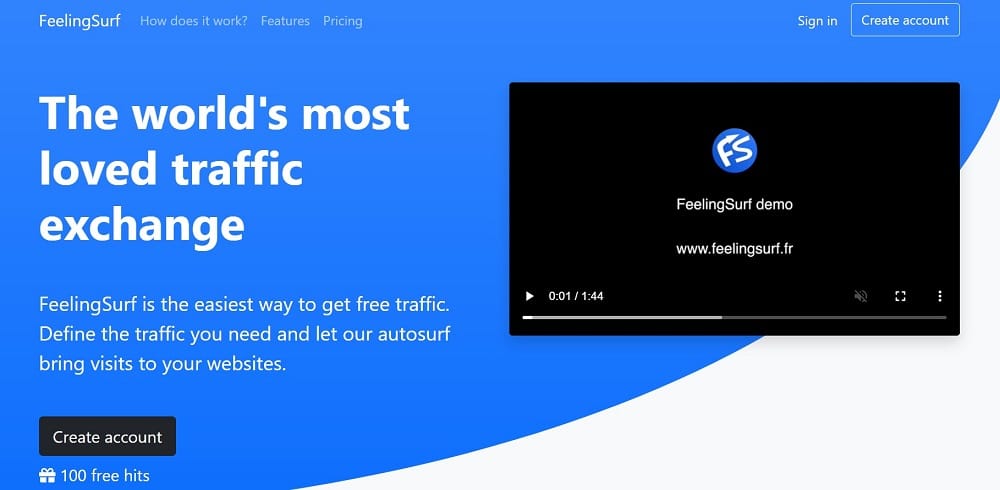 FeelingSurf is the world's most loved and reputable traffic exchange platform. They have the easiest way to generate free traffic to your website. When you define your traffic needs, their auto-surf tool brings the target audience to your website. When you create an account, they assure you 100 free hits instantly on your site. The providers are in control of offering highly customized on-demand traffic.
Their site has simple but powerful features specifically made for webmasters like you. They run their surfing application which automatically visits your website. When users visit, they earn credit that they can redeem for visitors to their websites. This site keeps you anonymous but ensures organic traffic, and you can geo-target from around the world.
Their application is compatible with windows, macOS, Linux, and even mobile phones. Besides buying traffic, you can control your visit duration and auto-click the links to reduce the bounce rate.
---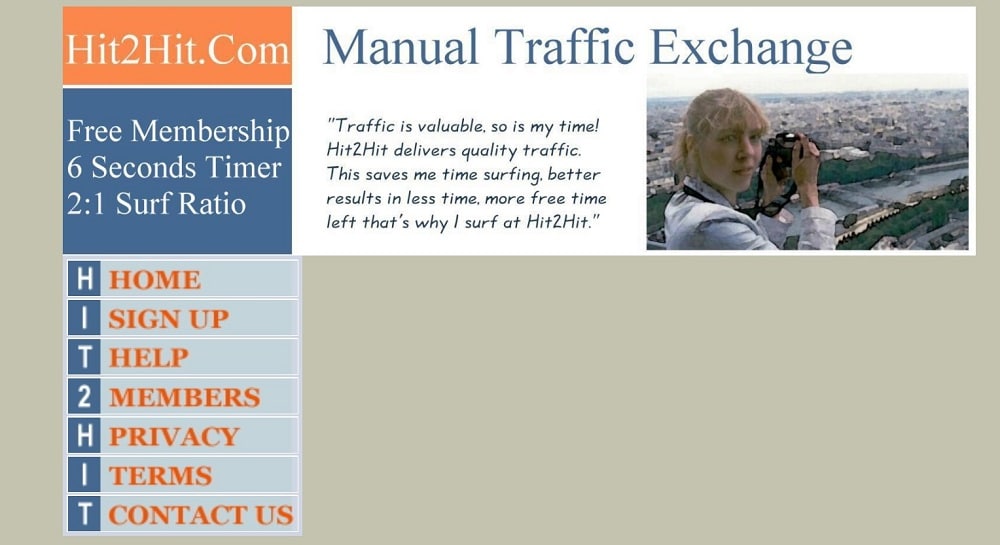 Hit2Hit is another platform you can go for. However,  they believe that traffic is valuable, and so is your time. They guarantee you a manual traffic exchange even on a free membership. It operates on a surf ratio of 2:1. Hence, they offer better results in less time, which is why most people love the Hit2Hit platform. This is where webmasters and quality traffic meet for the exchange.
This provider has been on the market since 2005 and has gained relevant experience in delivering high-quality services. They can also help you advertise your website at an affordable cost. Manual traffic exchange is a perfect promotional site to boost your website traffic.
---


And lastly, we have vetted the ManyHit platform. It offers the best free traffic exchange services. It comes with many helpful features like other providers on the market. The auto surf helps boost your Alexa ranking and enjoy a 0.8 exchange rate.
They have been in the market for a long time hence reliable. But on their website, you can surf without logins and run unlimited surfs using different IP addresses to help you evade detection. They offer a dynamic exchange rate when using manual surf.
When you refer people to their website, you can earn 10% referral credit. They have recorded a $1 million cashout through Paypal and payza.
---
Conclusion
Hitleap, since its inception, was excellent at delivering traffic exchange service. But, because it is now out of the market, it is worth looking for other best alternatives on the market.
All the above providers have been researched, tested, and vetted as the best alternatives for increasing web traffic. They offer different advanced features making them stand out from the rest. Check the features and ensure it meets all your needs. Above all, consider your budget and customer support. However, they are all reliable, secure, and safe for your website.