Are you interested in accessing who your YouTube subscribers are? Then look no more. We have you covered. Please read our article about the best YouTube live subscribers tracker.
YouTube is a fast-growing social media platform. However, a content creator must first focus on growing growth metrics. Various growth metrics can determine your channel growth. The most important one is YouTube subscribers.
Therefore, subscriber counts tell you about the channel and its performance. When you understand the needs of your audience, it becomes simple to grow your channel to the next level. This means you must curate your content to fit the needs of your audience.
Though YouTube lets you access your channel subscribers, tracing the real-time subscribers requires a subscribers tracker. Therefore, if you would like to track your YouTube subscribers and gather more data about them, use live YouTube subscribers trackers or counters. This is a good choice, and our article will cover anything around it. Let us get started with the best live YouTube subscribers tracker.
---
Best YouTube Live Subscriber Tracker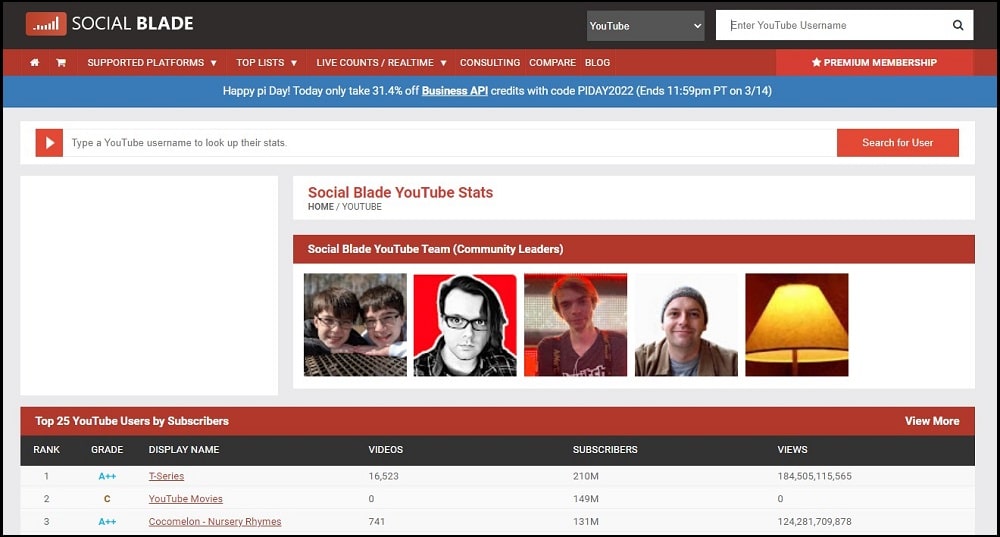 Social Blade is an online-based platform that provides global social media analytics services. This platform is free but gives you access to statistical data, social ranking, and new YouTube subscribers in terms of percentage.
This is the perfect YouTube live subscriber tracking tool on the market. It effectively copes in offering the services to their clients. It promises to give you all timely information about the new youtube subscribers on any channel you want to analyze.
One of the features that sets it apart is comparing up to 3 YouTube channels. It can easily define the leader among competitors and suggest the best strategies to improve the rest. You can also get to know more about the most sought-after YouTube channels. You can learn how nay YouTube videos appear every day and the number of viewers.
So, when you want to monitor the live subscriber counts on YouTube using this tool, Social Blade, you only need to use the channel name. It then generates the result automatically. This is an all-in-one-stop shot analytic tool that provides analytical results for YouTube and covers other YouTube alternatives such as Twitch, Instagram, Twitter, TikTok, and many more. They also offer consultation and top-list services.
---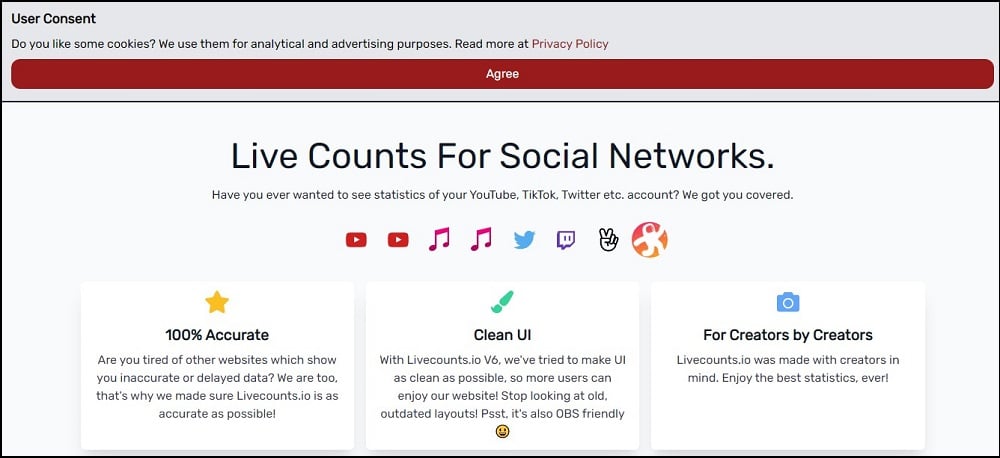 Livecounts.io comes second on our list as the best live subscriber counting tool. So, if you are looking for a place to access the statistics of your YouTube channel, Livecounts.io got you covered. It offers almost all primary social media analytic services.
The tool is straightforward, and we guarantee you that their real-time results are 100% accurate. Its version 6 now comes with a clean and friendly user interface. You can enjoy using this tool in analyzing YouTube channels, and the good thing about it is that it is also friendly with OBS.
Livecounts.io is well known for monitoring real-time YouTube subscribers. However, it does not provide detailed information but be assured that you will find real-time and accurate information concerning new subscribers on your YouTube channel. It also shows you the recent video uploaded and viewers.
The tool also has a friendly user interface, and its features on the dashboard are arranged logically. You can also change the background color of the device whenever you feel like it. This tool was made with the creators in mind, and besides live subscribers, it also guarantees you live subscriber comparison analysis.
---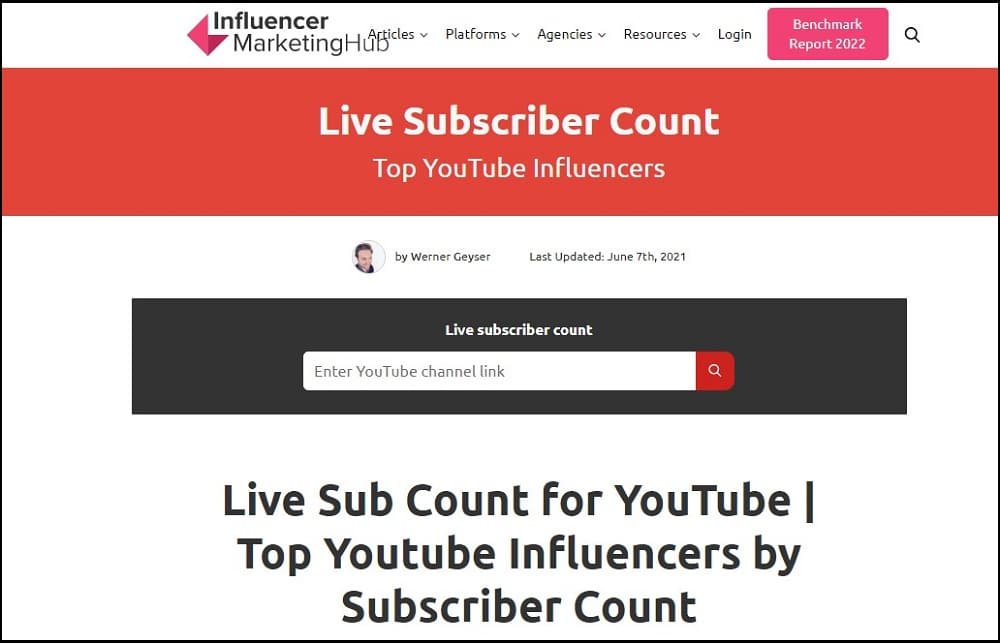 Third, on our list is the Influencer Marketing Hub. This is the online-based tool that is well known for monitoring the performance of the YouTube channel. It is a free platform but has an intuitive operation. It does not only show you the total number of videos and subscribers, but it is also a perfect option for checking the real-time YouTube subscribers.
However, this is not your choice to analyze different social media platforms. Influencer Marketing Hub only offers YouTube analytics data. This tool is simple and comes with a friendly user interface. Influencer Marketing Hub is a go-to platform for most YouTube content creators.
So, if you want to analyze your YouTube channel and access the live subscriber count, you will only need the channel link. The tool has everything designed, and this makes sure that your performance analysis is simple and fast enough to save your time. No registration is needed. And the website has a piece of detailed information which is a plus.
---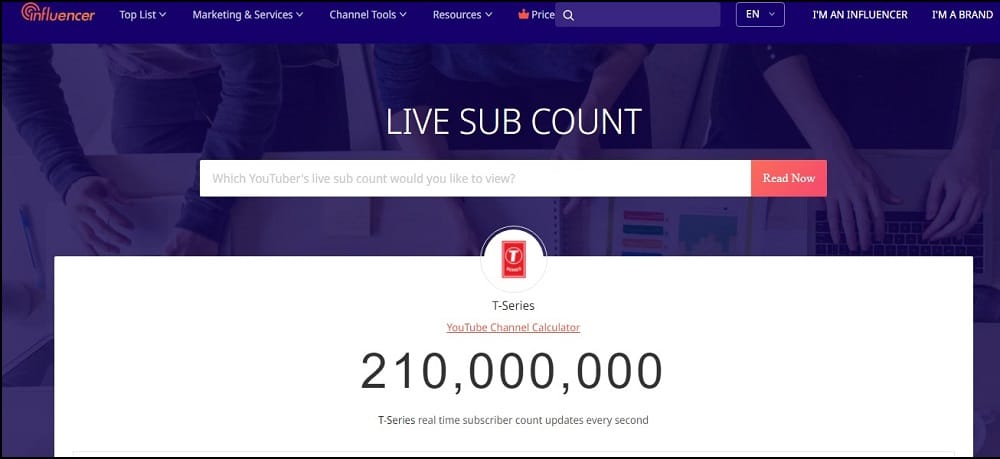 The next tool is Noxinfluencer – Live Sub Count. This is an excellent YouTube live subscriber counts tracking tool. You can use it in monitoring the number of live subscribers on any YouTube channel. The tool is available for anyone, and you can use it for free. However, you cannot access other advanced features on free mode. You will need to subscribe to the premium package to enjoy extra analytics features.
Noxinfluencer – Live Sub Count updates their live count list every few seconds, which means they are real-time and accurate. You can find the analytic details on the dashboard. Besides real-time YouTube subscribers, this tool also provides you with accurate view counts, likes, and comment counts.
This is another perfect choice which you will never regret going for it today. They have a YouTube channel tool that offers live subs count and all analytic services such as comparison, trends, keywords, etc.
---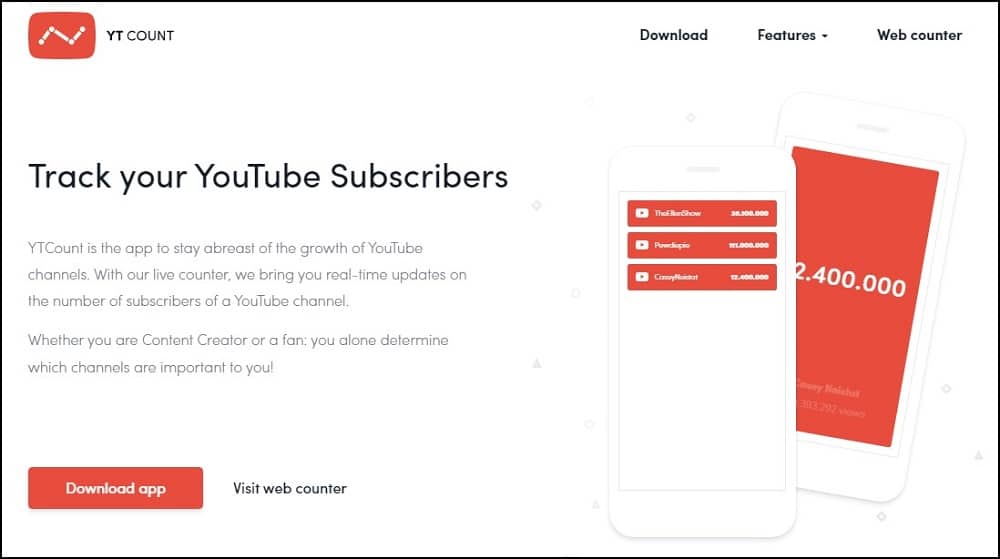 YT Count is also another reliable website that offers YouTube subscriber tracking services. It aims at monitoring the growth of the YouTube channel. And using their live counter tool, you can easily access the real-time YouTube updates on the number of new subscribers to the channel.
Regardless of your status as a fan or a content creator, you can determine essential channels with any other tool. YT Count also allows you to track multiple YouTube channels and compare them.
Another thing you should note is that YT Count offers many services besides live counter. These include notifications, statistics, and apple watch services. They let you know the progress and new subscribers on the YouTube channel with notification. However, this is an application which only compatible with iOS devices. They are soon releasing an android version. Monitor your YouTube channel changes in real-time.
---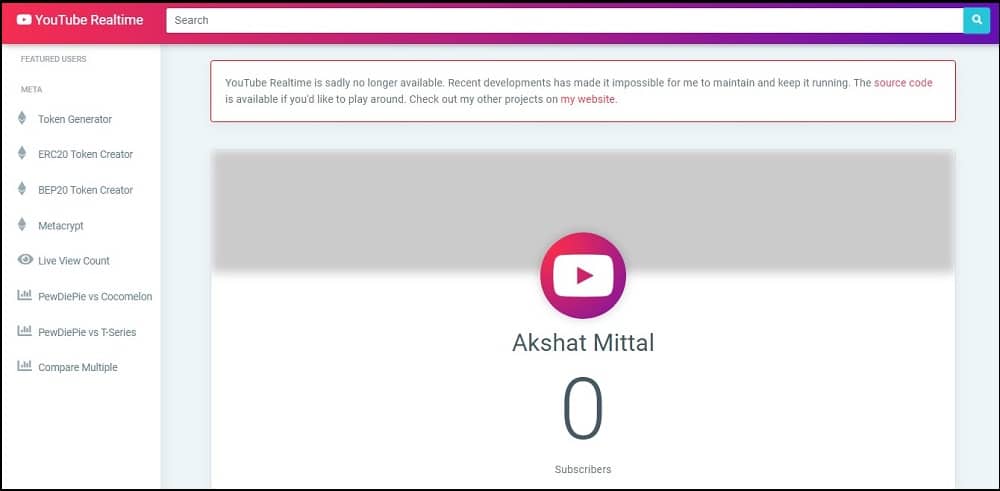 When you go for Akshat Mittal, be sure that you can easily access the statistics of YouTube subscribers on any channel in real-time. This tool also grants you an opportunity to access the YouTube channel views, comments, and the number of videos uploaded on the channel.
It is also a good option you can consider. To get real-time live subscribers and other statistics, you can search terms on this website, such as the channel's username, channel ID, channel URL, etc.
Akshat Mittal is the best YouTube live subscriber counter tool on the market. And when you analyze a channel, this tool displays all information plainly on the dashboard together with the channel art. You can also use this platform to compare multiple channels, to access token creator and generator tools. And lastly, you can also get to know the live view count on your YouTube channel.
---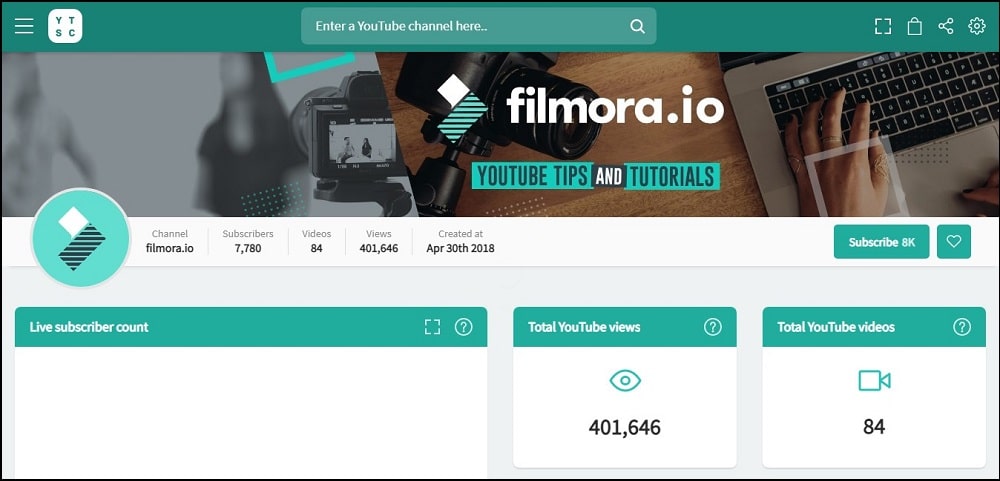 Subscribercounter is a simple website that is easy to use. However, it does not provide detailed analytic data about the YouTube channels. So, if all you need is the number of YouTube subscribers in real-time, you are at the right place. They only need your YouTube username, enter it on the search bot and tap on search.
They will show you all the videos featured, the viewers, etc. This is an easy tool, but you should never expect much from these guys. But the good news is that m they present only primary data on the live YouTube subscriber tracking.
Subscribercounter is a free tool designed for YouTube content creators, companies, and fans to track real-time channel analytics such as live subscribers. The tool uses multiple APIs in sourcing their real-time information. They aim to become the best free YouTube subscriber tracking tool. They are currently working to better it and improve the user experience.
---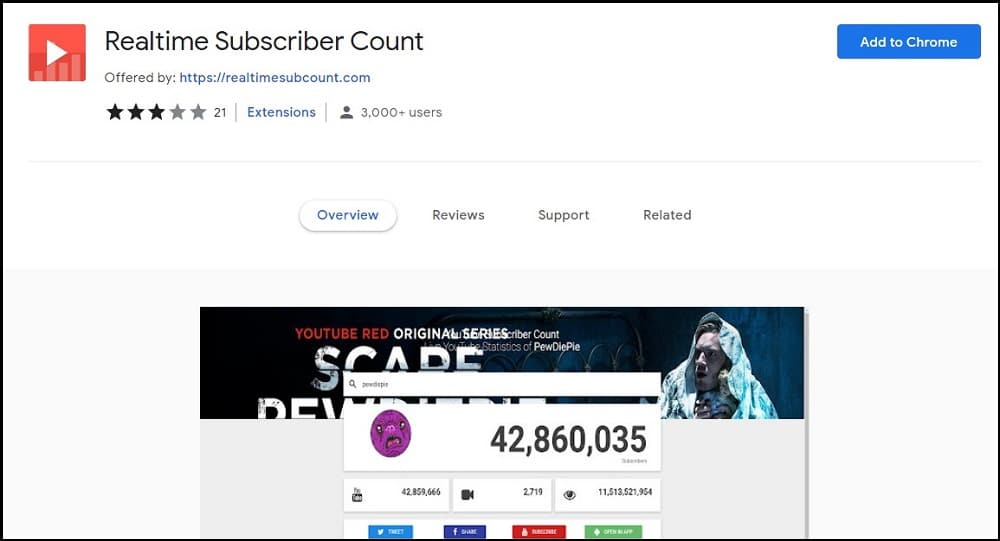 Real-time Subscriber Count is a unique tool. Even though this tool is easy to use, it does not offer detailed information. This is because it is only a chrome extension that focuses on the fundamental analytic aspects. Therefore, check out other tracking tools online when looking for advanced analytical services.
Otherwise, this is an excellent tool to provide basic information about real-time YouTube subscribers. They offer you the current number of YouTube subscribers and help you analyze the number of videos uploaded. They do not provide any additional information beyond.
Real-time Subscriber Count promises you real-time YouTube subscriber count. This site is an excellent place to track your channel subscribers as you browse without using any other third-party software. The tool analyzes channels using a username or the channel ID. We expect more features to be arriving soon.
---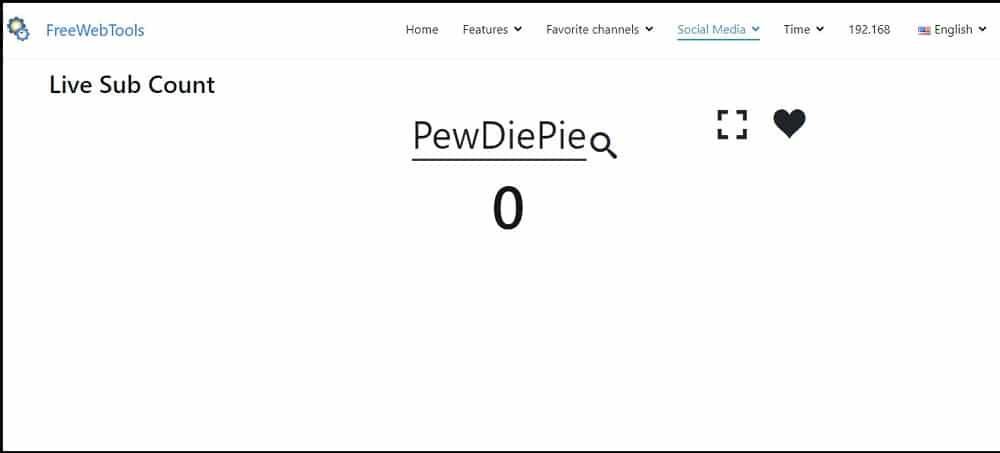 FreeWebTools offers a live sub-count for YouTube, TikTok, and other social media platforms. You can use this tool to analyze the live sub count on your favorite channel. It has a simple website and comes with a convenient user interface.
However, the live count results do not show us the percentage of subscriber growth. But, when you want to track the number of people visiting your channel, this tool is here to help you today. This tool is simple, and we consider it the best YouTube subscriber tracker for beginners. IUt does not have multiple, complicated and advanced features like other live counter tools.
FreeWebTools need channel name, ID, or channel URL link to track. It displays results in no time and keeps updating it as time goes.
---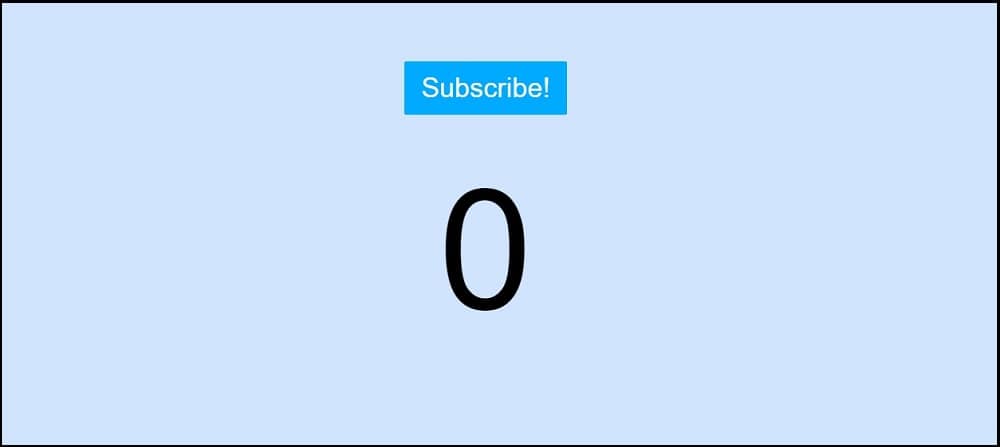 Livecounts.net is a kind platform that offers real-time YouTube live subscriber count analysis. They have a simple website; however, it is only restricted to YouTube counting, real-time subscribers. With a channel name, you can easily find the number of YouTube subscribers through the search box.
The website is convenient and does not have any advertisements. But be aware that you should not expect beyond the bare minimum when using this live YouTube subscriber tracking tool. But for now, it lets you change the background color to any which makes you comfortable. Additionally, they update live YouTube counts every 2 seconds, which guarantees you accuracy on their real-time results.
---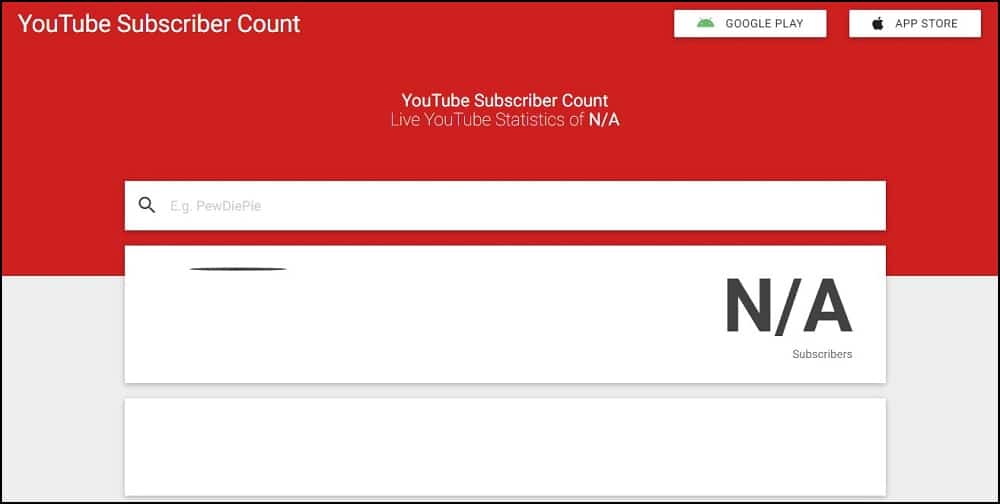 Getting real-time analytic data from the Realtimesubcount tool is so easy. You only need to type in the name of the channel. Besides live YouTube subscribers counts, this tool also offers you the Channel views and the number of videos uploaded on the channel in no time.
Results are instant, and once you see them, it lets you share with other social media platforms. You can also switch this tool to dark mode when the need arises. The good news is that it is based online, but also these guys have android and iOS applications.
---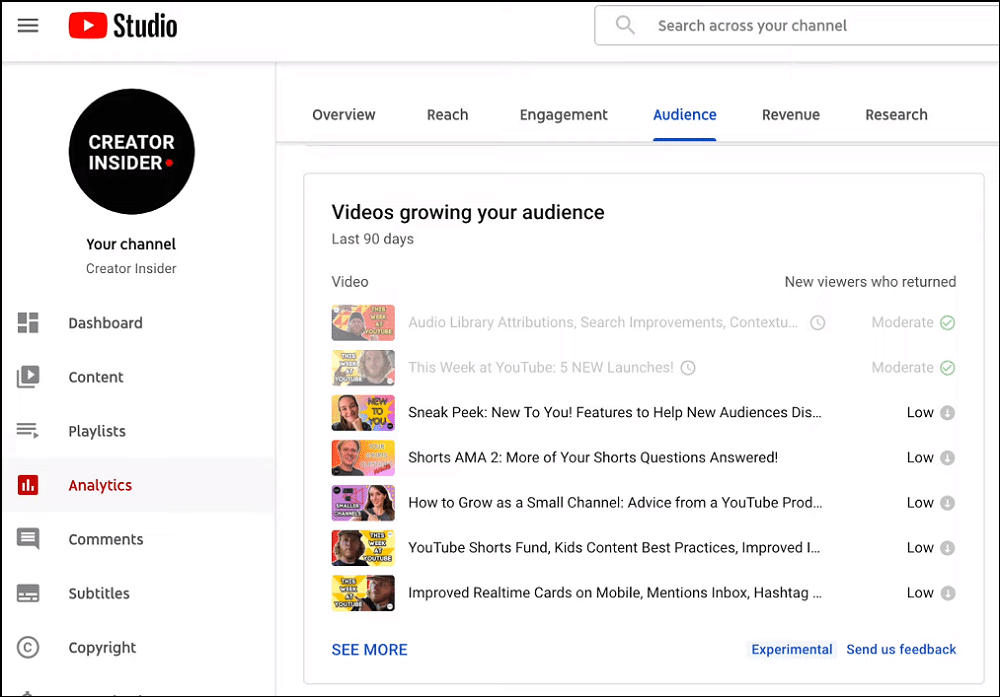 The last option on tracking your live YouTube subscriber count is through YouTube Studio. This ai a management platform that most people seem to love it. They effectively manage YouTube channels with comfort. This platform is essential in tracking your real-time YouTube subscribers and other stats such as comments and uploading thumbnails to customize your video.
You can also use YouTube Studio to manage and evaluate the performance of a particular video on a YouTube channel. It is also perfect for filtering and replying to the comments. This platform deals with many more things besides real-time YouTube stats.
Again, it is a free tool that lets you know anything news and essential happening on YouTube. So, to access subscriber counts, you must sign in to the YouTube Studio and check the analytics report so that you can see all the live subscriber counts when you click on the overview tab.
---
Conclusion
YouTube subscriber is a valuable insight. It is a game-changer, significantly when revamping your marketing strategy. However, it would help if you had reliable YouTube subscriber counting tools. We have highlighted efficient, reliable, and cost-effective YouTube followers' live trackers in the above list. They are simple to use and can help you get instant insights on live counts and other metrics such as views.
Read to understand, test, and evaluate the above tools before choosing. Otherwise, they are perfect and can help you analyze your YouTube channel in real-time.