What is the best time to post on Tiktok? Best time to post on TikTok various based on different factors. You can read our article to learn more.
Posting content on your TikTok account at the right time is the best thing you would do. This is because the content goes viral among most influencers, gets more likes, and in the end, you will have a broad load of followers to your profile. Do we call it a visit to the white house? This only happens once in a blue moon, and when this happens, everyone on the metaverse rejoices. It makes you even feel like you are on top of the world, which is true.
Tiktok is a platform blowing up, and you might be wondering why. You are not alone, and the answer lies in the best time to post on TikTok. It is not easy to find the best time to post on any social media platform since trends often change daily.
However, there is no one best time to post on Instagram for everyone worldwide. So, before finding the right time to post on TikTok, you should also know ways to increase your TikTok followers. But still, there are some sweet spots you should target to obtain the best results on Tiktok. This is what we are diving into today in this article. Let us look at the literature part first.
---
Recognized Best Time to Post on TikTok
In our previous reviews concerning the best time to post on Instagram, we saw various studies and underlying literature. The same applies to Tiktok at the moment too. This is vital for influencer and marketing managers. And according to the survey by Influencer marketing Hub, they have analyzed various aspects and engagement rates using  100k TikTok video content.
From their studies, they found out that the best time to post on  TikTok is on Tuesday from 9 am, on Thursday at 12 am, and on Friday at 5 am. When you break down the analysis into a broader review, you will find that:
Most people are accessing TikTok various times all day long
Early in the morning is the best time to post, especially at the beginning of the week.
And the ideal time slot to post which are closest together is on Tuesday and Saturday. So, when posting, consider capitalizing on these two-time slots.
When we ignore sectors and keep in mind the EST time zone, here comes the best time to post on TikTok from Monday to Sunday.
| | |
| --- | --- |
| Day | Best Time to Post  |
| Monday | 6 am, 10 am, 10 pm |
| Tuesday | 2 am, 4 am, *9 am |
| Wednesday | 7 am, 8 am, 11 pm |
| Thursday | 9 am, *12 am, 7 pm |
| Friday | *5 am, 1 pm, 3 pm |
| Saturday | 11 am, 7 pm, 8 pm |
| Sunday | 7 am, 8 am, 4 pm |
Times marked in red have high engagement rates.
The above data can be represented as shown below: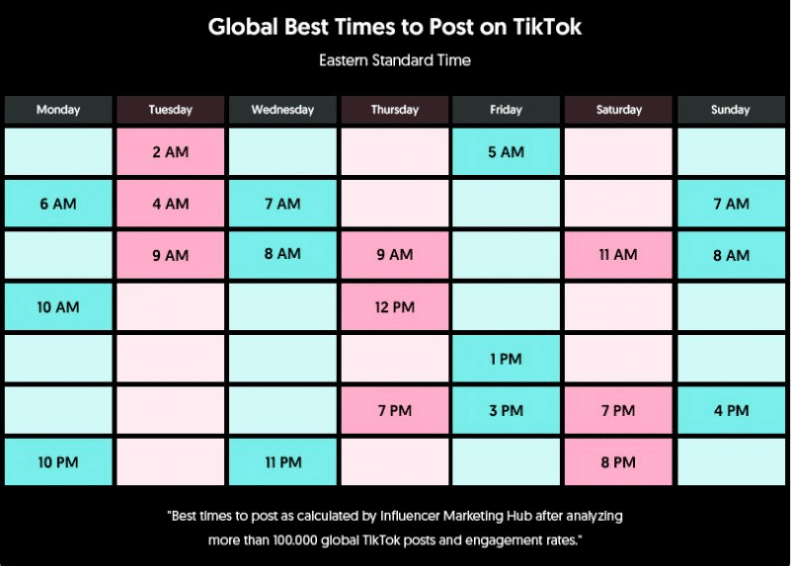 *Picture source: Influencer Marketing Hub
---
How to Find Your Best Time to Post on TikTok
Finding the best time to post on TikTok in your time zone depends on different factors. However, we have highlighted various ways to help you find the best time to post on Tiktok. Let us get started immediately:
Use Your TikTok Audience Analytics to Make a Content Schedule
Tiktok is a platform that comes with different features. Among them is the pro account which is always free when you need it. You can access it or switch to the pro account from your profile, click on the hamburger icon at the top right and choose privacy and settings.
From there, you can easily tap to switch to the pro account. Immediately you switch your account to pro, and the platform lets you access the analytic reports when you click on the hamburger icon> privacy and settings then> analytical.
You will find an overview from the analytic containing the follower's count for the past 28 days, profile views, and video views. And o content, this analytics report provides you with views from each video, evaluates videos that are featured on the FYP, and soon they will even offer the individual insight for each video.
This is vital in tracking the engagement and the best time when the audience is active. The analytic feature lets you find the peak hour, group followers or views by gender, and even total count.
1. Check Your Analytics
Evaluating your TikTok audience is essential to step in when you want to determine the best time to post. This is even much better when using the TikTok analytics tool. Before proceeding to any step, you must first convert the account from basic to the pro-TikTok account. The good thing about a pro account is that it is free.
Therefore, follow these step-by-step guides to check your analytics:
Step 1: Launch TikTok and log in to your account and click on profile
Step 2: Navigate to the settings and select the settings and privacy menu when clicking on the 3 dots located at the top right.
Step 3: Select the 'manage account' option and verify if the account has that option that enables you to convert from basic to pro.
Step 4: If the account can switch, then switch it and proceed. But if you can not find this option, know that you have already set up the account.
Step 5: Then go back to the settings and privacy option  to select 'creator tools.'
Step 6: Click on 'analytics.' which will bring you all your stats related to your TikTok account.
Under analytic, there are different things you can check out for, as we started earlier. And for this case, you will head over to the followers' insights which help you with relevant information about the location of your followers, gender, and even peak hours.
2. Find Your Audience Time Zone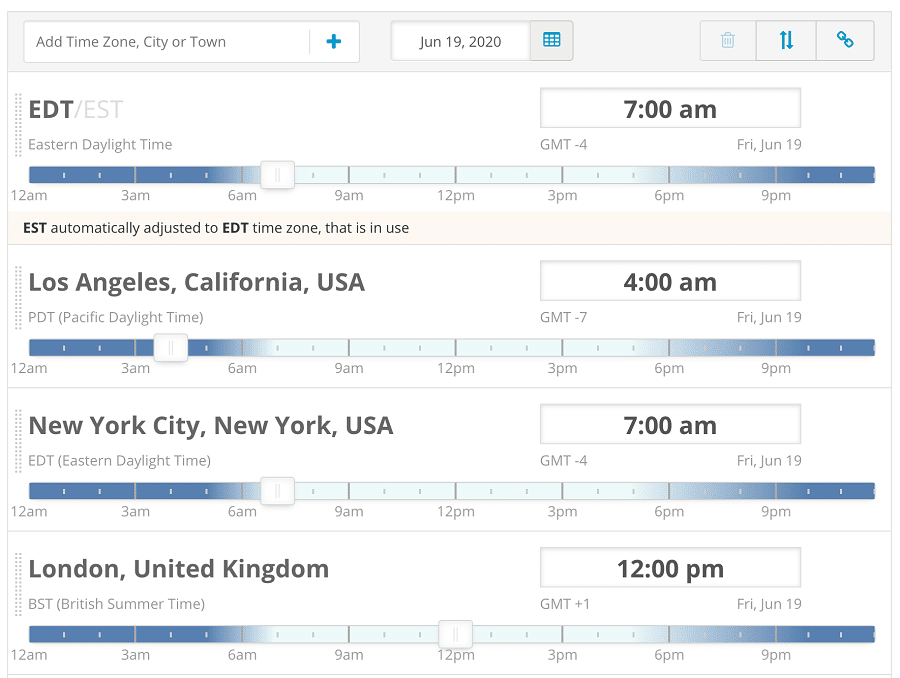 In empty to find out the best time to post on TikTok, it is also worth identifying the territories of your audience. This is one of the best steps when considering worldwide audiences across all time zones. This is crucial as it gives you a hint on settling for the common time considering the multiple time zones of your audience on TikTok.
You will determine the best time when your audiences are online to post your content and gather high engagement rates. When using TikTok, it is easy to find out where your followers live. Go to the account, click on the follower's tab, scroll down, and click on the ' top territories.' You will be able to access a list of the top locations where your audience comes from based on the percentages across the world.
However, TikTok is not like Instagram. Instead, it provides segregated territories data considering only up to the country level compared to Instagram, beyond cities. Sometimes this poses a problem, especially for the influencers that live in regions that span various time zones like Australia and USA.
This should not worry you since there are always ways to get rid of such metrics black home but likely future. Knowing your audience's time zone makes it easy to understand when they are active and when is the peak hour to post on Tiktok.
3. Find Your Audience Active Time
The next exciting aspect of the TikTok analytic feature is the follower analytical metrics. This feature is also crucial as it lets you know when your audience or followers are most active. It even gives you peak hours. This is great. However, finding followers' activity might be confusing.
From followers activity' representation, you should scroll down heading inside the follower tab. You will be able to find out the number of followers active at a specif time over the week. This means it gives you an exact number of followers active at a specific time of the day.
Still, when you consider the hourly and weekly data, compared and contract, you can quickly zero down and identify the best time to post for a high engagement rate on Tiktok.
4. Find Your High-Performing Content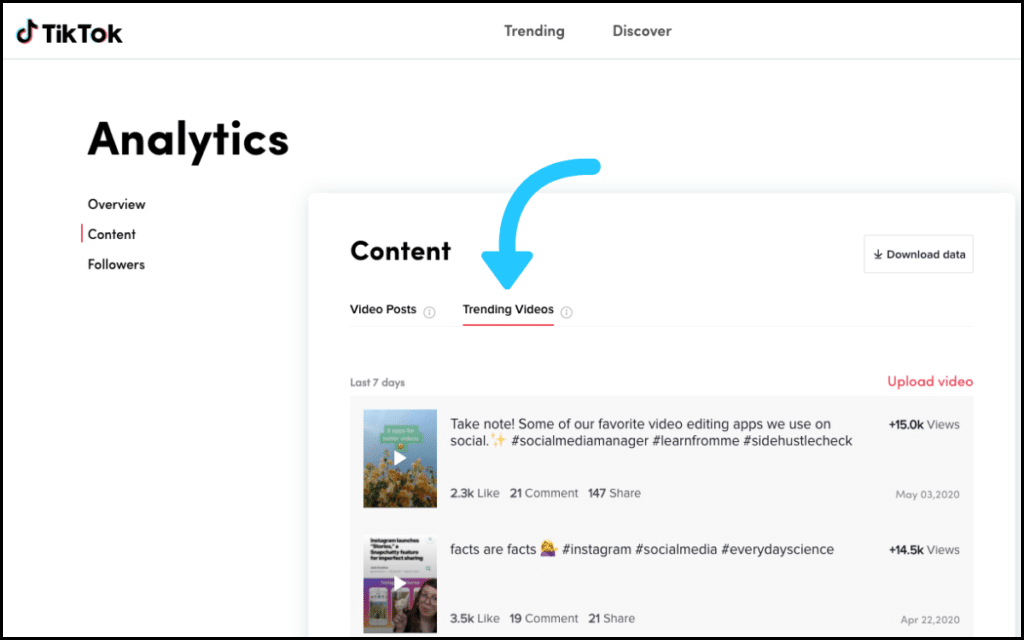 Then, the last key in the analytic feature that can help you get closer to finding the best time to post on Tiktok is tracking the performance of your previous content. Try to find the high-performing content and relate it to the posting time and day altogether. You will quickly detect the day and focus on the best time when your content gets high engagement.
All this information is found on the analytic tool. Go to the  TikTok analytics and head over to the content section, which will give you detailed insights. The data is essential in gauging the performance of your content for the last 7 days.
Sorting out best performing TikTok content requires you to find out the posting time and the date or day. Each post presents multiple performance metrics. These include comments, likes, shares, watch time, and reach. The data also helps you figure out the traffic on your content when it features on FYP and the following page and stats of people viewing it from abroad.
---
Use TikTok Scheduling Tools
A time when analytics won't be reliable enough. This is where you will need an alternative. You can go for a third-party TikTok scheduling tool. It is easy to learn to schedule your TikTok content Since it helps you save time while coming up with excellent content and other relevant things. It would be best to have these tools because it is easy to plan high-performing content.
There are many TikTok scheduling tools online. But in this section, we preferred a tool such as SocialPilot. SocialPilot is a premium marketplace that offers both agency and professional service. It does not only work on Tiktok but also works well on other multiple social media platforms. You can use this tool in posting content without facing any limits your way.
Socialpilot has a simple customer interface that seems well organized. It can post on mutliple social media ccopunts simultaniosuly. You can still use this tool to publish your first comments together with the Tiktok contents. The tool, when scheduling, lets you include the hashtags so that you can reach out to a broad audience.
Set up the individual posting schedule and then schedule your multiple videos. The good thing is that it can create as well as trend-setting schedule videos while on TikTok. When scheduling a post using SocialPilot, it becomes easy to target the peak hours and let it work for you as you do other things. There are many different tools besides SocialPilot which perform the same tasks.
---
Tips for Increasing Your TikTok Views
When you want to get more views on your TikTok videos, you must first confirm the quality of your content. When you post high-quality content at the right time, you quickly get the audience's attention. As the TikTok algorithm works, your video goes viral to give you more views when you get few views and likes.
There is the possibility that when you create a high perming content, the audience will watch and possibly share with their followers. This drives back traffic to your profile. When you use relevant soundtracks, other content filters favor the content and help rank higher.
Gain, including accurate hashtags, is a good strategy that enables your content to be easily reachable online. Ensure that you curate engaging video content and include appropriate music to optimize your video views on TikTok.
Show Your Style and Niche
Though it sounds tempting for the sake of your growth, accept this fact. Let TikTok help you find your niche where necessary. The platform can easily recommend for you your best niche and comments.
So, if you have not yet identified your niche, show your styles by focusing on sharing video content that you are knowledgeable about or any niche you are passionate about. Once you have your niche set straight, focus on it alone to reach out to your target audience and get more followers as well as videos to your TikTok profile.
Uploading multiple videos daily sounds counterintuitive. However, consistency is the key to maintaining and building your audience base.
Therefore, you can retain your TikTok growth by sticking to a consistent posting schedule routine. This is because you will have more content on your timeline, but this is also important when you want to favor the TikTok algorithm.
This last part is most important. Perhaps learning means, you need to do more research, especially when handling a problematic niche on the TikTok game. So, when you post high-quality and well-researched, well-presented interactive content, you will realize that people will have a sweet taste, and the content gains popularity.
You can use the insight and knowledge on TikTok, which helps you understand which works best. But also remember that fresh and innovative TikTok content is more important than repeating what has succeeded on TikTok in the past.
Evaluate your high perfm9ing TikTok video and then pay attention to them. They come to check out all the aspects which led to their success. It will be easy to utilize your fresh and innovative content elements if you find out this.
---
Conclusion
With that well said,  you should now understand that growing the TikTok account depends on many factors. The first one is the best time to post content that considers the location of your audience. When you finally establish the best time to post on TikTok based on different time zones, you are good to start focusing on high-quality content creation and other tips.
Besides best time, you should also leverage other aspects like hashtags, sharing unique traits, and applying all the tips consistently to increase TikTok views. The above information and factors can help you grow your TikTok profile, establish an audience, and remain focused on a particular niche of interest.