Being unfollowed by Instagram fans can be frustrating, but how do you find out who you've been unfollowed by when you have thousands of followers? Read on, find them and redeem them!
Instagram is becoming the top-rated social media platform for marketers and those aspiring to become influencers. The platform is virtually focused on interaction and leads. If this sounds great, you are interested in followers and targeting a certain audience.
However, it does not present a situation where you can notice who unfollowed your profile the way it notifies us who is following us. When the followers leave, it does not let us know as a marketer; you should be able to identify this trend and seek a solution immediately.
If you find out that your followers are reducing at a tremendous rate and don't know who they are, then here are 2 ways out. In our article today, we will discuss the 2 main ways you can use to identify who unfollowed you on your Instagram profile. These are manual ways and using a third party.
---
Manual Way – If You Don't Have too Many Followers
This method is preferred when you don't have many followers on Instagram.  This is possible only when you know the names of your followers. These steps will guide you through:-
Step 1: Go to the account page of the person you are suspecting.
Step 2: Select the following on the person's page and search for your name. If the person follows you, you will find your name among the followers.
Equally, you can use your own Instagram profile and follow the same procedure outlined below.
Step 1: Navigate to your profile and select followers
Step 2: Type in and Search the name of each person you suspect has unfollowed you. If the name does not reflect among your followers, it is automatically the audience that has unfollowed you.
However, the best method to find out the list of unfollowers and followers is using a third party. Let's dive into it as our second method.
---
Borrow the Power of a Third-Party
There is no need to do it manually to access a third-party application. Google Play has plenty of options to choose from. These apps will help us know the people who unfollowed us and have an insight analysis as well. While using these applications requires you to follow each instruction keenly.
Most of these instructions need you to sign in to your Instagram profile and download the pro version of the application. However, the unfollowing feature can be accessed at a free cost. So, here are some of the best-reviewed third-party applications to checkout.
1. Follow Meter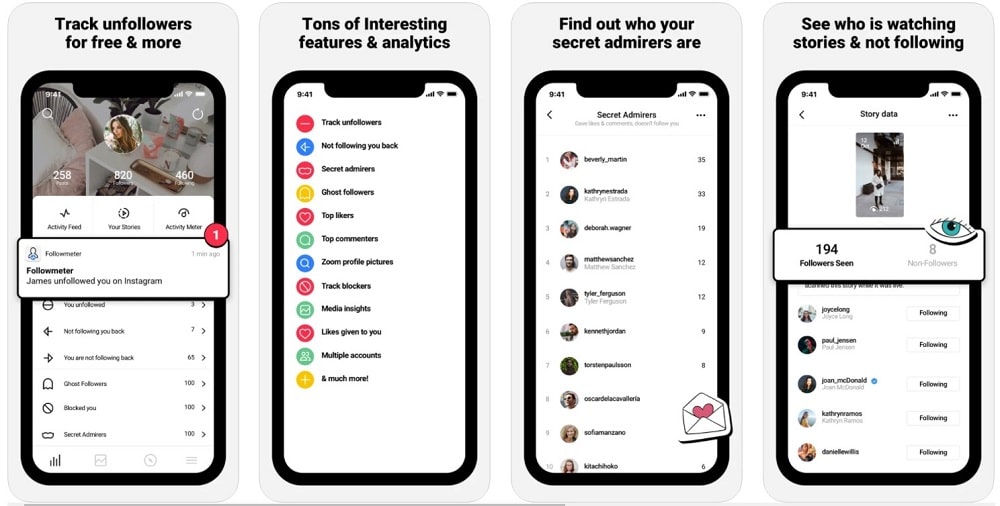 Follow Meter is our top-rated third-party application that you can use to track people unfollowing your Instagram account. Follow Meter is the fastest and currently the most accurate third-party tool you can use to analyze your unfollowers, followers and track story viewers on Instagram.
They have a powerful report tracker which you can use to access deep insight into your Instagram profile. It can also be used to manage growth. It is a safe place to use because it is based on NPL analysis and has good reviews sourced from the app store.
The app is simple, with a clear dashboard. It shows users several key metrics, and in our case, you can easily identify the people who recently unfollowed you. It can as well let you know the recent followers. You can drill deeper and find a list of all the lost followers on your Instagram account. It is very important for your benefit.
---
2. Reports: Followers Tracker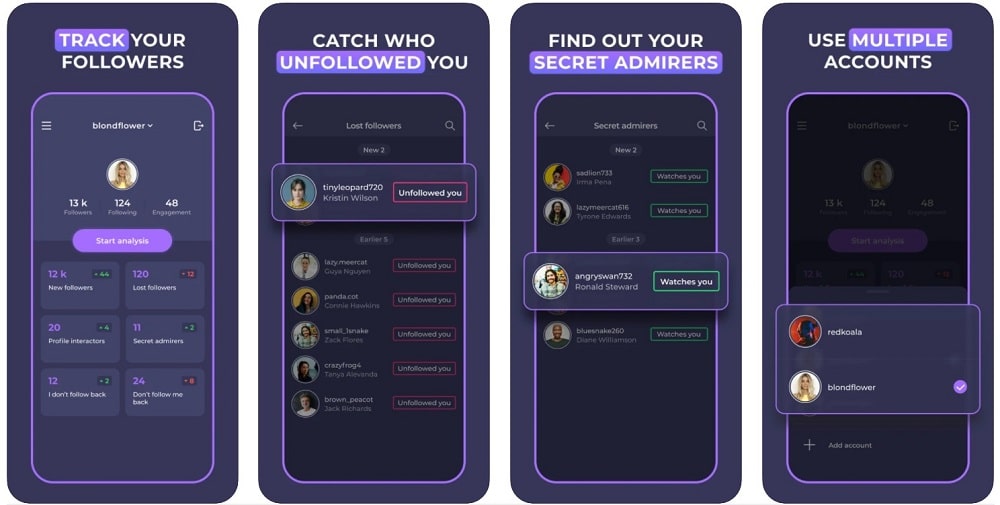 Followers tracker is also another best option for iOS users. This is mostly a profile analysis application. It consists of several metrics like profile analysis, story insights, and, most importantly, follower reports. Today's beat features lie on followers cleaner that includes unfollowing all unfollowers and profile analysis.
This app shows a  deep report on your followers and separates unfollowers, highlighting those who recently unfollowed your Instagram account. It also highlights the ghost followers, and in this case, you can decide to unfollow them since they are inactive; never like nor view your story.
Followers tracker, therefore, gives you the popularity scores based on the followers and unfollowers, and in the pro version, you can also access more insights. This app has a premium version, but you can use a free one to check how many followers you recently lost. You can also use it to delete comments and do many more tasks. Its new version is now presenting a profile interactor and secure admirer. It is worth your attention too.
---
3. UnFollowers for Instagram +

There are a limited number of third-party tools which support iOS. You should not be surprised that UnFollowers for Instagram + is among that list and has been here with us for a long time. It is old, yes, but the developers are consistently maintaining it. Their lite version offers users free services where you can access unfollowers information. If not, you still go for the in-app premium package and unlock all features.
You can use this iOS app to track those audiences that have recently unfollowed your Instagram account. Again, you can check on all the new followers and the good insights you need. These metrics aim to make sure your Instagram growth is up to date and stable. If you are tired of ads, upgrade to the premium version.
As earlier said, it unlocks all features, and you even check on who has blocked you among the audience. You can follow or unfollow directly while using the app. Their free version is recommended for small profiles, but those with big IG accounts kindly unlock the features and enjoy the services.
---
4. Unfollow Users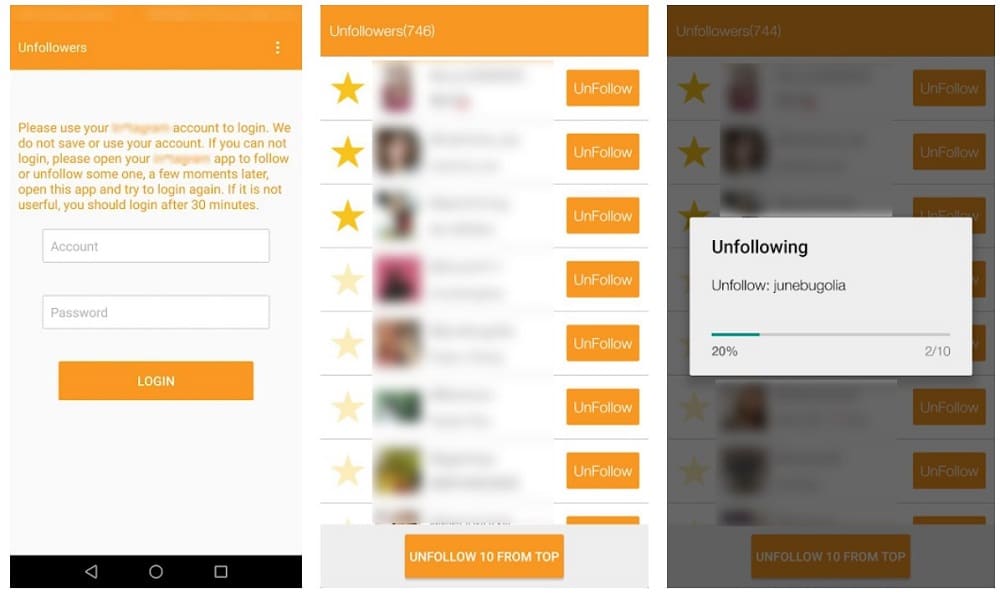 Unfollow user is among the few third-party tools but has unique features. It is simple and can help you detect who follows you or analyzes the unfollowers. The app has a lot of benefits and carries out unlimited tasks, including unfollowing single or multiple users with a click.
This is the best Instagram tool for you to use. It can analyze all your followers, track no-followers and highlight those who unfollowed you. So, if you need to know those followers who recently unfollowed you, never worry; go for Unfollow users to find out.
You should note that the app does not add followers. Rather, it is only meant for tracking your Instagram account. It has a simple UI with easy tools to manage your account. Start using this app today for any instant services and metrics on your Instagram.
---
5. Followers & Unfollowers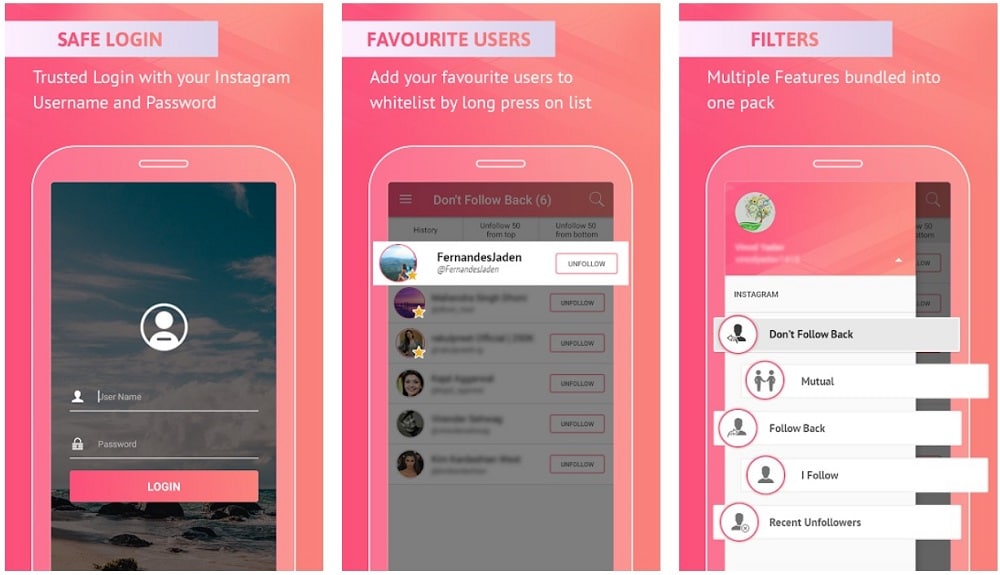 Followers & Unfollowers is our last third-party app on the list today. Their app store rating indicates that the developers are working to deliver. It has over 10 million 200k installations, and this is another indicator.
This app has exemplary features you need to analyze your Instagram profile. You can access insights into your profile relationship with other followers. This enables you to adjust your tactics. You can also access ghost followers and unfollow and follow people. Again, it is a perfect choice to track those who recently unfollowed you.
When you follow someone and do not follow you back, this is the best app to use and unfollow them instantly. You can easily check on those who unfollowed by name. It is pretty simple but works with 2-factor authentication. It is reliable, works like a charm, and manages multiple accounts.
---
How to Stop the Loss of Instagram Followers
When a person follows you back, it is a perfect reason to conclude that someone has unfollowed your profile. But what could have been the cause? Here are three core things to avoid and stop the loss of Instagram followers.
1. Don't Post Too Often or Too Infrequently
Avoid posting too often. This is because followers get bored and tired when posting too much where most of your pictures spam their timeline. This is even worse for sponsored content when you are targeting brand engagement. Hence, your followers will conclude that your profile is not worth subscribing to hence unfollowing. Be smart and act professionally.
2. Don't Buy Instagram Followers
You might also find someone online and promises to sell you thousands of followers for some cash. Buying fake followers is against the terms and conditions of Instagram and such manipulations; it frowns because the service involves the use of fake accounts that they ban or block or various bots. Thus, avoid buying Instagram followers if it is a must to jumpstart your journey, then avoid buying low-quality followers; instead, choose a trusted merchant.
3. Get Engagement with Your Instagram
When you try to go against the terms and conditions, Instagram algorithms easily detect can block your account.  Instead, get the real followers and real engagement on your account. Avoid being shadowban at all costs.
This is because when your account is shadowbanned, your profile hides the posts and the algorithm gives them a lower priority hence rendering your hard work useless. Avoid third-party cheats like buying fake followers, which drives fake engagement. Avoid these fake services automatically, as they can easily render your Instagram account negative actions.
Unfollowing sounds like an insult on Instagram; however, it is not professional to jump to such a conclusion. There are many reasons, and the high probability is that you might be the main cause. Hence, the loss of your followers is not a big deal.
However, when you are much into a specific person following your profile, it might be hard to find out, but you can make everything simple with the above methods. Though it might be upsetting, it also gives you a direction to re-evaluate your strategy and take a good step to build your profile again.
Thus finding out who unfollowed you is valuable and a good turning point, and never take it more seriously than it should be. Try out the above third-party apps and upgrade to premium to unlock advanced features for more options.