Do you want to add filters to your Instagram post or stories? Search filters on Instagram and utilize them to make your photos engaging, entertaining,g and relevant. Find out how to search these Instagram filters here.
Previously, Instagram provided users with few photo filters to select. Since these days are long gone, today, there is a handful of Instagram filters that you can rely on for use. They enhance not only the Instagram stories but also photos.
Hence Instagram filters are vital in creating brand awareness and making Instagram profiles look professional; thus, it saves money and time for most marketers and influencers online. It is easy to use the existing filters on Instagram. But still, getting new ones and then saving them is also simple.
However, if you are a frequent Instagram user, you will have plenty of options since you can find them everywhere. While they entertain and engage your audience, they also add some extreme relevance to your Instagram posts or stories.
In this article, we will guide you on how to search filters on Instagram, considering different methods. Therefore, let us get started with more detail.
---
How to Search Filters on Instagram
1.  Search from Your Effects Gallery
Adding filters to the Instagram stories means using augmented reality to attract people to your posts. You can find multiple filters in the Instagram application. This is from the Instagram effect gallery. So in this section, we will guide you on how to search for filters on Instagram from the effect gallery. Here is how to go about it:-
Step 1: While logged into your Instagram application on the phone gadget, make sure you open the camera and then swipe left using the icon located at the bottom of your screen. Click on the magnifying glass or sometimes browse the effect depending on your device.
Step 2: Then click on one of the multiple filters available. Equally, you can swipe through the options from the top of your Instagram application. Click on the magnifying glass when you want to search using a keyword or if you have a name.
Step 3: When you select a filter, you will see its preview. Click on try, and if not, click on the down arrow when you need to download the filter you have selected.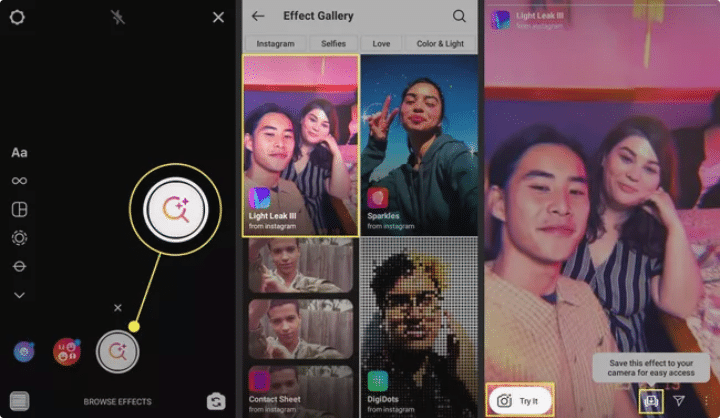 Step 4: After that, click OK to save it to the phone. So, if you go back to the camera, use the button icon to swipe right if your screen, and you will be able to access a new filter.
---
2. Search from Your Friends
Instagram is a valuable feature and the second method to search for them is through a friend. So, when you find an amazing filter on the Instagram account of your friend, it is possible to try and get it for future use. Therefore, other than using effect gallery filters on the application, getting filters from the friend's Instagram account is a simple and valuable method of searching for filters.
This way, you will be able to explore multiple filters from different friends, which in this case, is favorable. It would not be best to distract your friend with texts to ask them about the filter. and if you wish to find a filter from a friend, then follow these guides:
Step 1: Log in to your Instagram account and visit the friend's story or posts on their newsfeed or profile photos.
Step 2: Identify the filter you want from your friend's post of stories and tap on it. Stickers are always located at the top of your screen, below the friend's name.
Step 3: Choose the try it option from the panel at the bottom of your screen. You can decide to download or save the filter by clicking on the down arrow for future use.
Besides using this option, you can also request your friend to send you the filter from their camera; they select or click on the name of the filter you want them from the menu and select send to.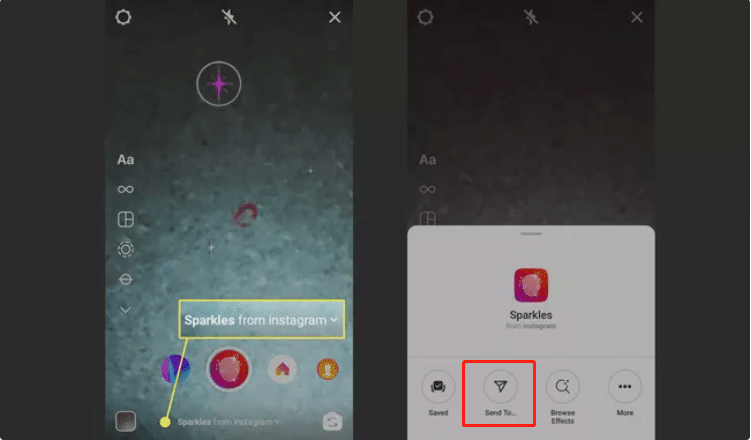 ---
3. Search from Creators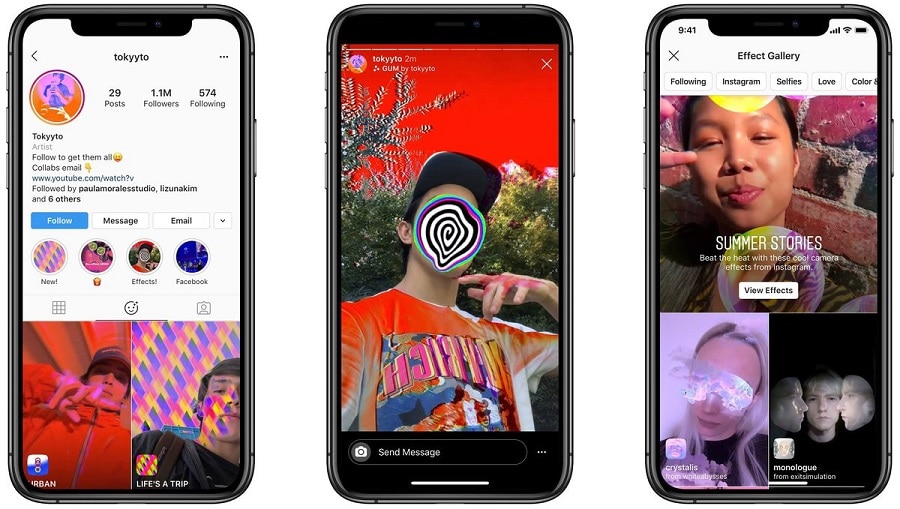 Instagram also lets you create a filter and then upload it to Instagram together with the posts or stories. Other people can also download your filter and use it. Therefore, this gives up another option of searching for the Instagram filter. Here is how to save an Instagram filter from a particular creator:
Step 1: As usual, log in to your account on the gadget and identify the filter creators on Instagram.
Step 2: Then click on the Instagram profile of the filter creator and again click on the smiley icon above the grid.
Step 3: Navigate through the filters and click on the one you need. Then hit try it, and if not, you can also click on the down arrow to save the filter to your camera.
Step 4: Then you can take photos or record the video with the filter of your choice from the creator. You can then share the filter with your audience.

---
How to Save Instagram Filters to Your Camera
In our guide above, we have been redirecting you to download or save a filter to the camera for the next use. But you might ask yourself how this is done. Worry not since we have you covered here. before finalizing, this is how to save the Instagram filter to the camera:-
Step 1: Get your phone and navigate to the effect gallery. Then click on the filter of your choice that you wish to try. be patient and let the preview window open.
Step 2: From the options, click on the download button found at the bottom right-hand side of your screen and save it to the camera.
Step 3: Immediately the filters are saved to the camera; you will realize that the arrow changes to the checkmark.
Step 4:  Then click on X from the top right of the specific filter preview window. You can equally swipe down when you want to get back to the effect gallery section.
Step 5: If you are using an android phone, choose the back arrow but when you are using an iphone, then click on the X found at the upper left corner of the screen or effect gallery while on Instagram.
Step 6: You are done, and anytime you can use the newly downloaded Instagram filter from the menu to your posts or Instagram stories.
---
What are the Most Popular Filters on Instagram?
There are several popular filters on Instagram. They are not only limited to things such as Valencia, Clarendon, and Juno but also involves  Walden and many other. Most of these filters we covered in detail in another article.
Do not be cray but use these filters to the maximum and try to tone them down. Never mind but utilize them sparingly and, if possible, mix them up but compare first. However, remember that the purpose of the Instagram filter is similar to makeup. It is only meant to enhance the impression rather than changing the face of a photo.
---
Conclusion
It is easy to elect Instagram filters. But, when you download and save these Instagram filters to your camera, they will save you money and time. The process of searching for them is simple besides using camera preloaded filters. If you want to find a new one, then use other methods which are not complex.
Go through the different filters, and search from different sources. If a friend sends you a filter, it is easy to save them for usage in the future. Raed through our guide and increase the filter database in your camera and use them to make your audience entertained.