Do you want to link your social media platforms with the TikTok platform? Then learn how you can add a link to the TikTok bio in our article. Please read it to the end, find out why this is important, and follow the relevant procedure.
TikTok, among the powerful social media platforms, is the fastest-growing avenue. It is well known for short videos, trending topics, and dance moves worldwide. Therefore, it offers most content creators an opportunity to use unique videos and other related content for their audience base. This does not only cover content creators but also influencers and business marketers in the industry.
Thus, TikTok is the most downloaded app from the app store, with over 800 million active users. It, therefore, guarantees users at least a million video views per day. Thus, content creators and influencers can never neglect such a platform.
TikTok has a unique feature that enables you to add a link in the bio which redirects someone to your youtube channel or Instagram account. Thus, it becomes easy to make all your audience and let them stay entertained and engage with your content.
---
Why Add a Link to Your TikTok Bio?
Adding a link to the TikTok bio effectively helps you hook up the profile and other business profiles. It's a simple process and very vital when you know it. There are many reasons why anyone must add a link to their TikTok bio. Some of these reasons are as discussed below:
1. Cross-promotion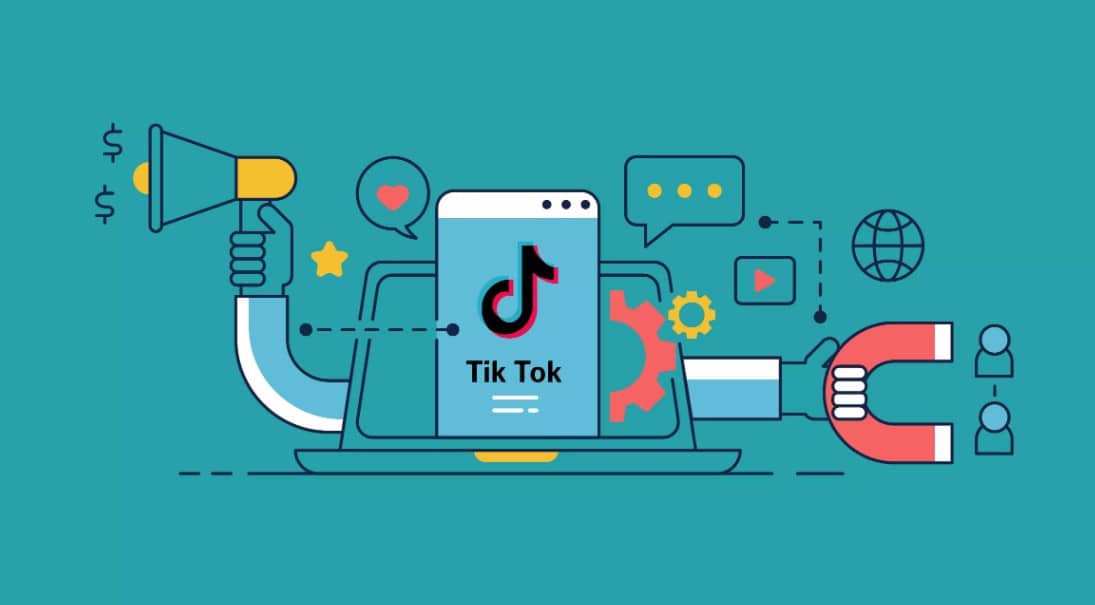 Adding a link to the TikTok bio is one way of cross-promotion. Thus, cross-promoting products between different platforms help create brand awareness in your customer base. It increases your reach and gets more touchpoints to access potential customers and let them learn what you specialize in producing to the market.
You must understand that cross-promotion does not involve posting similar photos or content to different platforms with the same captions. Make sure that the contents differ since not all customers want to read the recycled video content now and then.
---
2. Redirect and Boost Traffic to a Website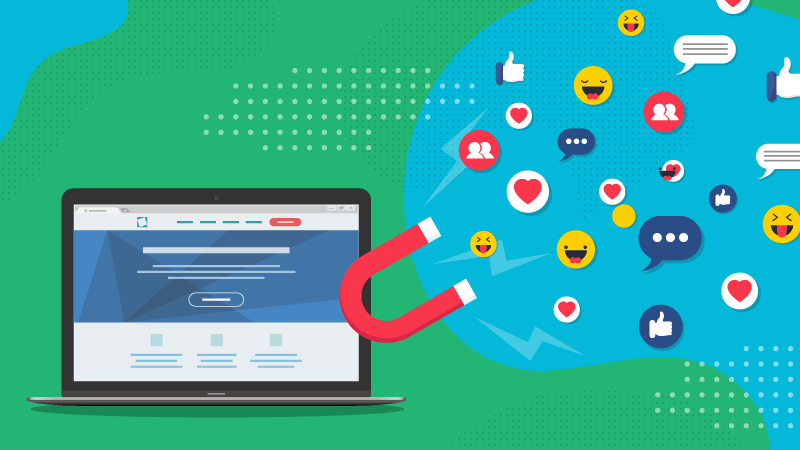 When you have a business account, especially on TikTok, you can quickly get the potential customers interested in your brand and, in the long run, aims to improve the performance of the business.
Thus, to actualize the long-term goal, you must add a link to the TikTok bio, redirecting the prospectus customers to the business websites. From the website, they will be able to get more details about your products. Thus, generating traffic to the website.
---
3. Increasing Sales and Revenue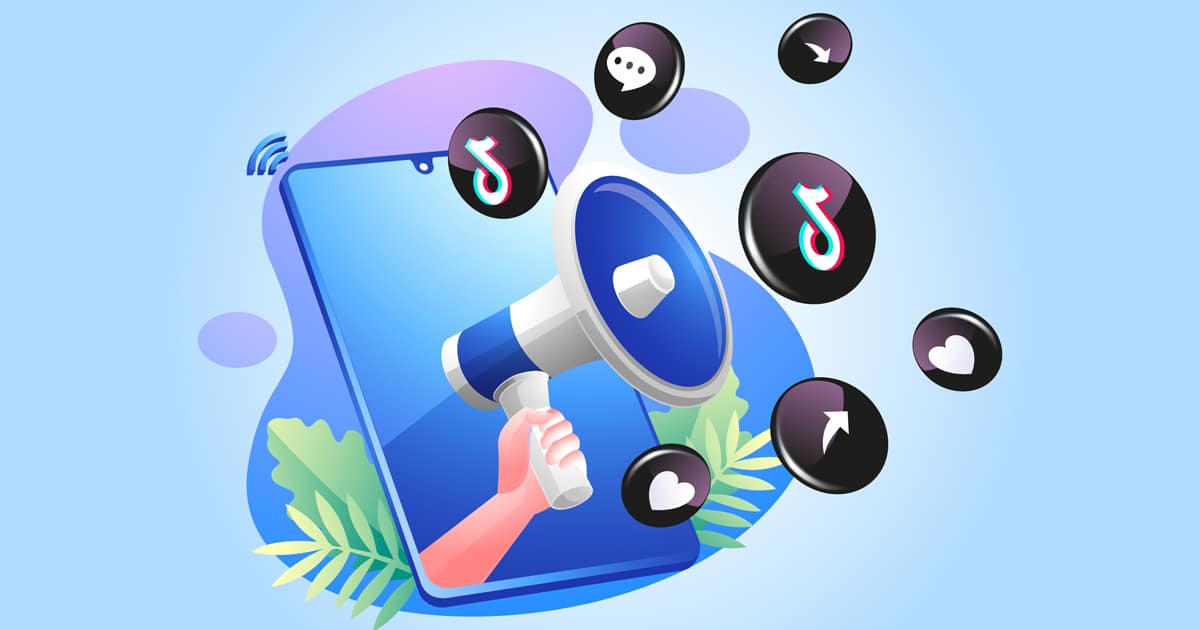 When you get more traffic to the websites, there are high chances of increasing the conversion rate. Thus, adding a link to the TikTok bio has commercial benefits, and it increases the conversion rate, which helps you get more buying customers, increase sales, and generate more revenue.
4. Followers Engagement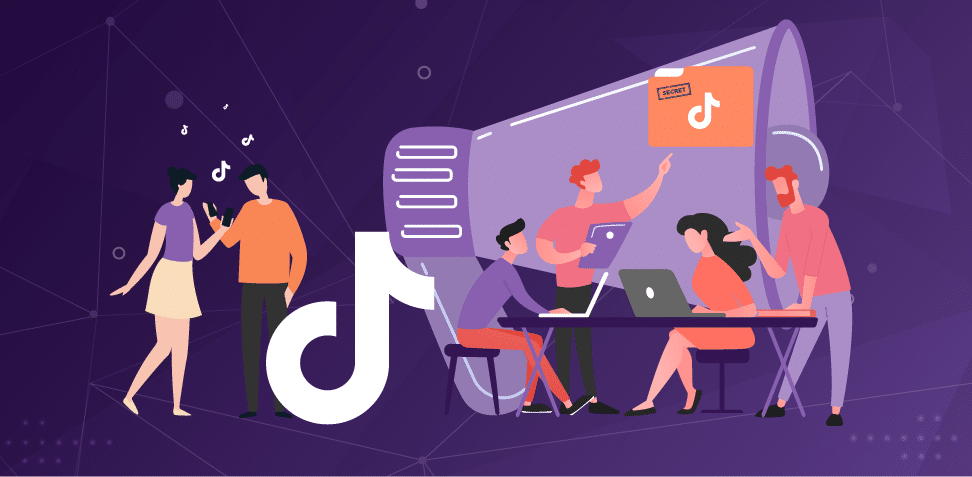 You are also aware that anyone that follows your TikTok profile is interested in knowing your background and details. Then when you add a link to redirect them to your website, they will be able to learn more from the site and understand you more concerning the business and your products on the market. This increases your engagement with the followers.
---
How to Add Other Social Media Platforms Links to Your TikTok Bio?
Adding a link to redirect the audience to other social media platforms on TikTok is simple with few clicks. the only thing you must do is to follow these steps:
Step 1: Launch your TikTok application and log in using your details with the relevant password.
Step 2: Click on your profile button, which is always found at the bottom right corner of your screen.
Step 3: Click on the edit icon while on the profile.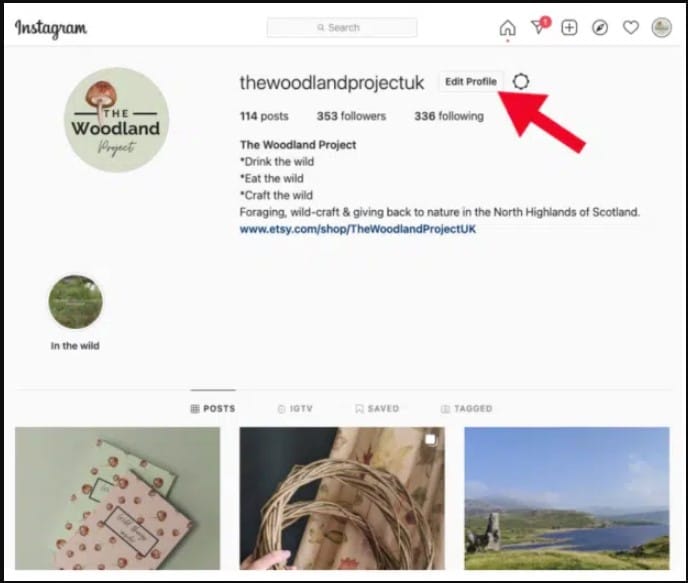 Step 4: Down or beneath the TikTok bio, you will see a section that gives you different options, and for this case, we can select from the menu Instagram.

Thus click on add Instagram to your profile option. You can as well select YouTube or other major social media platforms.
Step 5: It will redirect you to log in to your Instagram account. Enter the relevant login details and password and sign in.
Step 6: Immediately you are signed to your account; then, you will be redirected back to the TikTok profile again. Then next to edit your profile, you will spot the Instagram icon always at the bottom of your profile on the screen.
When you grab your phone and follow the above steps, everything becomes simple and easy. Regardless of the social media account, you have added, Such as Instagram and YouTube, Your followers will be able to click on those links and go to your page on those platforms.
---
How to Add a Website to Your TikTok Bio?
You can as well add a website link to your TikTok bio. However, the only sure way to do it is to convert your personal TikTok account to a business account.
Today, everything has become so easy. Thus, you can easily convert your TikTok account to a business account without paying a penny. It is so simple with these steps:-
Step 1: Launch yout TikTok tok application. then login to your account using your username and the correct password.
Step 2: While login in, click on your TikTok profile,
Step 3: Then click on the menu icon located at the top right corner of your screen
Step 4: Then hit on manage the account.
Step 5: Then select switch to a business account and click next to proceed.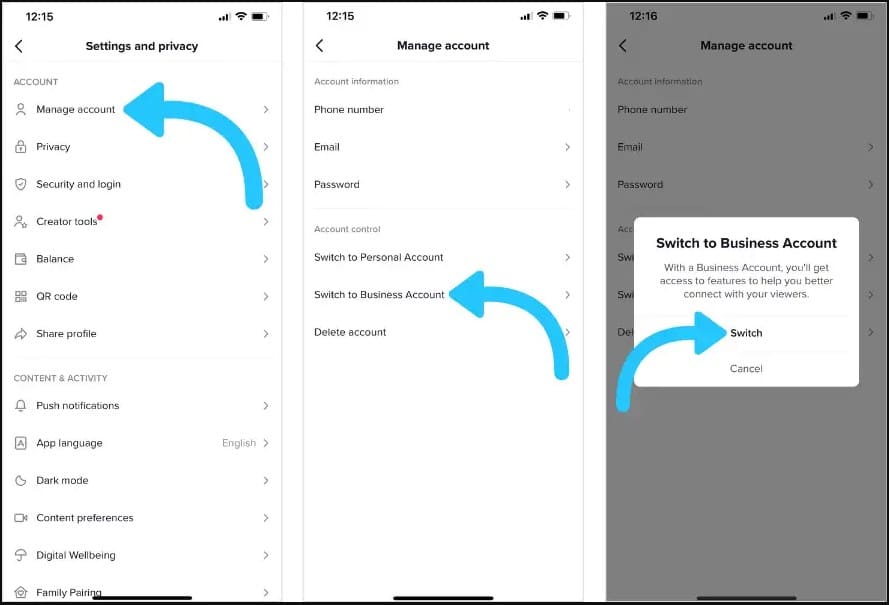 Step 6: Then choose the category of the business you want to operate, and once done, click next again.
You have just finished converting your TikTok account to a business account with the above steps. You now proceed to add the website link to the TikTok bio.
Here are the steps you need to follow:
Step 1: So, head to the profile section from the home page and click on it. We are assuming that you have logged in to your TikTok account.
Step 2: Click on edit profile.
Step 3: From the menu, tap on add your website, and proceed.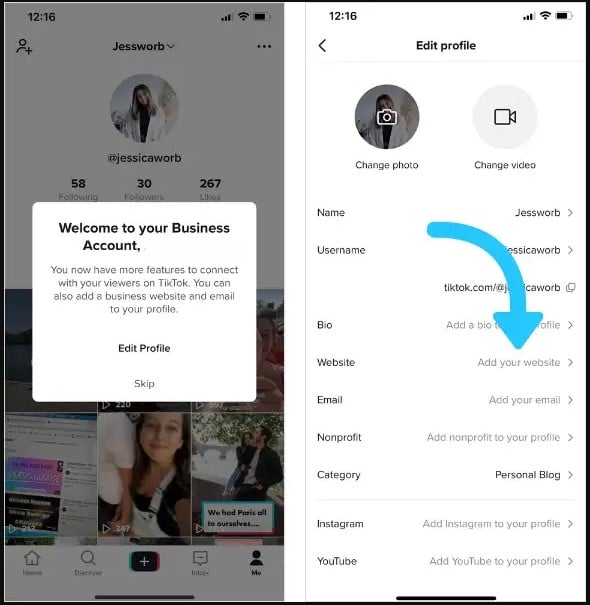 Step 4: Enter the URL of your website; you can equally copy and paste it here, then after that, tap save. And you are done adding a website link on the TikTok bio but using a business account. Sounds simple? Give it a try!
---
Tips to Add a Link to Your TikTok Bio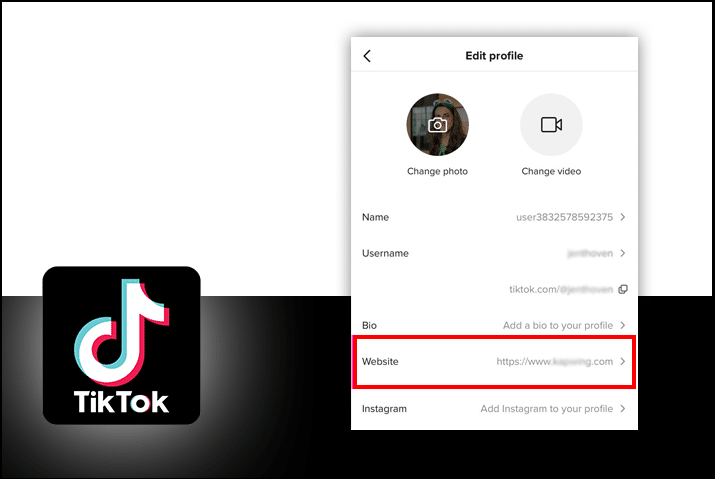 Adding a link to your TikTok bio is not only crucial for your business and your benefits. Before adding the link, you need to learn a few tricks and tips to make it effective.
Here are some of the quick hacks to effectively utilize the links in your TikTok bio while using a business account:
Only Add the Most Important Links
Even though you are all aware that the links are essential in driving traffic to the website and improving the business, you must also remember that less is more and more sound professional. This means that you should not just add any link to the TikTok bio.
Most of these links can even confuse your customers in the long run. Thus, make sure you first focus on the link and add only a valid link relevant to the audience. It coves a website link redirecting to the homepage or any performing brands.
Also, you can add a link to your social media platforms like Facebook and Instagram, or YouTube, all alike.
Always Keep the Link in the Bio as Short as Possible
Make sure that the URL is always short so that you can memorize or let the audience have an easy time remembering. For this case, you can use the URL shortening tools online; you can refer to our other articles for URL shorteners, such as Grabify, etc.
when you include the emojis in the link, it draws your audience's attention to check out the link from your TikTok bio. This means that the next time you add a link, comment, or post something on video content, try using emojis so that you convince the followers to check out your bio section for the link.
the most efficient and straightforward method to share various links on your TikTok bio is to use the bio tools. This is a seamless task, and there are many bio tools online. A good example is the Linktree. You can utilize it in making a simple landing page consisting of all multiple links you wish to feature somewhere, such as on the TikTok bio.
The tips are essential and used to gain maximum value from adding a link to your TikTok bio. Otherwise, let us find out why sometimes it is hard to add a link to the TikTok bio.
---
Why Can't You Put a Link to Your TikTok Bio?
There are many possible causes why you might find it hard or fail to add a link to your TikTok bio. Some of the common are:
There is the possibility you are using a computer browser. Note that adding a link to your TikTok bio is only possible using a mobile application. Thus, instead of using a computer, ensure that you add a clickable link using your phone.
Secondly, you might be operating a personal account. And from the article, it is only possible to add a clickable link to the TikTok bio when using a business account. Then, you should convert the personal account to a business account before adding a clickable link to the bio.
---
FAQs
1. Can I add multiple links to a TikTok bio?
At this time, TikTok only allows you to add a single clickable website link to the bio. However, when you have multiple links to add to the bio, you should consider using the bio link tools such as Linktree. This way, you can allow the audience to check multiple websites when visiting your bio on the profile.
2. Can I know how many people clicked my TikTok bio link?
You can use a link shortener like Grabify.
3. Are there any restrictions on creating TikTok bio links?
TikTok currently does not have any restrictions on creating  TikTok bio links. Even if you don't have any followers, you can still hyperlink your website link to the bio.; thus, it is good to add a link to your bio regardless of the followers you have on TikTok.
---
Conclusion
Adding a link to your TikTok bio is an important aspect, and it does not only increase sales and traffic to your website and cross-promote the products. You can easily promote your business and get attention while creating brand awareness when done correctly. Follow the above procedures and utilize hacks to link in TikTok bio effectively.