Do you want to track and find the IP address of someone on Omegle? Our article will be helpful. We have various easy ways to detect one's IP address on Omegle.
Omegle is an online platform where people chat and socialize without even registering. It is a free website. Since this is a platform to make random friends, the site does not let us know the exact location of their users unless the person specifies.
But if you want to find out the IP[ address of the person without asking. You can do it in many ways. So in our article today, we will guide you on various methods of grabbing someone's IP address. Thus, once you connect with a person on Omegle, you can see well-detailed information in real-time.
The point here is that you can track someone on Omegle when necessary. This means the platform has loopholes that allow you to use the VPN or proxy to evade them. So, here are some of the best methods you can use to grab the IP address of someone on the Omegle platform. Note that you should not use them for malicious purposes.
---
Use Omegle IP Puller
There are many IP pullers online that are easy to use by anyone. Mostly, online tools are vital for creating links with trackable strings attached to them. When you share the special links, you can easily track the people's IP addresses immediately they click on them. In our case, we shall use Grabify as our IP puller. Here are step by steps guides on how to go about it on Omegle:
Step 1: Since you need to share the link, go online, find interest and relevant content or video for anyone and select the link. It can be any content or song link as long as it is interesting to catch their attention.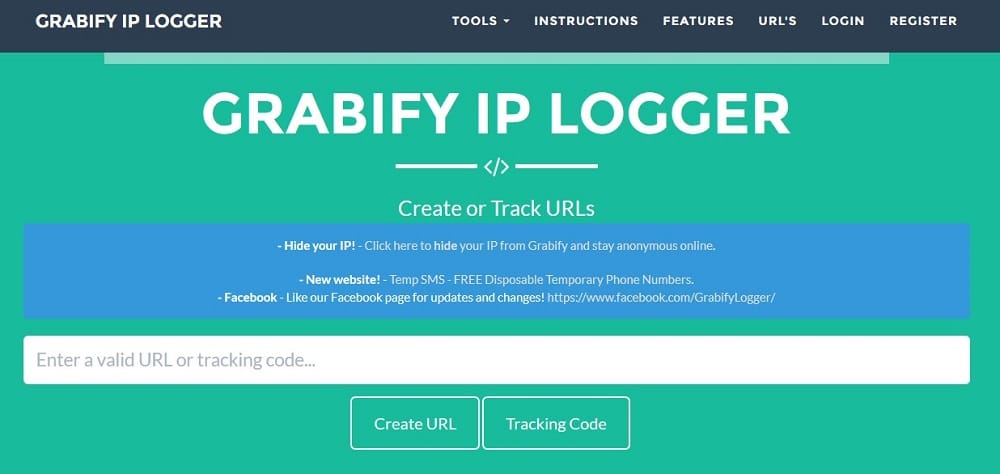 Step 2: Then go to the Grabify website and paste the link to shorten it. Enter the URL on the unique field found at the top page. After that, tap the 'Create URL' option. You will then obtain a shortened URL with strings attached and trackable code. Save them for future use.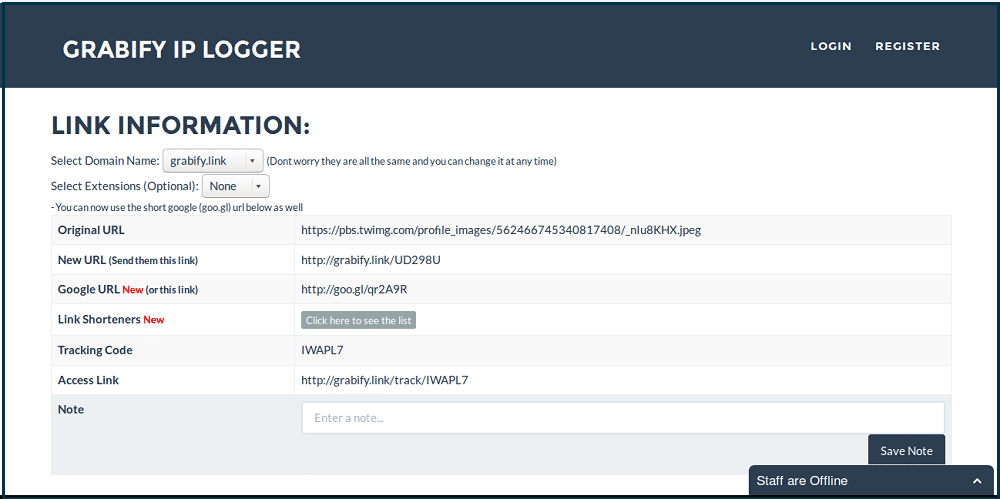 Step 3: Copy the shortened link and launch the Omegle platform. Please connect to the person in question, engage them in a conversation and let them click on the link. Avoid sending the link suddenly as it raises suspicion. Instead, pretend to communicate with the target person to win their trust. Engage and let them be interested in your link before sharing.
Step 4: Go back to the grabify home page to grab the IP address of the target on the Omegle. This step is only valid when the person clicks on your link. use the tracking code and enter it on the special field at the top of the web page. Then paste code and tap ' tracking code'; the software will display all the necessary information concerning the Omegle user in question.

---
Use JavaScript Code to Track  Omegle IP Address
Another method of tracking Omegle IP addresses is the use of JavaScript code. This is a programming language running website pages. You can use it to identify the texts, graphics, maps, and so on. Anything to do with videos has a connection with JavaScript. Thus, you can operate the Omegle platform the way you want only with JavaScript special codes. You can even identify the user's IP address.
here are some of the critical steps to follow:
Step 1: Launch chrome development tool. It is the set of various tools found in your browser. You can use the tool to inspect the CSS animation features, use the console, and run the JavaScript. Before starting, be sure that you understand the use of this tool.
Run your google chrome
Open menu located on the right corner and click on the more tools
And navigate to developer tools or simple press SHIFT+CTRL+J
Step 2: After that, open the Omegle platform and connect with your user through video chat. Then their  PC starts sending you protocols together with their IP addresses. You will use the console code on JavaScript to achieve this process.
Step 3: Then run the console. This tool is found within the chrome development tool and allows one to run the javascript. While in the tool, go to the upper panel to access the console tab. Click on it to open. While on it, paste the following texts
Step 4: Get the IP address. use the code below to see the IP addresses of the Omegle user as well as their location when you are connected. You can copy the IP and the location of the Omegle users for future usage.
---
Use Omegle IP locator Plugins
There are different Omegle IP locator plugins available online. These plugins are relevant to help you locate Omegle users' IP addresses. Thus, the Omegle IP locator is among the popular tools.
For our case, we will use the firefox extension plugins known as Omegle IP Location Finder since the Chrome Extension is no longer available online.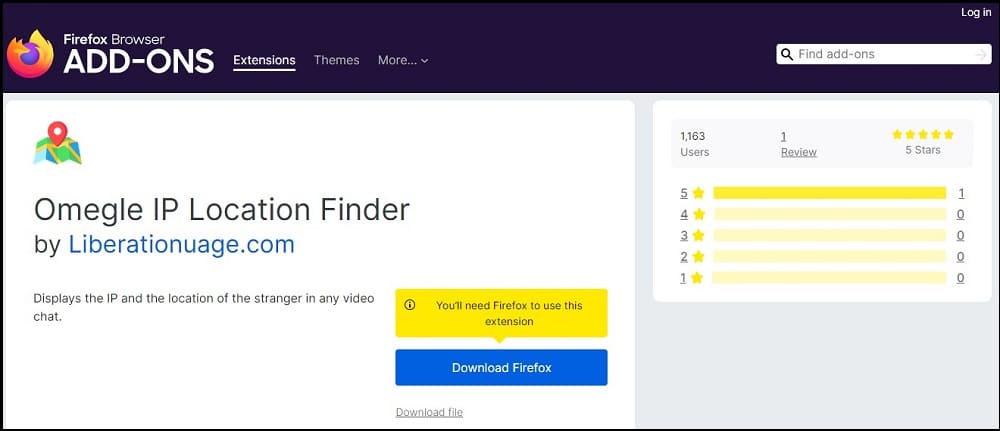 Follow these steps to successfully track the IP address using the firefox browser extension plugins.
Step 1: First, download and install the Omegle IP Location finder in your firefox browser. Ensure you download and add the extension to your firefox browser then, connect with the target Omegle audience through chat. Start conversation and video chat have proven more reliable since the application easily accesses the information.
Step 2: The Omegle user data is sent to your computer when you start a video communication. This Omegle IP location finder captures the report of the caller. This way, you see their whereabouts and IP addresses. This is a perfect method of locating one's IP address on Omegle. This is because it is simple and does not need deep IT knowledge.
---
Create an Omegle IP Grabber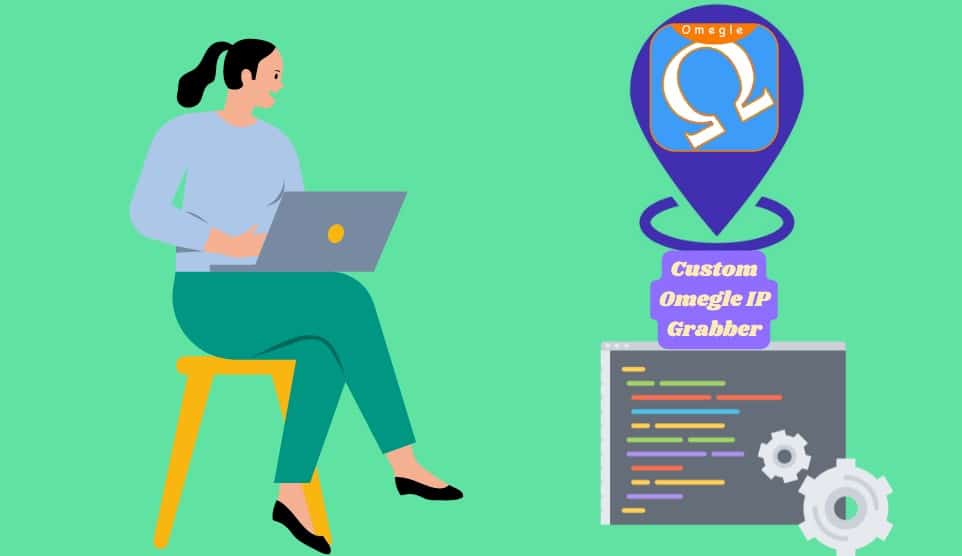 Since the above methods might fail to work for all Omegle users, you can opt for an Omegle IP grabber for an effective process. This is because not all people can socialize and casually click on your Grabify link. Though this method is complicated and costly, it also needs a lot of effort, but you might be interested in using it.
Most people are used to such shortened URLs, which has developed a bad reputation on the nature of the URL. Thus, you must find a reliable method when you are a frequent Omegle user and grab the IP address of any user.
This means you will need to develop a website from scratch and be convincing to serve as bait for your target audience on Omegle. So, here are some of the procedures you should follow and grab the IP address of the Omegle user when you chat with them.
Step 1: First, develop a website from scratch. You can go for any programming language or coding. Or you can easily use the website application if you are knowledgeable in website design. However, you must make sure that the website you are creating looks convincing to the target audience. It should also have all the functionality that helps you capture the IP address. The task is not difficult for a professional programmer.
Step 2: You can go for free hosting services and host your website. The good news is that there are various reliable hosting plans that you can use for free.
Step 3: Then go to the domain registrar to buy the cheapest domain name. This can be GoDaddy and many other sites. News users can buy dot com domains at a cheaper cost.
Step 4: Immediately you successfully set up your web page, and you can now use it to grab the IP addresses of any Omegle user successfully. When communicating with the user in Omegle, direct them to your website. This means once they visit the site, you can quickly grab or find their IP addresses.
Though the procedure might be tiresome, costly, and needs a lot of your knowledge and time, it effectively helps you get the IP address of a user on Omegle without using a shortened URL.
Though Omegle is a popular platform, it is a social networking site that keeps users anonymous. Thus, you can only chat with people randomly without knowing their location unless they tell you. But, there are many methods of finding the IP address of the Omegle users using Omegle IP locator tools.
Thus, you can easily access their location and devices when you get a hold of their IP address. This is important for social media marketers to draft customized adverts targeting that particular user in a specified location. Select the best method that fits your needs based on the effort, time, and budget.