Do you want to learn how to take a perfect photo of the latest culinary creations? We have a detailed guide for you. You do not have to carry all the gear with you. instead, find solutions in our article.
For still life photography, food makes an excellent subject. Thus if you love taking photos of the latest culinary creations, you can consistently achieve the best art. However, perfect food photography implies something beyond the simple snapping of the regular dinner plate. Like other normal photos, there are also the laid-out procedures, rules, and tips to guide you in getting stunning shapes, colors, and textures.
Thus, this is the time you need to upgrade your food photography skills. Using these tips, your photography will look just as excellent as the taste of the food. In our article, we will explore all corners of creative food photography. So, if you want to take a perfect photo with your iPhone, read our guide to the end.
---
The Prepare for iPhone Food Photography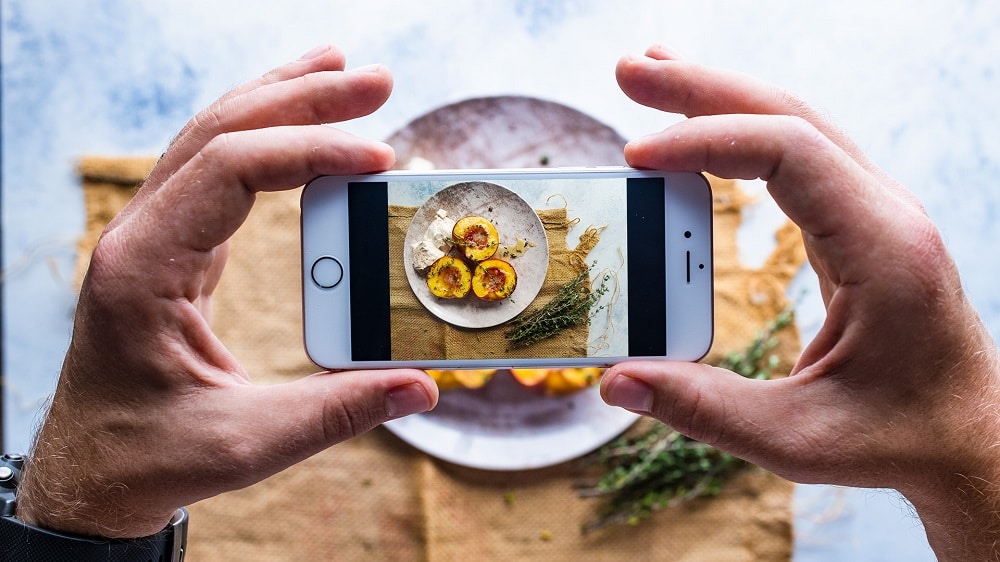 When using iPhone to take food photography, you must first learn the basics and get started. You will need anything you will be dishing up at the primary level and the iPhone. But when you want to go beyond and kick it a bit, there are some basic requirements to make your photography look unique and stand out from the rest. so, make sure you have these things in position before starting:-
A tripod. Make sure that your tripod has a rotatable center column. However, any tripod is practical while shooting an excellent crisp photo. But with the rotatable column tripod, you can even go the extra mile and have hand-free photos and even record videos above.
A clamp: This is perfect when you want to shoot aerial photos. Thus, you must attach the clamp to your tripod's center, which can help you hold the iPhone device. This ensures that your camera is in place for secure food photography. This is important, and if you have ever tried fishing the camera out of the food bowl, you can easily understand the concept here.
Remote shutter: These tools are very cheap but essential and one of the basic needs to help you reduce the camera shake. As one of the options, you can even utilize the timer in your camera application on the iPhone. It helps you do away with photo blur effects.
Light source. Besides natural light, while taking food photography, you can also improve or use artificial lighting. More about lighting we will cover later on, but it is one of the crucial factors to consider.
Photo editing software. It would be best if you also had a perfect or not excellent photo editing tool. Even after taking great shots, you still need to do some photo editing with a bit of post-processing. More on this we will cover in the next section. but before that, let us go through some of the tips and tricks.
---
Tips for Taking a Tempting iPhone Food Photography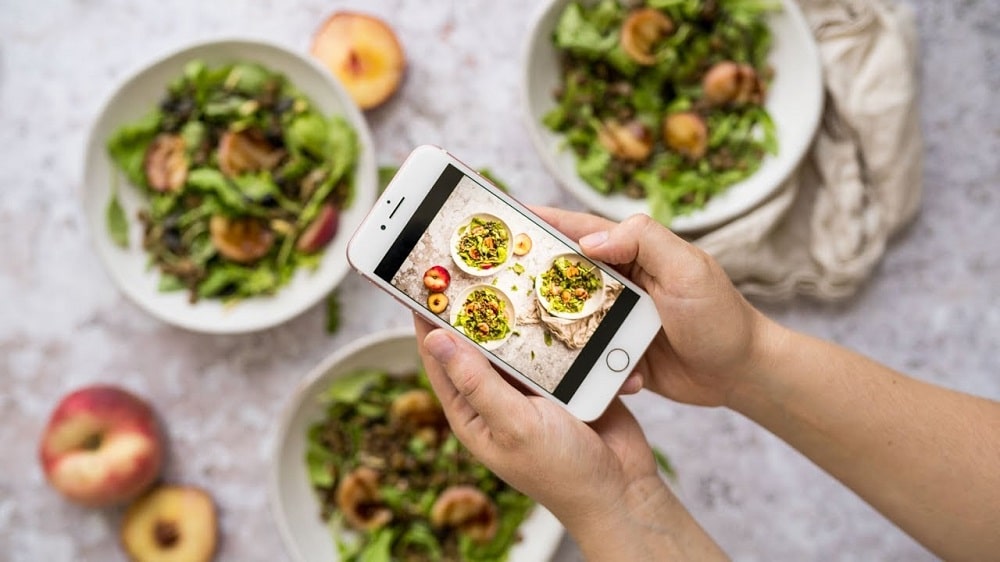 since you are now prepared with the primary and minimum requirements, it is time to know the tricks and tips for taking perfect food photography with your iPhone. use these tips to make your shooting unique:
1. Utilize props creatively
it is good to use different props while at the same time integrating them to come up with the competition consisting of unique layers. This is perfect, especially if you have added an extra layer to the foreground as well as the background while placing the dish in the center. You can use glasses, food ingredients, and silverware to style your subject. Instead of distracting, make sure that the ingredients and props are linked to make the main subject tell a story by itself.
2. Try photo repeating patterns
while the beginners in this profession tend to frame their photos under one plate while arranging them beautifully, it is still the most interesting to get started. Sure, nothing is wrong with the method. Instead, try something unique and apply repeating patterns to develop a solid graphic pattern for your food photography. This implies photographing numerous tinny plates of the food, cocktails, or several cookies placed in a row.
3. Include the human element
another technique to make the shot look professional and unique is to add a human element. They mean telling a unique story and introducing an exciting element. This can be a hand or arm. It is essential since it implies some sense of presence to the viewers. Also, one can realize that the photo was taken from the point of view and not generated.
4. Think of the perfect color.
Something unique about food photography is its capability to give the photographer a chance to select and play around with multiple colors. Note that color has an impact, especially in the composition of your photo, thus affecting the overall feel of your image.
You can even create a composition sith similar colors to evoke tranquility and comfort through harmonious composition. However, opposing colors bring some opposing impact. It makes the photo vibrant, exciting, and dynamic, stimulating the audience's emotions in multiple dimensions.
5. Shooting angle
Try to shoot the food p[hotograp at an angle of 45 degrees. This sometimes looks tempting using a unique angle, but 45 degrees gives you a natural look that displays the best side of your subject: food. You can also capture part of the background and foreground to make it a better context. But 90 degrees taken from above, the food seems pleasing. But the angle is dependent on the subject. It is good to experiment and find out which angle is the best for your case.
6. Be simple
while you can decorate the subject and background with different or contrasting colors, at some point, it is good to stay simple based on the subject. This way, it simply makes your photo unique. For instance, when the food has a bold shape as well as the color, with background color contrasting, then making simple minimalist composition tends to drow the most resounding impact. But to get a strong visual impact, it is good to place the food at the center of the frame while avoiding heavy decoration but keeping it simple.
7. Keep background natural
natural in this case does not imply a white table and wall. It simply means using a background that does not overpower the food, which is your main subject. You can experiment with different backgrounds and identify the one that works perfectly and matches the subject dar or light. Even a wood background works well. And try to avoid bright colors at all costs to make the subject shine from the rest of the background.
8. Arrange your food to look neat
the arrangement of your food has an impact on the viewer. Remember that composition is the primary key here, but positioning the element in the scene must also be kept in mind. A messy food arrangement makes things worse and does not give you a good photo. Therefore, it is recommended that you try to arrange your food neatly to create a unique visual interest and balance. For instance, if it is fruits, try to cut them into the same shape and develop a unique pattern.
9. Use negative space
also, consider leaving a negative space while composting the shot for your advantage. The space around your subject gives you some breathing space. This way, you can always make sure that the eyes of the viewers are kept within the frame. You can even utilize props while framing the subject.
However, ensure there is a space around the subject's edges for the natural background you selected. The close-up food images sometimes look unique; giving it breathing or negative space makes its composition pleasing and then emphasizes the shape of your food at the center.
---
Bonus: Shoot Your iPhone Food Photography Like a Pro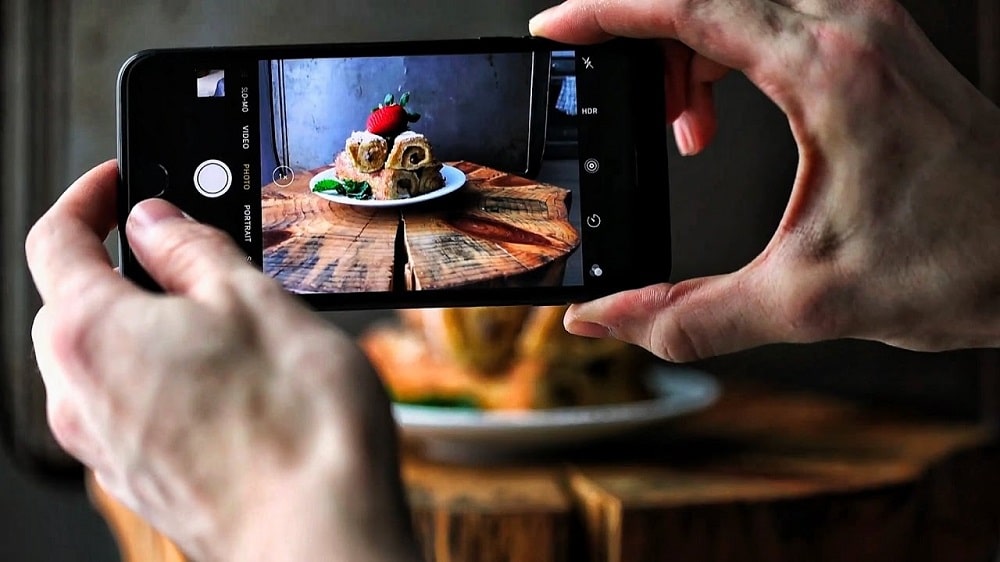 There are many third-party applications you can use to make food photography professional. But before we go into these apps, we would like to give you some other bonus tips to help you become a pro. so when using iPhone with the third party applications, here are some of the best controls and bonus tips to use while taking food photos:-
1. File format
When using a third-party application such as the adobe lightroom, you should select the file format such as the JPEG and DNG. Most people prefer the DNG file format because it is not only a row file but also has a very high quality. Thus it becomes possible to do some post-editing on your food photography before finalizing. Since the iPhone supports a 12mp camera, then if you want the best quality photo, we recommend using the DNG file format.
2. White balance
you can select white balance but base your selection on the type of lighting you are using in the food photography session. iPhone gives you various white balance options. As such, include daylight, cloudy, fluorescent, tungsten, as well as customization options. White balance is not only done during the shooting but also applies the same in the post-editing session, just in case you forget to set it during the shooting session.
3. ISO
the advantage of using third-party apps like lightroom for iPhone is that it gives you the capability to control the ISO while taking food photography. The iPhone camera always tries to adjust its ISO sensitivity based on the lighting. In most cases, this automating sensitivity comes instead of adding the noise to your image.
This is because the small sensor on the iPhone is ineffective in handling noise. Therefore, the ability of the iPhone camera to maintain its ISO low is an excellent step. But this one means you must have a prolonged shutter speed to be effective.
4. Shutter speed
when you are using a lower ISO lighting on the iPhone camera, it is also essential to control the ability on the shutter speed. In addition to this, you must also use the tripod setup as discussed above to minimize the shake on your iPhone camera.
5. Manual focus
among the vital features of the iPhone camera when taking food photography is the manual focus. Therefore, it is recommended that you move your slider right or left and when you see the green area, it only directs you to indicate that the parts of your subject food in question are in focus. This is a perfect feature you need to utilize e, especially when using the critical focus point on your photo.
6. Grid
you will realize that there are multiple layouts when you have a grid layout on your iPhone camera. This feature is also good to use when taking professional food photography. The lines in the grids are important while adjusting the composition balance of the photo. They are also still excellent and vital in aligning the background of food photography and the props and the negative space of your frame.
7. Level
It is always hard to maintain the iPhone level when taking food photography with the flat lay. While keeping your camera from left to right is vital, it also helps keep it from top to bottom. Getting a level food photo is good, especially when you intend to rotate your image later while post-editing. Thus, ensuring your iPhone's level is in position makes your final photo avoid things like food sliding with the props from the table.
8. Highlights clipping
It is also essential to make sure that you turn on the highlights clipping mask. This is because it notifies you once the bright areas are over-exposed. While you see the zebra lines displayed on the screen, you must know that you should dial back your shutter speed, exposure, and, if not, the ISO lighting.
---
Best Food Photography Apps for You
After taking a food photo, it is also good to do post-editing. This will enhance the quality of your photo and position, making them sharper, vibrant, and somehow refined. There are many third-party apps that one can use to refine the images using iPhone. This section has picked some of the best food photography apps.
---
1. Foodie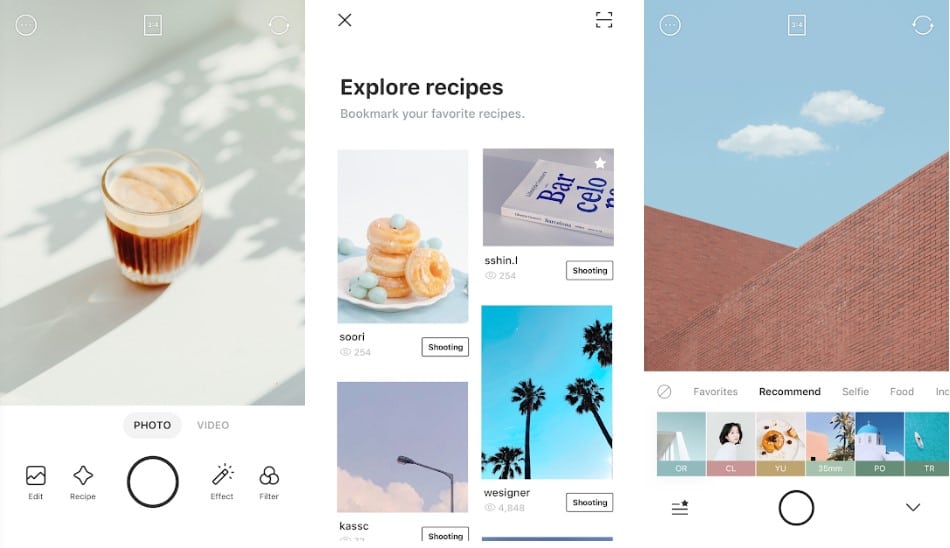 Foodie is one of the best Food photography camera apps for you on our list. So, when you are done shooting food photos and want to do some post-editing services, the Foodie camera app is here to help you. It can help you bring out the deliciousness of your food from a plate to your camera screen.
The app has over 30 live filters to help you enhance the food mood and its surroundings, especially while taking aerial photos. It can convert any bland scenes of your food into delectable masterpieces as you continue shooting explicit dining adventures.
Foodie camera app comes with varying features, and one of its praised features is the third rule grids and timer. Combined, these features make sure that you shoot a food photo from the right angle on any shot you take. The app is also easy and comes with detailed guides which guarantee you top-down food photos.
---
2. Adobe Lightroom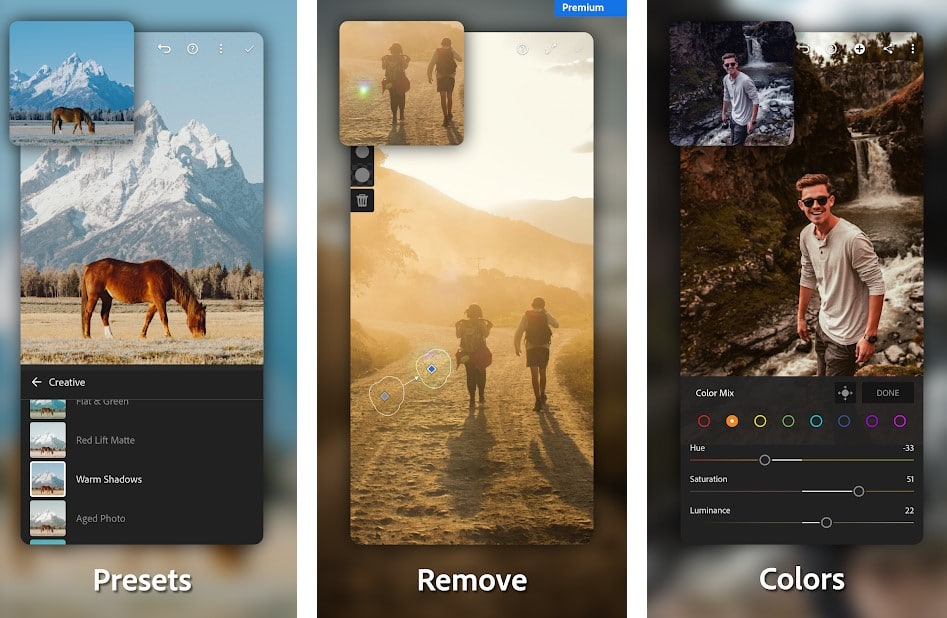 second on the list is Adobe Lightroom. This is the best and most famous food photography camera app on the play store and app store. And if you have ever tried using this app, even on your desktop, you know the experience. However, mobile software comes with many advanced features, making them more effective in editing your food photos, even using iPhone or Android.
So, anything you want to do some experiments on food photography, we urge you to try Adobe Lightroom. It gives you many features that go beyond the ability of your iPhone alone. Adobe Lightroom can help you work out different things such as changing the shutter speed, ISO, white balance, and even exposure. This means that you will have complete control just from the word go white shooting.
And even when you are done shooting, you will also discover that Adobe Lightroom is efficient and has a simple user interface while post-editing the images. This is a free photo editor tool to help you empower your food photography profession and capture stunning photos. Start transforming your photos with this camera app today.
---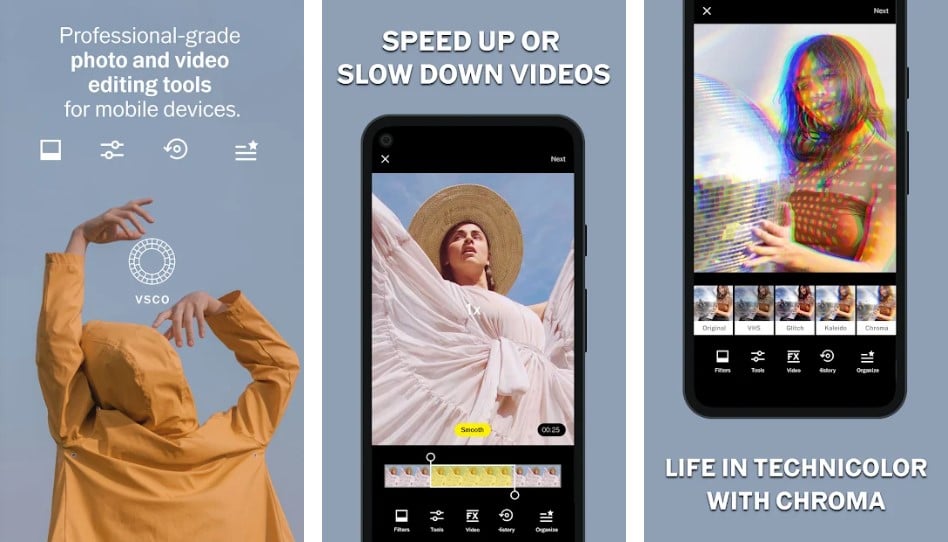 Next on our list of the best food photography app for you is the VSCO camera pp. This third-party app is well known for its easy-to-use filters. It has a wide array of filters that you can easily apply to your photo. Change your food photo from dull to become dramatic. Most people online recommend it, and even the rating is excellent.
A large number of customers are satisfied with this tool. However, the free version lets you access 10 filters, but you will have access to over 100 filters when you upgrade.
The filters in VSCO are perfect for streamlined post-editing, coming up with cohesive themes on your social media platforms, and a simple process. Regardless of what you are experimenting with, VSCO will offer you the quality you deserve. The services range from dark food photography to an airy look up to the light.
There is every filter for any scene you want. Other than photos, VSCO is also effective in diting videos. With the premium package, you can even frame your food photo using a touch of colorful borders. It also connects you with the creative community to make good use of it.
---
4. Snapseed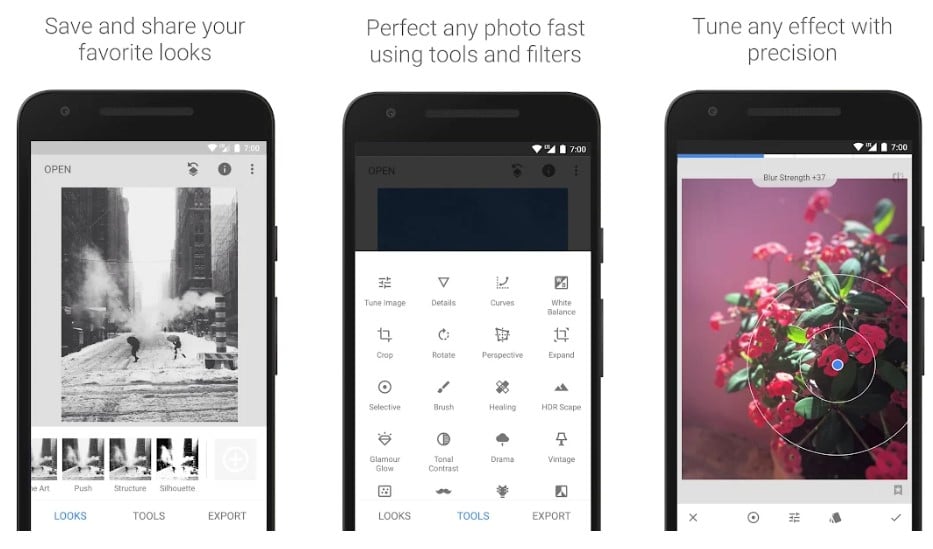 lastly, we have Snapseed. This is also a popular camera app for editing food photos. It is a great option you can turn to anytime. And what makes us rank it among our best food photography apps is its vast collection of brightness features.
You can use Snapseed to brighten a dark spot on your food photo. And in case you wish to do some clean-up on rogue crumbs and spills, then this healing tool is fine for getting rid of all the patches with only one click. Many users prefer it because it is 100% free to use and download to your iPhone or Android devices.
---
Conclusion
taking food photography is simple when you are prepared and know the tricks. In your article, we discussed the preparation, basic requirements, and things to consider while experimenting with food photography. Besides photo composition and lighting, post-processing is very important while enhancing the quality of your photo.
Use the best food photography apps in the article to make the images unique and ensure the viewers are left hungry. Read the tips and basics to take your profession to another level.