Share your Live photos with other users by converting them into a video. Click here to learn some practical steps you can follow.
Live photos are not new to many users as they have been available since 2015 with the introduction of the iPhone 6s. One of the most remarkable features you can find on an iPhone camera is the ability for you to combine several photos to form a short video that usually lasts around 1.5 seconds.
To create this type of GIF-like photo, you only need to click on the shutter tab to take several still photos. The iPhone camera helps you to stitch them together so that there is a smooth animation with enhanced sounds and movement to make the outcome look beautiful. The process is straightforward as it is just the same as taking any photo.
However, you will experience downsides with live photos, especially when you wish to share them. This is because live photos can only be viewed by other iOS users when still in their native form. You'll have to convert the live photos into videos if you wish to share them with non-iOS users. This will ensure that it still retains the sound and animation.
In case you're worried about how you can share your live photos with others not using iOS devices, this article will show you how to go about this in simple steps. We've also listed various methods you can use to turn live photos into video.
---
How to Turn Live Photo Into Video
1. Turn a Live Photo into a Video with iOS Shortcuts
Apple disapproves of the use of third-party shortcuts. This is why shortcuts available for downloads are blocked, and you'll always get warning alerts whenever you try to run a third-party shortcut. However, following the steps below will allow you to turn a live photo into a video using the iOS Shortcuts.
Step 1: Go to the Shortcuts section after launching your settings. (If it's not already integrated into your iPhone, please click here)
Step 2: Allow Untrusted Shortcut via your settings and ensure that you have run a shortcut at least once in the past.
Step 3: You may be required to type in your passcode.
Step 4: Search for the Convert Live Photos to Video shortcut via your search engine and you'll be directed to the Shortcuts Gallery website.
Step 5: Get the Shortcut by opening the shortcut link on your iPhone.
Step 6: Tap the Open button.
Step 7: Once opened, you can click on 'Add Untrusted Shortcut' to see the new Shortcut you've added.
Step 8: Allow the new Shortcut to access your photos.
Step 9: Click on the image you wish to see by navigating through the folder where your live photos are located.
Step 10: The Shortcut needs to be allowed to access notification by clicking ok.
Step 11: The video is added to your camera roll once the Shortcut is finished.
With the Untrusted Shortcuts toggle removed in the iOS 15, it will be good if you test the shortcuts to see if they will work first. You can then follow the direction you see on your screen once you are alerted.
---
2. Save a Live Photo as a Video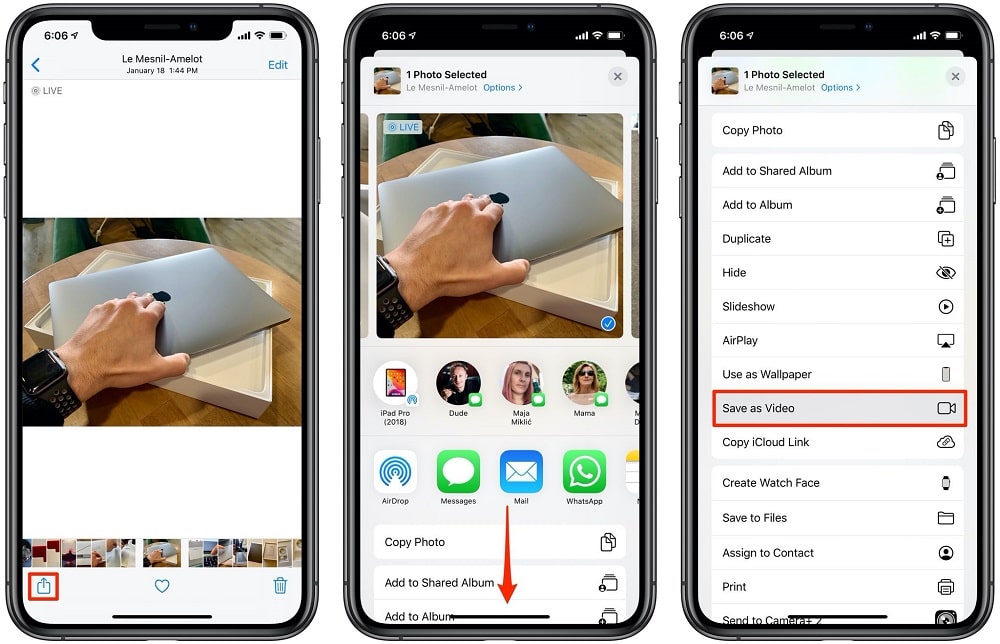 It is now easier for those using iPhone 13 or a later version to convert Live Photos into a video. You can quickly achieve this by saving it as a video following the steps below.
Step 1: Open the photos and choose the Live Photo you wish to convert.
Step 2: At the bottom left of the screen, press the share button
Step 3: You can then press Save as video when you scroll down.
You'll find the video you just converted in your Videos folder. However, you can use other video enhancer apps if you want to give your newly converted video a touch-up.
---
3. Use Loop or Bounce Feature 
The Photos app's Loop and Bounce feature was introduced in iOS  11 and can be used to create animations or special effects videos. You can also use it in iOS  13 and 14.
Step 1: Choose a Live Photo from the Photo app
Step 2: Swipe up to choose either the Loop or Bounce effects. The Loop effect allows the Live Photo to play continuously without pause in a short loop while the Bounce effect will make the photo go forward or backward.
Step 3: You can then decide to share your created video file on either social media or email.
The procedure is even easier when using an iOS device. you only need to tap on the image, click on the Live button and choose the effect you want from the pulldown menu.
---
How to Turn Live Photo Into GIF
1. Save a Live Photo as a GIF 
The Loop effect can be used to save a Live Photo in a GIF format. This is helpful if you wish to share the Live Photo via social media or to use it as a meme.
Step 1: Choose the Live Photo you wish to convert from the Photos app.
Step 2: Click on the 'Loop' button on the Effect section.
Step 3: This will enable the Photo app to turn the Live Photo into GIF.
Step 4: Click on the Share button to enable you to share to other apps such as WhatsApp or Twitter.
Step 5: It will allow the Live Photo to be shared as a GIF.
2. Make a Live Photo into a GIF with iOS Shortcuts 
You can easily turn a Live Photo into a GIF through the use of the iOS shortcuts. The following are steps that can help you achieve this with ease.
Step 1: Open the Shortcut app
Step 2: At the bottom-right corner of the screen is where the gallery button is located. Click on it.
Step 3: Use the search bar to search for the 'Make GIF' Shortcut. Click on it
Step 4: You can then click on 'My Shortcuts' when it has been added.
Step 5: Search for the Make GIF shortcut by scrolling through your shortcuts list.
Step 6: Once found, click on it to take you to the Live Photos you have
Step 7: Choose the Live Photo you wish to convert.
Step 8: Your new GIF will be saved to your Camera Roll once the Shortcut is done with the conversion.
3. Turn a Live Photo into a GIF with GIPHY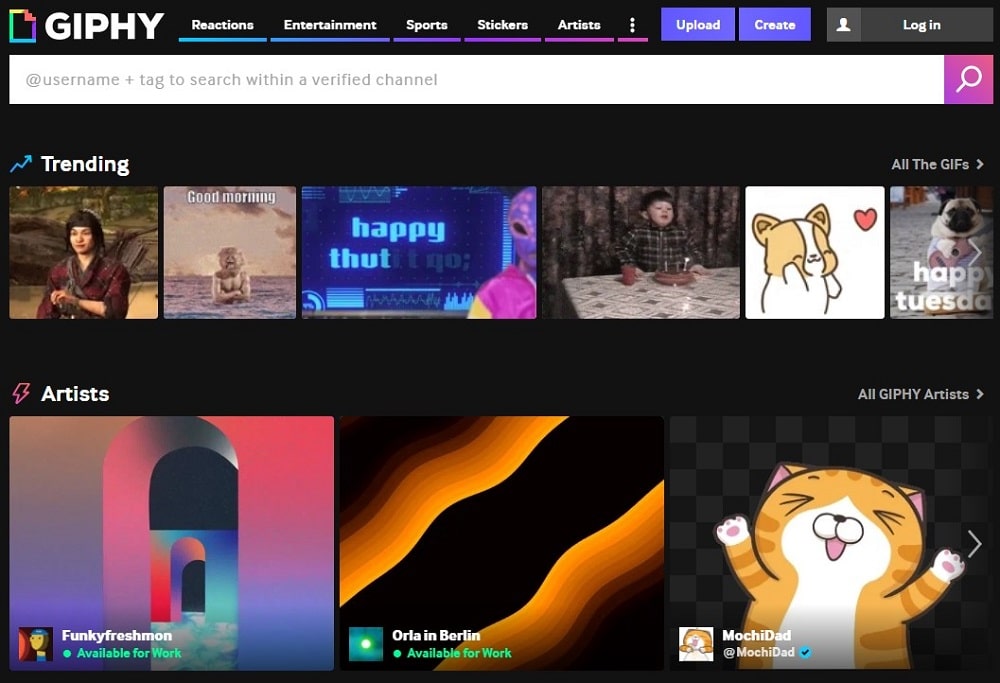 Another method you can use to create a GIF from your Live Photo is through the use of the free GIPHY app. The app comes with features that can also enable you to add text and effects to your GIF.
Step 1: Open the GIPHY app and click on the plus sign to get started. You'll be required to grant the app permission to access your camera, especially if you're using the app for the first time.


Step 2: Click on the Photos button on the next screen.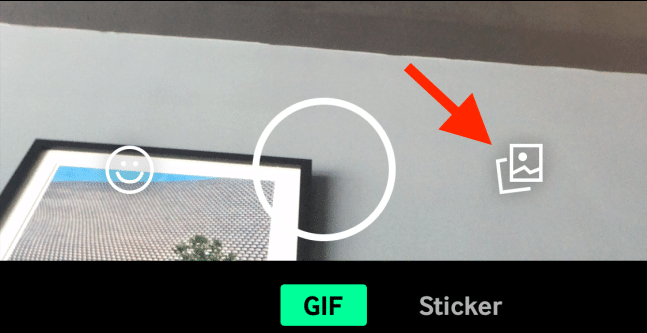 Step 3: Choose the Live Photo you wish to turn into a GIF from your Photo list.
Step 4: You can then use the tools to customize the Live Photo by adding text or effects. You can also trim the GIF.
Step 5: Click on the 'Next button' when you finish editing the GIF.


Step 6: You can then either upload the GIF to GIPHY or share the GIF you've created.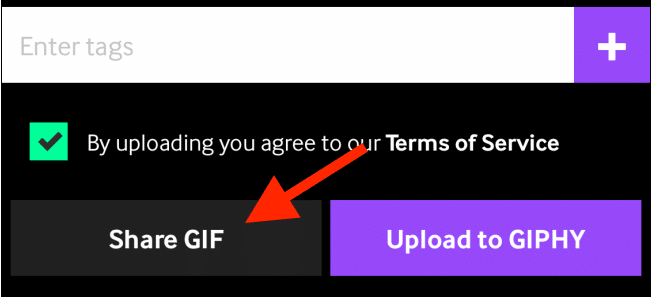 Step 7: You can also save the GIF when clicking on the 'Save GIF' button.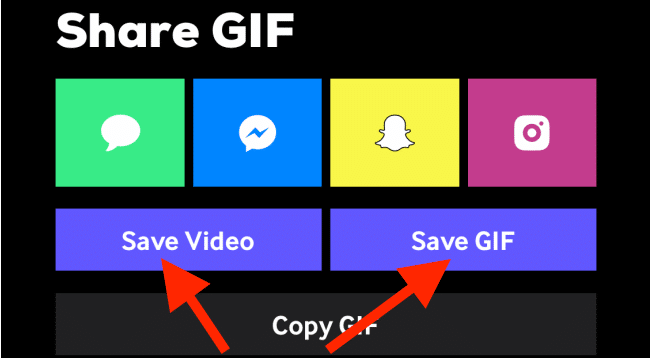 While there are several methods you can use to convert your Live Photo into a video or GIF, you must choose the most convenient method for you. This will enable you to share your favorite Live Photos with non-iOS users while retaining its amination and even the background sound.