You want to stitch on TikTok but do not know how to do it? This article lets us know what you must do and how to stitch in TikTok. Read to the end.
TikTok is a collaborative form, making it stand out from the rest. Once you a video on TikTok, it is not done yet. Any users can decide to reshare, remix, or repost. You can build your video on TikTok and improve it with the help of audio or voiceover. And in this review article, we will learn about stitching a TikTok video.
Stitching men, you try to get your video from an already posted video on TikTok. in most cases, people on TikTok use this feature to respond to a video or comment. When you do it correctly, it becomes one of the best methods to offer the context of your video. You must know that you can only post a video for up to 5 seconds to make a crucial punchline with the stitch.
Stitch lets users clip and integrate someone's video to their content in simple terms. As a duet, the stitch is one way to reinterpret or add content, build stories, and do many more tasks. This is a good instance of a tool TikTok has to help people create competing content and be creative when others spark their creativity.
Therefore, stitching can engage someone even though not interesting in creating compelling content hence becoming an accessible creator. First, let us know how to turn on the stitch on TikTok before details.
---
How to Turn on TikTok Stitch
When you turn stitch on, you are giving other millions of users on TikTok the possibility to collaborate. Such possibilities are one way to increase your reach and also go viral. But when you are not fine turning stitch to all your videos, you can still perform individually.
Stitch settings are found in the privacy section. However, that is not everything you need to know. While you have the general settings put in place, still, you can amend the individual changes concerning stitch settings on each video you share.
More about this is below. Tiktok gives you two ways to turn on stitch. Through the privacy settings in general settings and before posting the particular video.
Thus, if you want to turn on stitch settings, here is how to go about it:-
Step 1: Launch TikTok, log in with your details, go directly to the profile, and click on the 3 dots found at the top right corner of your screen.
Step 2: Then click on privacy.
Step 3: Hit ' who can see sitch with your videos'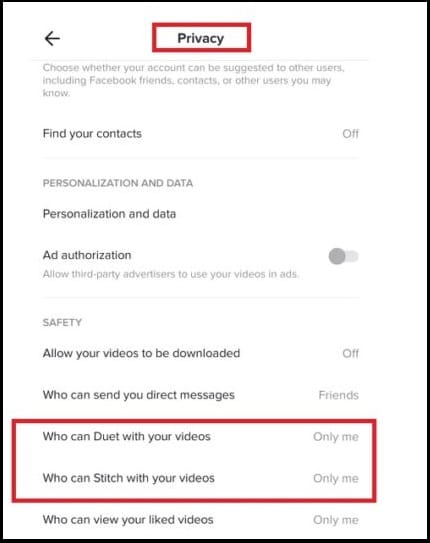 Step 4: Then choose everyone, or friends as well as no one where possible. You can select either way from the menu based on your preferences.

Step 5: Then to save the settings, click on the back arrow. As stated above, you can still change the settings in general settings and on each video before uploading.
Therefore, you can achieve this by switching to allow stitch and then toggling on or off before clicking on the share icon. Also, note that when you stitch someone's video on TikTok, the platform automatically credits the owner in your caption and gives the link to the original video. Also, anyone cannot erase any tag or hashtag used in the video, ensuring that the creator has a full attribution.
---
How to Stitch on TikTok
The stitch feature enables you to collaborate with the TikTok users and influencers. You can, therefore, trip a click from someone's content and then sue to start your video content. It is suitable as a reaction video which allows you to post a response.
Thus, follow these steps to stitch on TikTok:
Step 1: Launch your TikTok application and log in with your relevant details. Then identify the video you wish to stitch and click on the share icon. The icon looks like an arrow.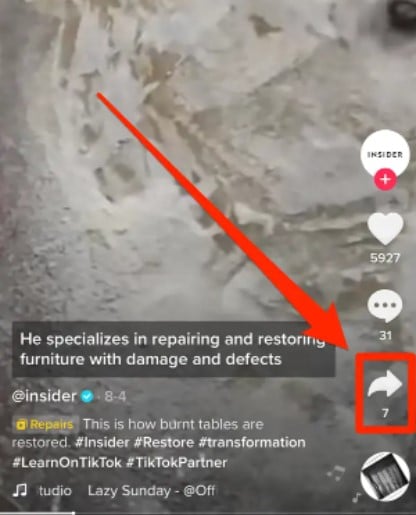 Step 2: From the menu bar, choose the stitch icon and give time to process the video. Remember that longer video takes a long time to process. However, when the stitch button is not available or inactive, the creator disables the stitching feature.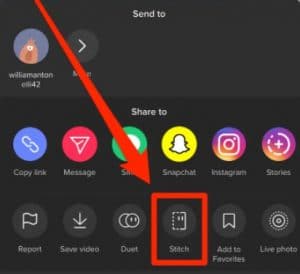 Step 3:When you're done, the platform will redirect you to a new page to cut out 5 seconds of the video and then sue in your content. To scroll through the video, use the slider at the bottom of your screen. Then use the section you need. After that, click next.
Step 4:Then you will be redirected to the typical TikTok recording section. Then start recording the rest of the video you usually use, then click the checkmark
Step 5: You can edit by adding effects, voiceover, text, stickers, and even caption, then click next.
Step 6: Then finalize by giving the video a title/ tags. At this point, you can as well set other users to stick to your video. You only click on the toggle switch to allow or disable the stitching feature on your video.
Step 7: When done, tap a post to upload the stitched TikTok video.
---
TikTok Stitch vs TikTok Duet

A duet is a situation where you record a video that goes along with someone's video on TikTok. It places your video and the creator's video side by side where the new video is placed on the left while the original is always located on the right. Both videos keep playing simultaneously.
Whereas stitch places a section of the borrowed video clip in your video, the duet uses the entire video content. The borrowed clip does not play simultaneously with the new video content; instead, it plays for at least 5 seconds in a section of your video on TikTok.
---
Can You Stitch on TikTok with an Existing Video?
No. at the time of writing this article, TikTok does not allow users to stitch using a video from the camera roll or gallery that is stitching.
As long as you want to stitch, you must be prepared to capture 100% original contents alone, which you can record using the TikTok camera alone. You cannot upload a video from your device and use it to stitch.
---
More Ideas for TikTok Stitch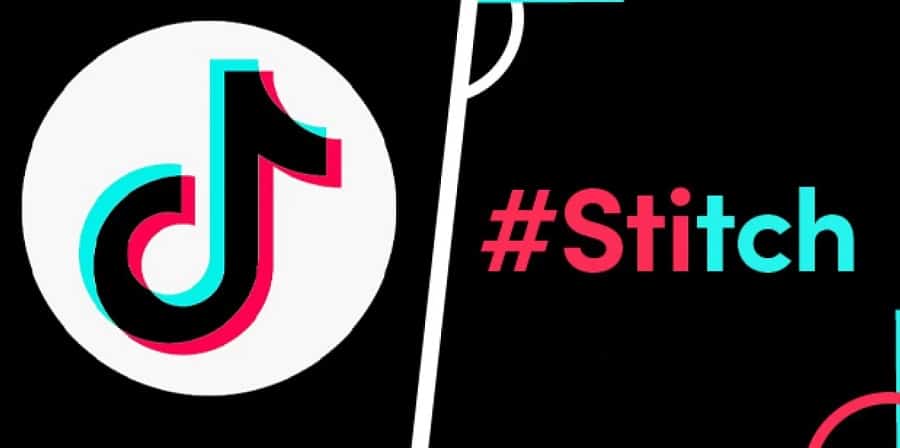 there are various scenarios where you can use stitch as a TikTok feature to revamp your marketing strategy. here are some of the ideas we have collected to help you:
To help you go viral, the stitch feature is the perfect way to use and promote products to go viral insanely on TikTok. There are many videos online, and many businesses have managed to promote their products online through the TikTok stitch. This is because stitch creates a chain reaction while trying their products and stitch the reactions from different consumers and loyal customers.
when you post a video showing a unique skill like through TikTok stitch, it exposes you to the relevant people who are interested in your abilities. one can also use their gues work talent like telling the proper height of the people baing their guesswork on the objects found in the videos and working out some math.
Answer and ask an open-ended question
also, a person can decide to ask or equally answer an open-ended question. This is done perfectly through stitch while answering a question or asking a question on the original video
You can also try a trend in the original video through the stitch on the TikTok video. This is a great way to showcase your skills and rank yourself for a challenge like dance challenges.
There are many other scenarios you would come across in life. Such is not only limited to challenging people, responding to questions, giving a reaction, stitching to show the favorite section of a video, etc.
---
Conclusion
Besides editing and making high-quality video content on TikTok, stitching is among the effective methods to help you reach out to a new audience and boost your engagement. Thus, it guarantees you the potential to go viral. This is a no-brainer option when you want to grow your brand on TikTok.