Have you accidentally deleted a precious photo from your gallery? Read this guide if you don't know how to recover a deleted photo in your gallery. We will help you get the best out of yourself and restore your deleted photo from the gallery.
You can use a smartphone to shoot a critical and worthy remembrance moment in your life. However, when it comes to storing memories, there is where we encounter consequences. It is even worse while keeping such photos on a smartphone. This is because you can quickly lose them or accidentally delete the photo. If you wipe or lose your memorable photo from an SD card or android storage, you wonder what to do.
You can use various ways to recover a deleted picture from your gallery. It is not late to restore the photo you accidentally deleted and cannot find in your gallery. Note that such photos also have limited time to get deleted permanently. In this article, we will guide you to find a precious photo.
---
How to Recover Deleted Photos from Your Trash Folder
When you realize you have deleted your favorite photo from the gallery, the first step is to check the trash folder on your phone. As a normal situation, anytime you delete a photo from your smartphone, it is automatically stored in your trash folder for the next 30 days.
So, if you trashed your memorable photo from the gallery, there is a possibility you will find it in this folder. But how do you go about this? follow these steps to access the trash on your smartphone:
Step 1: On your phone, click on the gallery icon, and from the lower right-hand side of your gallery, tap on those 3 vertical lines. This is the most cases seen on android devices regardless of the version you are using.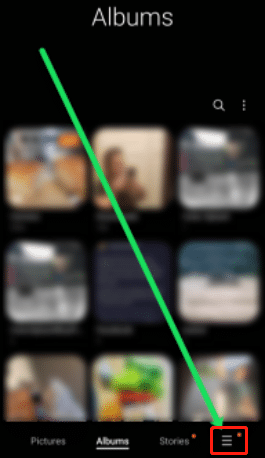 Step 2: Then from the resulting menu, choose Trash.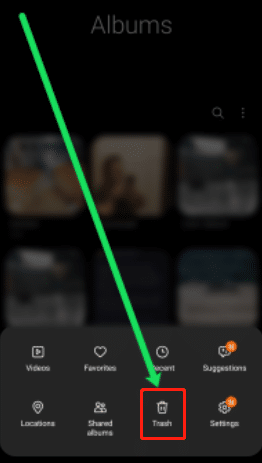 Step 3: Click on the trash folder, and any recently deleted photos will be stored here.
Step 4: Identify the photo you want to restore, then click on the restore button, which is found on the lower left-hand side.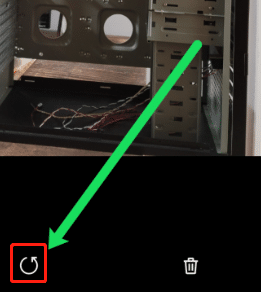 And if you cannot find the missing photo in the trash folder, that should not worry you. There are other possible methods. You only need to keep reading to the end.
---
How to Recover Deleted Photos from Your SD Card
Android is unique when it comes to its features and ability to customize. Because of space, most of these android models even use external storage when capitalizing on storage and keeping your documents. It is good to have a memory card on your smartphone. If you delete a photo, it is possible to be stored in the memory card. and when you find it hard locating the SD card, then here is the way forward:
Step 1: on your phone, locate an icon named my files or file manager. You can even search it through the search bar if you cannot locate it.
Step 2: Click on it to open it, and you will be able to see multiple folders.
Step 3: Click on the SD card from the menu instead of internal storage.
Step 4: If an SD card is inserted, it will open and display multiple folders when you click on it.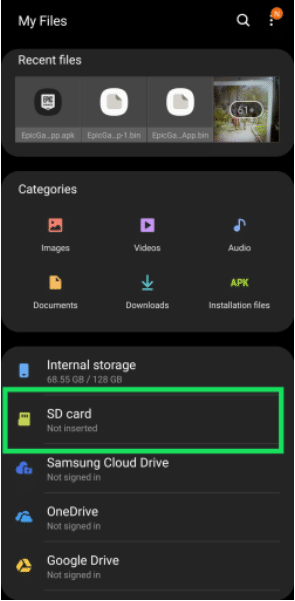 Step 5: You can then click on the file and find the SD card photo.
Step 6: If you find the precious photo here, click on it, select the download or share option, and restore it to the gallery.
Step 7: If you do not have an SD card, then the next thing to do is check the image folder. Clicking on the image folder will show you all the pictures on your android device.
Step 8: Locate the photo you want to restore to the gallery from this folder, click on the restore icon and get it back to your gallery.
---
How to Recover Deleted Photos from Google Photos

Another reliable method to find your missing photo from a gallery on your android is Google Photos. However, you must first install the google photo apps and have your data synchronized. If you have enabled sync on your device, it is simple to get back deleted photos or recover them from the google photos.
Step 1: Assuming you have already logged in to your google account, synchronized the device, and launch the google photos app on your smartphone.
Step 2: Click on the menu bar, select library, and then trash from the left panel. You can restore anything you find in the trash folder to the phone. They are stored in the folder for 60 days.
Step 3: Locate the photo you want to recover, and long press on it
Step 4: Then click the restore icon from the menu to recover the photos back to the gallery, photo library, or the previously stored folder.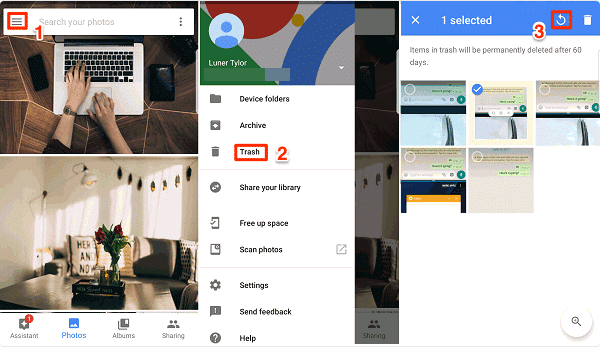 If you don't get the memorable photo from the trash on your google photo, then there is the possibility that the picture was permanently deleted. This means you emptied the trash folder, moved to the folder after 60 days, or didn't back up. It is also worth mentioning that the files cannot be impacted if the google account has been inactive for two years.
---
How to Recover Deleted Photos from Google Drive
Google Drive is another best option to recover the deleted photos back to the gallery. This option is perfect if you always back up your files to google drive. It becomes easy to recover the deleted pictures back to your gallery. You must have google drive installed and signed in using your Google account. Follow these steps to access your deleted photo:-
Step 1: On your smartphone, click on the google drive app and open it
Step 2: To make sure you are logged in to your Google account, you often back up your files.
Step 3: Once there, you will access the photos you uploaded or backed up from your device. Navigate through the photos in google drive, choose the one you need to be restored, and then download it to your gallery again.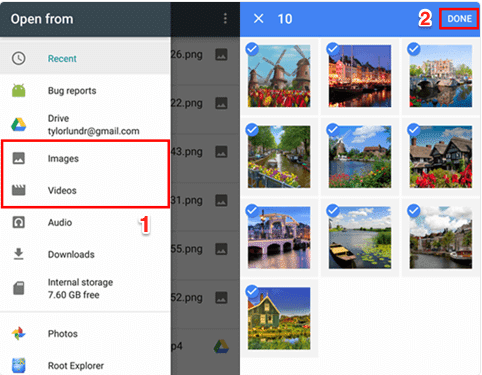 ---
How to Recover Deleted Photos from Dropbox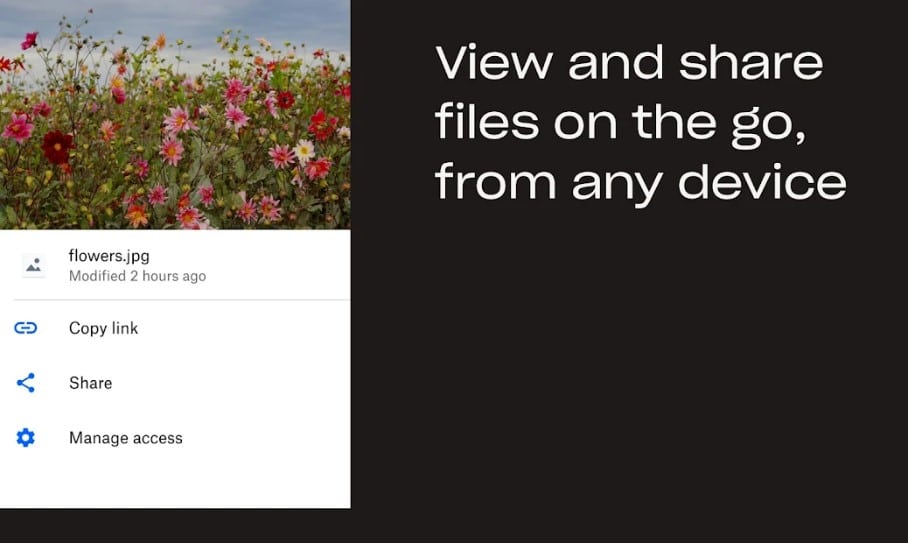 While Dropbox has few users, the feature has its backup activated automatically when you are a frequent user. If you accidentally delete a photo or lose it, you can recover them using a dropbox, even without a desktop. With a few simple steps, you will have your photo back on your smartphone. Make sure you get the steps right:-
Step 1: Using your android device, launch the Dropbox app.
Step 2: Then move to the camera uploads section or folder. And if you placed the image in a different folder, then head over to that folder.
Step 3: You will be able to see multiple images and from the list, choose the one you want to recover.
Step 4: Click on the 3 dots, or sometimes, click on more and then tap save to device.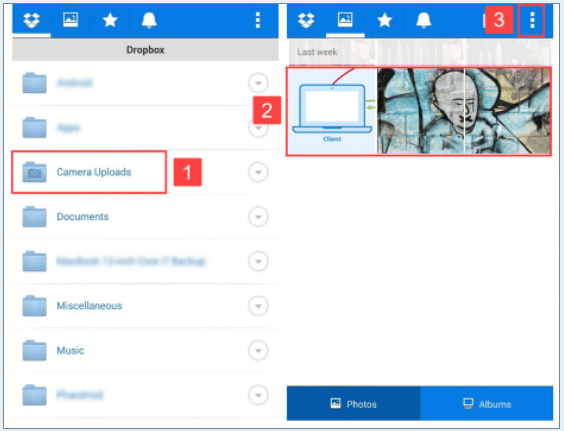 Dropbox also works like google drive but is slightly different.
---
How to Recover Deleted Photos from Android Backup Services
most Android devices are advancing and manufacturing, adding more features and cloud backup services. This uses cloud drives such as LG, Samsung, and even HUAWEI, which all have cloud drive backup options. However, for backup services to function, it needs your permission to enable sync data from the phone storage to the cloud automatically.
This means that when the above methods fail to give you a reasonable service, then s=conider checking out this cloud photo backup option on your device.
---
Use Third-Party Recovery Services
The last option to recover your deleted photo is using third-party applications. Many third-party tools make it easy to recover deleted photos on android. Such a tool includes videos, messages, and contacts. More to discuss in another article.
---
Other Ways to Recover Deleted Photos
That's not all; there are other methods to recover deleted photos. Even though the above covers the primary methods, there are still some options you also need to explore. These alternative options sometimes feel desperate, but it is good o have a hint to avoid losing a treasured image. Try these methods as well:
Check social media platforms
it is not good to store or back your photos through social media platforms. This is due to the privacy concerns on social networks. However, most people use social media platforms to back up their photos. Even when you are not a frequent user, there is the possibility that your friend or a family member has shared a photo you are looking for. We encourage you to also check the social media platforms before quitting or declaring it lost.
Check your messages and email addresses
most email addresses, such as Google, provide unlimited storage. This gives their users to store as many emails and messages as possible. You can even attach your files like videos and photos. So, it is good to confirm if the photo you deleted is on the attachment of one of the emails you sent or received via email. If this is the case, you will find it in your mail. Head to the inbox or send mail using a smartphone or a desktop, then download the photo to your gallery.
sometimes, it pays to have a complete backup of your device files. It might save you when you use the backup on your device in this situation. Before restoring the old backups, it is also advisable to create a new backup. This helps you recover all the deleted photos and restore the device to its original state. This helps you evade reinstalling multiple applications. This saves you time and is also suitable for recovering deleted photos.
---
Tips to Avoid Losing Your Photos Next Time
The above methods do not guarantee success in any way. Even using the best photo recovery third-party tools, there is a minimal probability that you will recover every deleted file on your android device. Thus, it is worth trying to avoid losing the photos or files as the first method without risk. We have collected some tips to reduce the chances of losing your vital photos from the gallery:
Constantly back up the phone
In any case, never misjudge or assume the importance of having a backup often. With a complete backup on your android phone, it becomes easy to recover any deleted photos anytime you need them. This does not only apply to the deleted photos but also to lost images and other files and settings. And when your device gets lost, it is still possible to buy a new smartphone and still backup the files to the new device. You will no more need to start afresh. This is why it is good to make sure you back up your phone often.
Remove cached images from the gallery
at some points, you might realize that your android gallery has some thumbnails, and when you tap on them, the images do not open up. This is a default on some operating systems,s on android devices that fail to generate correct thumbnails. The only solution to correcting such a situation is to clear the thumbnails. They are primarily found in the DCIM folder. Thus, you can delete the folder from the file browser as well as through disk space cleaner. It keeps your phone secure and clean to avoid losing some of your files.
Backup photos to the cloud services
There are different types of cloud storage services today. You can select the most efficient one and one compatible with your smartphone. after that, make sure you set an automatic sync backup and,d if possible, daily. Something good about using cloud storage while backing up your files is vital if, after losing your device, you can still access and recover the photos and other files on any device and from any part of the world.
Stay focused and extra careful
backups are vital when some unexpected things happen in your lifetime, but it is also good to try your best to avoid such things. First, most android devices do not have a trash folder, which means one should be extra careful while deleting a file from the phone storage. And if not, then be keen while managing the photos and if you are in an unusual state, such as may be under depression, kindly remember to always think before clicking delete.
Clean the phone storage regularly
when the android device does not have enough storage spaces, some tend to behave erratically. And some of the photos and other files on the gallery might disappear. Thus, it is good to regularly check the free spaces on your device and clean up to get more free storage. When you realize that the storage is running low, then understand that your phone needs regular and immediate cleanup services.
---
Conclusion
To this end, we hope that you have been able to go through the procedure and tips to help avoid deleting or recovering deleted photos on your android device. As discussed above, there are many photo recovery methods, but it is good to prevent losing photos and be careful. Therefore, try to avoid falling victim, and if by any chance, use the above methods to help you recover recently deleted photos before being late.