Posting on Facebook is vital and one way to create brand awareness. Our article will present various posting methods on Facebook using different devices, including cross-posting Facebook to Instagram.
Meta, the former Facebook, is an interactive social media platform. But, it is no longer taken as news that a simple Facebook post is relevant in creating brand awareness. Facebook posts are essential in driving traffic, and for business, it helps generate leads. On other social media platforms, the same applies. But since Facebook has a large audience, posting gives it an edge.
Lately, you must know how to post and how to get engaging Facebook posts so that you can get the best out of this platform. So, if you are unsure how to post, then worry no more. Today, our article will guide you and highlight step-by-step procedures considering different devices.
---
How to Post on Facebook
This section will teach you how to create a Facebook post using mobile and desktop. Your post can contain visuals, infographics, and even location data. Again, you can post on different groups, pages, or even on your timeline. So, let us get started on posting on Facebook using mobile and desktop.
Post on Facebook Mobile
Step 1: Launch your Facebook application from your phone. Press an icon that looks like a while 'f' with a dark blue background. Then log in with your details to access the newsfeed.
Step 2: Then go to the page where you want to post. This varies. It can be on a Facebook page, friends' page, in a group, or on your timeline.
Step 3: When done locating the place, then click on the post box. This box is found at the top of your newsfeed. However, when you want to post on the page of your friend, then you can find the post box below the photo section, and you will see it below the cover photo if it is a group. on the post box, you will always find phrases like, 'what is in your mind?',  or 'write something,'
Step 4: Click on photo/video to upload a video or photo of your choice. The option is found in the middle of your post screen. You will select the image then click 'done' This option lets you choose multiple photos or videos, which you can upload once. And if you only want to post a text, you can skip this step.
Step 5: Next is adding text to your post. Click on the text field and type in our texts. But again, you can use colored circles to select the background color of your post. But when using a colored background, Facebook limits you up to 130 characters.
Step 6: Then click add to your post. This option is in the middle of your screen, and it brings you different choices like photos/videos, check-ins( for adding location), feeling/sticker/activity, and tagging people.
Step 7: Then choose a post option to include more on the post. This is an optional step that you can skip.
Step 8: Finally, click on post. It is found at the top right corner of your screen.
Post on Facebook Desktop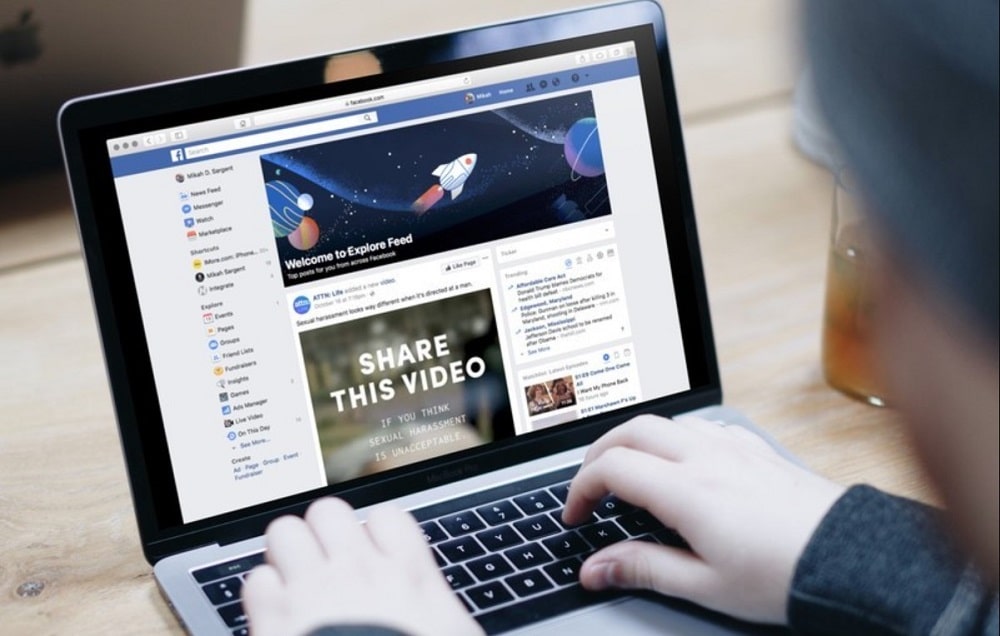 Step 1: Open a browser on a computer and visit a Facebook website. If you are logged in, it will open your newsfeed but if you are not logged in,  then have your phone number or email and password ready before clicking login
Step 2: while on your Facebook news feed, navigate to where you want to create a post. As the above process, you can go to a friend's page or create a post on a Facebook group.
Step 3: Then from there, tap on the post box. The box is found at the top of the newsfeed, but the post box is below the profile image.
Step 4: Click on add text to your post. You can proceed to type in the content. You can make the background of your post colored by clicking the colored block below your post text box.
Step 5: Then add more content to your post. You will find options such as video/photo, tag friends, check-ins, and feeling/activity.
Step 6: When you select other options, finalize by clicking the 'post' button. This is a blue button located at the bottom right corner of your desktop.
---
How to Post on Facebook Marketplace
Facebook is an excellent marketplace for marketers and influencers. Thus, you can easily create a public listing that anyone can see on a marketplace or Facebook when you sell a product. But the post must follow the commerce policies. Therefore, follow these steps to sell a product in a Facebook marketplace:
Step 1: login to your Facebook, and while on the newsfeed, tap on the marketplace, which is found at the left menu
Step 2: then tap on 'create new listing' then again tap on the item for sale
Step 3: tap on 'add photos'  then upload the images of the items you want to list from your computer
Step 4: Also, type in the information concerning the listed item. When you enter 0, you have marked that item as a free product in terms of price.
Step 5: Also, you can tap to hide the product listing from Facebook friends. This lets your products only be visible to other audiences on Facebook.
Step 6: Then tap on 'next' when next is greyed out, check back to ensure that you have included all the information needed.
Step 7: Then tap on the public to post to your Facebook marketplace.
You can also edit your posted listing anytime. Or, when done, you can mark it as sold in the future.
---
How to Post on Facebook Group
Posting on a Facebook group is simple, but some groups give you different posting capabilities. The procedures are the same regardless of the type of Facebook group. Follow these types to post to a Facebook group.
Step 1: After logging in to your Facebook on the desktop or phone, you will; be able to access the newsfeed. Then tap on the Groups, an option found at the left menu, and choose group. If you cannot find the target group, access more groups by pressing 'see more' at the bottom.
Step 2: While on the group, tap on the post box below the profile photos of the group at the top of the page.
Step 3: You can also follow the above methods to write a Facebook post and post to that group from this stage. You can also include GIFs, photos, or videos, as well as tagging people.
There are many options you can access, which even include going live.
---
How to Post on Facebook and Instagram at the Same Time
Facebook has advanced and offers more options. You now have an option to cross-post on Instagram from Facebook. If this is possible, you need to optimize it and save time. So, when you don't know how to use this feature, we can help you. Could you read our guide to the end?
First, you need to link your Instagram account to the Facebook page.
This is the first requirement before cross-posting Facebook to Instagram. Here are a few steps you need to follow to link the two platforms.
Step 1: Visit your Facebook page and navigate to the settings found at the top of your page.
Step 2: Check from the left sidebar and choose the Instagram option
Step 3: Then tap on ' login'  when you want to link your Instagram account
Step 4: Upon successful login, your Instagram si ready and linked to the Facebook page.
Secondly, proceed to create an image post.
You can do it by taping on ' write a post while on the Facebook page then develop your image post. This means you can only cross-post when you have an image in your Facebook post. Additionally, it is only possible with a single image as multiple photos do not offer such an option.
Therefore, you must create a post then upload only a single image. It is to be shared, ensuring that the image you upload is relevant. There are no restrictions on the quality and size of the picture. However, the cross-post does not support vertical photos greater than 4:3. When your image is taller, be sure to crop when you cross-post.
Write the caption that fits all the two captions as both will be visible on the two platforms. This process does not let you edit a post once posted. You can also include different hashtags.
When done creating image posts, then this is the time to publish to Facebook and Instagram at once.
Go and check the cross-platform option to enable you to post directly. You don't have to log in again if you log in while linking. The only thing you need to do is tick the cross-post option that lets you post on Facebook and Instagram simultaneously.
Make sure you go for the 'post now' option when posting. It will not cross-post to the Instagram account if you schedule to post later. If not, you might fail to achieve your target.
You should note that when your Instagram has a two-factor authentication, it will not let you cross-post your image post. Therefore, when you want to utilize these features, ensure that you disable the 2-factor authentication on Instagram.
---
How to Post on Facebook Timeline
Posting on Facebook on your time is the easiest thing you ever want to learn. Most people do it daily. Though the process seems similar when working with android and iPhone applications, it is somehow different when using a desktop. So in this section, we will cover the two areas to get the difference. Let us start with the android or iPhone process as when below:
On Android/iPhone App
Step 1: Get your phone and launch the Facebook application.
Step 2: Login with your Facebook details, and if logged in, proceed to the next step.
Step 3: Scroll down on the newsfeed, click on a profile of a target friend to access their timeline, and then tap on the post box with the phrase ' write something to.. (Name)
Step 4: Type in your post or a message you wish to share. You can also decide to include more details. This includes photo or video, your location, feeling/activity, tag, GIF, check-in, or hosts a G&A. You will also have other options like selecting a background color.
Step 5: Then, click on 'post' to get it done when you are done.
Always remember that when you post on someone's timeline, your friend has the power to choose the audience for the posts.
---
On Computer
So, when using a computer, the steps are slightly different. This is because, this time around, you are using a browser instead of the application, and here is how:-
Step 1: Open your browser, visit the Facebook website
Step 2: Locate a friend and click on their profile to access the timeline. This time we are posting on a friend's timeline
Step 3: Then proceed by clicking on the post box with the tag " write something to.. (name of your friend)
Step 4: Then type in the message. You can also select other details to include. These are photo/video, feeling or activity, check-in, including your location, tag your friend in the post, or go for a GIF. Facebook also presents you with an opportunity to select the background color.
Step 5: When ready, then tap ' post.'
Friends can always choose the audience when you post on their timeline.
---
Conclusion
Facebook is making a significant advancement to integrate Instagram. But in the effort, posting on Facebook has been a simple process. Up to date, the process is simple. Facebook allows you to even cross-post on Facebook to Instagram.. and marketers and influencers are optimizing the use of this feature to save their time.
Therefore, posting on Facebook is easy when you follow the necessary steps and Instagram only allows cross-post with only image posts. Meaning this posting feature offers you limited functionality. Above all, we have covered every posting area in detail. We hope that our guide will help you prosper and improve your marketing strategy.