Have you ever wanted to post a live photo on Instagram? Ever wondered how to make your posts come alive? The live photo concept is great news for Instagram users because it gives you a chance to connect and share in real-time with your followers. Read ahead for a step-by-step guide on how to go about this; overcoming every Instagram setting that limits posting live photos.
If you're on Instagram, you've probably seen photos that look like they were taken in real-time; whether it's a sports team after a game, a child blowing out the candles on their birthday cake, or a bride walking down the aisle. The feature is called a live photo, and it is a new generation of photography for iPhones.
The Live Photos merge still images and 5-second videos into a single image. By allowing you to record sound and movement in a scenario. It provides a unique experience in comparison to simple photographs and short films. As a result, when you press the shutter button, the iPhone records what happens 1.5 seconds before and after you take the photo.
However, because Instagram does not have a provision for live photo instant upload, it is tricky to upload it instantly. This article guides you on exactly that.
---
How to Take a Live Photo
Live Photos are the relatively new, fun feature introduced by Apple in the iPhone 6S that turns your photo into a fun moving image. The feature runs on iPhone 6s or 6s Plus running iOS 9 or later. Other than that, there aren't any special requirements for taking Live Photos. Just follow these steps:
Step 1: Open the camera app on your iPhone.
Step 2: Activate the Live Photo mode by pressing the bullseye icon (three concentric circles) at the top left of the screen. You'll know it's activated when the icon turns yellow.
Step 3: Make sure your subject appears in the viewfinder and frame your shot however you like it.
Step 4: Press the shutter after holding the phone steady on the subject for roughly 1.5 seconds.
---
How to Post a Live Photo to Instagram as a Story
As a photographer, it's great to be able to share your photos with the world. Instagram is one of the best places to do this and has become the central hub for photographers to show off their work. It's also a great place for brands, models, and influencers to share their photos.
Here's how to post the live photo as a story:
Step 1: Open your Instagram account and swipe left once so that you see the camera screen.
Step 2: Scroll down the bottom menu on the left of the camera screen until you see [Boomerang] (it is a purple infinite sign). Click on it.
Step 3: You will notice the Boomerang symbol has shifted to the bottom of the screen. Tap on the symbol (enclosed in a white circle) to start recording your live photo.
Step 4: In the next window after processing, you can add text to your live photo or alter it in any manner you like.
Step 5: Tap on [Send to] (a black pointer towards the right on the bottom of the screen)
Step 6: Choose where you want your live photo to go, such as [Your Story], [Close Friend], or as a [Message] to a person you follow.
Step 7: You can either press [Undo] or the blue [Done] link at the bottom of the screen to cancel the action.
---
How to Post a Live Photo to Instagram as a Video
Instagram has made some major updates to the app this year. From adding new features like the ability to follow hashtags, to enhancing the already existing ones. One of the most exciting additions was Instagram Stories Highlights and Archive. Both these features give you more control over your content and how your audience views it.
But how do you share a live photo on Instagram as a video?
Step 1. Open photos on your iPhone.
Step 2. Select the Live Photo that you want to share on Instagram.
Step 3. Swipe towards the top of the screen and choose [Save as video].
Step 4: Shift to your Instagram app and open it.
Step 5: Click on the [Plus icon] at the bottom of the page.
Step 6: Find the video you saved from your gallery and select it.
Step 7: In the top right corner, tap [Next].
Step 8: Add a caption and hit the [Share] button.
---
Bounce or Loop a Live Photo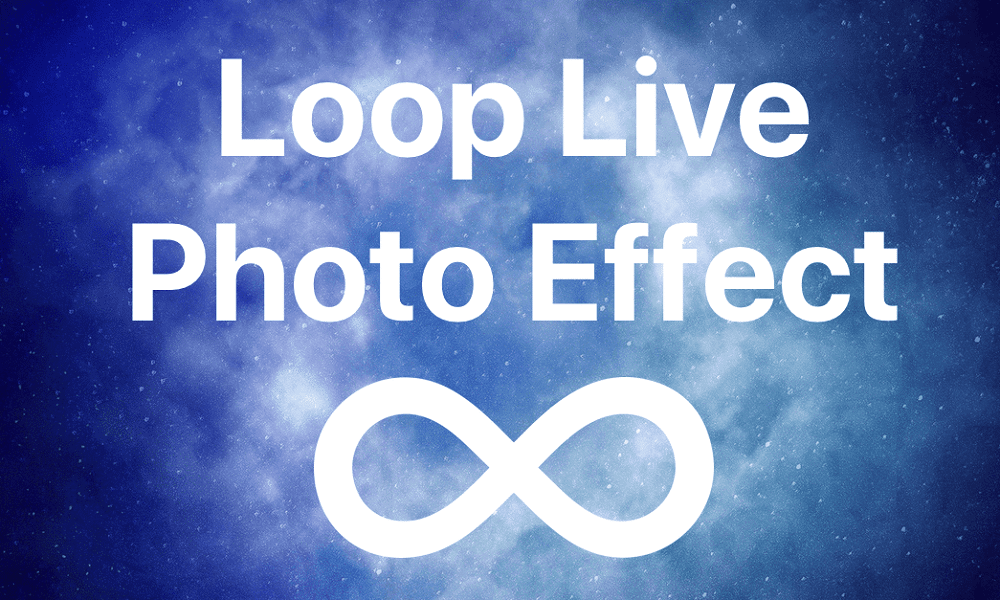 The Live Photos feature of the iPhone is a fun way to record a moment in time, but sometimes you're not happy with the result. Whether it's because the Live Photo is too long or too short, Apple has given users the ability to edit a Live Photo in ways that will suit their preference. This includes making a live photo loop to increase the length or making any other edits.
Here is how to turn your Live Photo into a looping video or a bouncy one, similar to Instagram's Boomerang.
Step 1: Open the Photos app
Step 2: Find the Live Photo you want to edit and tap on it. You can do this on any live photo; it doesn't have to be a recent shot.
Step 3: Swipe up on the screen and you'll see three options; Loop, Bounce, Off (which is the default)
Step 4: Tap on Loop or Bounce and you'll be able to see it in action
Step 5: Save the photo and go to Instagram.
Step 6: Upload the new looped or bouncing image as a regular Instagram post.
---
How to Post a Live Photo to Instagram as a GIF
Live Photos are one of the coolest features of the iPhone 6s and iPhone 6s Plus, thanks to Apple's new 3D Touch technology. They're essentially short video clips that you can turn into gifs or share as videos. Unfortunately, Instagram doesn't support Live Photos — but that doesn't mean you can't share your real-time photos on Instagram.
Here's how to post a live photo to Instagram as a GIF.
Step 1: Download GIPHY Cam for iOS (free). Open the app and tap the camera icon at the bottom of the screen. It will ask if it can use your microphone — say yes.
Step 2: Use your finger to swipe through the different filters until you find one you like (don't worry about picking the right one now — you can change it later). Once you've chosen a filter, tap the live icon in the top left corner. This will start recording your Live Photo. When you're ready to take it, tap the big red button at the bottom of your screen.
Step 3: Save your Live Photo to your camera roll.
Step 4: Open the GIF you want to use and hit the arrow button below it. Then click on the Instagram icon in the bottom tab.
Step 5: Choose whether to share the GIF on Instagram stories or in your feed.
Step 6: In either option you choose, you can simply trim it, tweak it as desired, and share it on Instagram like you would ordinary posts and stories.
If you were not creating a new GIF and instead wanted to upload one that is already in your phone library, repeat Steps 4,5, and 6.
---
Conclusion
There are many benefits to using the Live Photo feature, but one of the biggest is the chance to tell a more in-depth story with your photo. Live Photos aren't just snapshots; they're multi-faceted micro-movies that open up a new way to interact with Instagram.
So there you have it. Don't worry about lowering your quality just because you are posting on Instagram. Just make an interesting photo and post it live. You may not see an instant increase in engagement or likes, but the more you do it and see the positive responses, the more confident you will be in creating live content.