Are you looking for a way to convert your live photo to a video or a GIF? Here are our best guides to help you. Read them keenly, grasp every step to advance with the technology, and incorporate visuals into your social media marketing strategy.
Previously, photos and videos were 2 different things. However, today technology has advanced, and since 2015, people can make videos to live photos using other devices. So, the photography game is changing. The live photos are animations that only take roughly 1.5 seconds from when you press the shutter. When you press the live photo, you listen to all the activities during the session.
If you want to start taking live photos and need detailed guides on how to convert videos to live photos or GIFs, then read our article. We will cover detailed procedures to help you out.
---
How to Make a Video Into a Live Photo on iPhone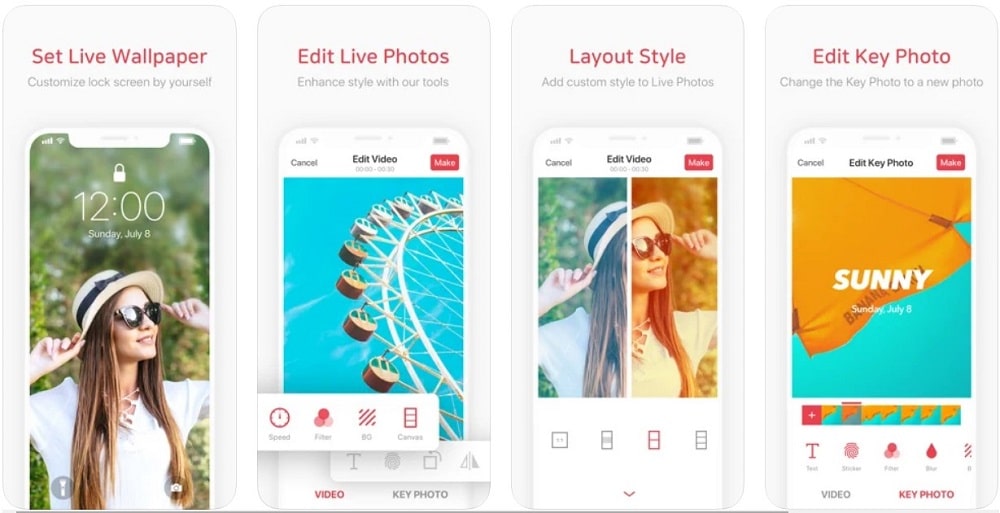 Live photos are an exclusive feature on the iPhone. You can set a moving picture as a background photo on your phone; thus, you need to learn how to convert a video into a live photo using your iPhone. You can use many different conversion tools, such as intoLive, LP Converter, and  Lively Converter. Since there are plenty of these conversion tools, we will consider them intoLive for instance, in our article today. Follow the below steps:
Step 1: Navigate into the app store on your iPhone and download the IntoLive application. While there is a free version, they also have a premium package with more advanced editing options.
Step 2: After download and installation, launch intoLive tool and give it photo library access.
Step 3: You will access all your camera roll files organized. Select your favorite video that you want to edit and convert to a live photo.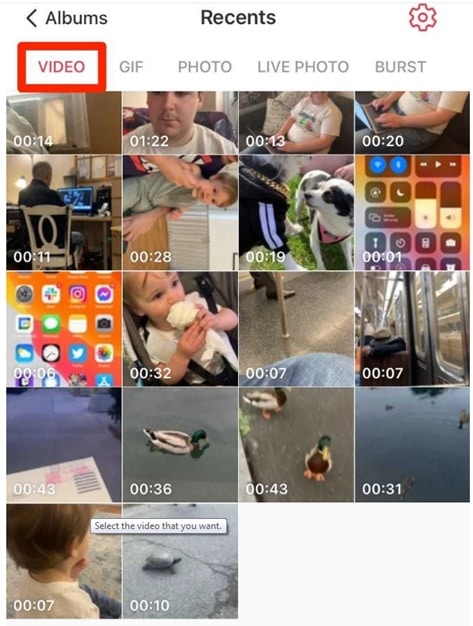 Note that you can select any video, and the free version limits 5 seconds length while premium extends to 30 seconds.
Step 4: The tool will open the editing page. Use a slider to minimize the size of your video located at the bottom of your screen, and then select the section you need to convert to a live photo. You can filter, change the speed of your video, and many other options. Some of the features are hidden intoLive pro paywall. It would help if you unlocked it to use.
Step 5: When you have trimmed your video the way you want, click on Make at the top right and select the number of times you want your live photo repeated. The app comes with no-repeat on the default setting, which is still a good option.
Step 6: The app will make your live photo and when done, click save the live photo. Then proceed to the Photos app to find your new live photo. You can then use it for any purpose, like setting it as your home or background when you tap and hold the screen with your finger.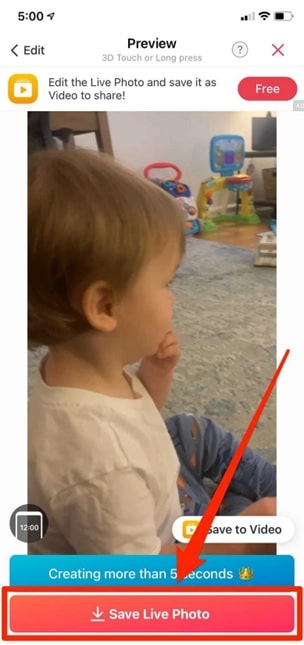 ---
How to Make a Video Into a Live Wallpaper on Android
In our case above, we have illustrated how to make a live photo. So on an android device, a live photo, we will be referring to it as the live wallpaper. This is because android only limits you to use these live photos as wallpapers. You cannot find them in your gallery or share them with your friends via a text message. Therefore, turning a video into a live wallpaper on android is also as easy as using the iPhone above. Here are the steps.
Step 1: Open your google play store and download the TurnLive. There are free and paid versions.
Step 2: Install and launch the app, accept the terms, then click the live photo icon located at the bottom middle of your screen.
Step 3: When the page opens, click the video to live wallpaper option and give it access to your gallery or camera.

Step 4: You will also access all videos in your gallery, select the one you need to turn into live wallpaper, and click done at the top right side. Though you can choose any video, a free version gives you up to 5 minutes
Step 5: to upload the video and select the frame to use on your video as a cover; after choosing the frame, click next.
Step 6: Use a slider to trim or select part of the video you want to convert. Click multiple times since it might be finicky sometimes, and drag the edges of your selector.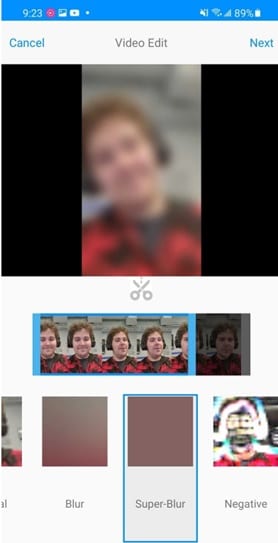 Step 7: Below the slider, there is also a filter tool to edit your live photo to different looks, speed, or slow down using the lightning bolt icon.
Step 8: When done at the top right side, click next and choose the number of repeats you want. Either of your preferred choices works well.
Step 9: The app will take you back to the main page and process your new live wallpaper. Navigate to my wallpaper heading on your phone to find the live wallpaper.
Step 10: Click on your new live photo and download. After that, you can tap clear current wallpaper and give it permission to change your system settings. Go back, click the download icon again and clear once more.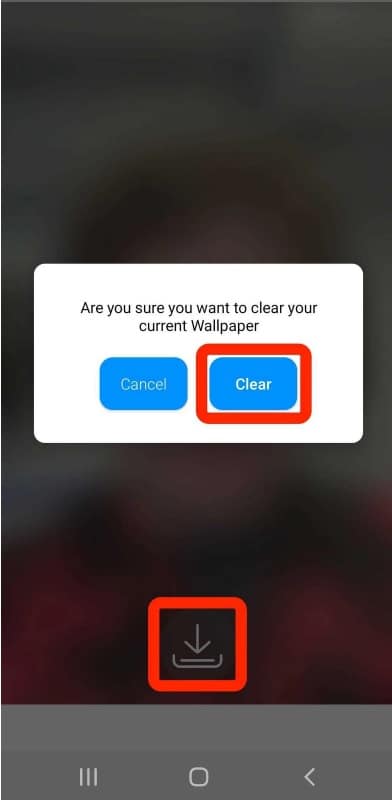 Step 11: Then you will see a black screen labeled 'Day Time LWP appearing. Click set wallpaper and select whether it's a home screen, lock, or both.
When done, exit the application, and you are good to enjoy your new live wallpaper.
---
How to Make a GIF Into a Live Photo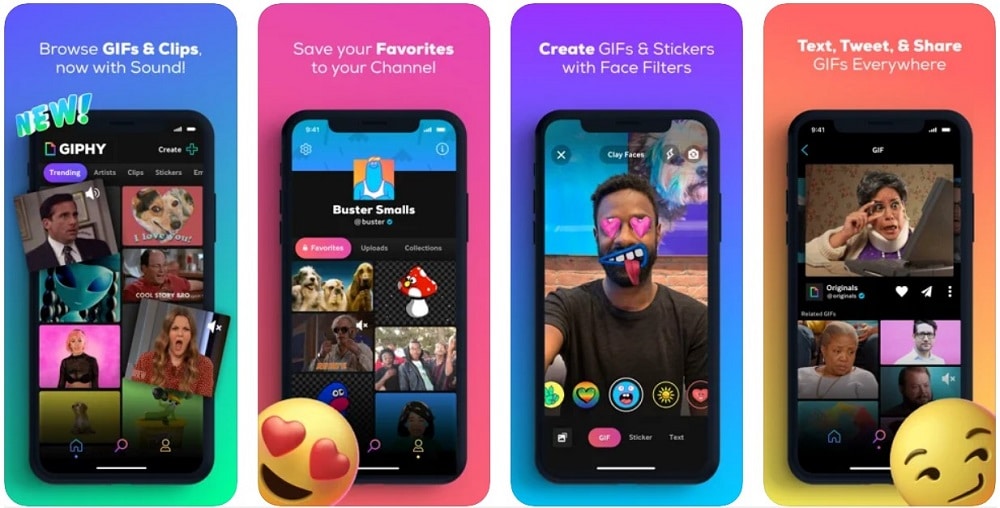 Making a GIF to a live photo is like doing the opposite of the above steps. However, in this case, you need third-party software. We will use the GIPHY for our guide and illustration. It's a free application in your app store. The steps are as simple as shown below. Follow them keenly to complete the process.
Step 1: After downloading and installing GIPHY on your phone, launch it
Step 2: You can use a search bar or search the trending GIFS at the bottom center of your screen.
Step 3: Then select your preferred GIF to use.
Step 4: Click the 3 vertical dots found on your screen on the right side
Step 5: Click convert to live photo
Step 6: It will offer you 2 options, select fit or full screen to finalize.
Step 7: Close the application and open the camera roll to find your saved live photo.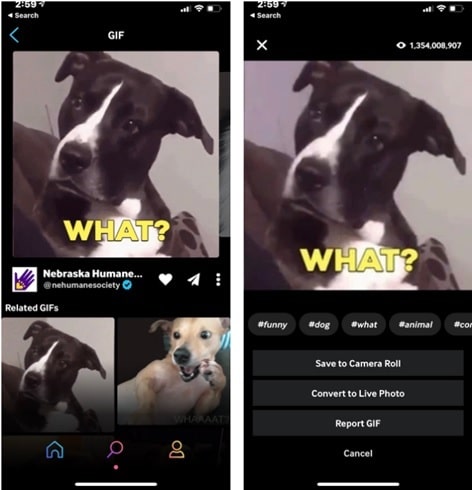 And that is well done, and to this far, any question we hope is well addressed.
---
How to Make a Live Photo Into a Video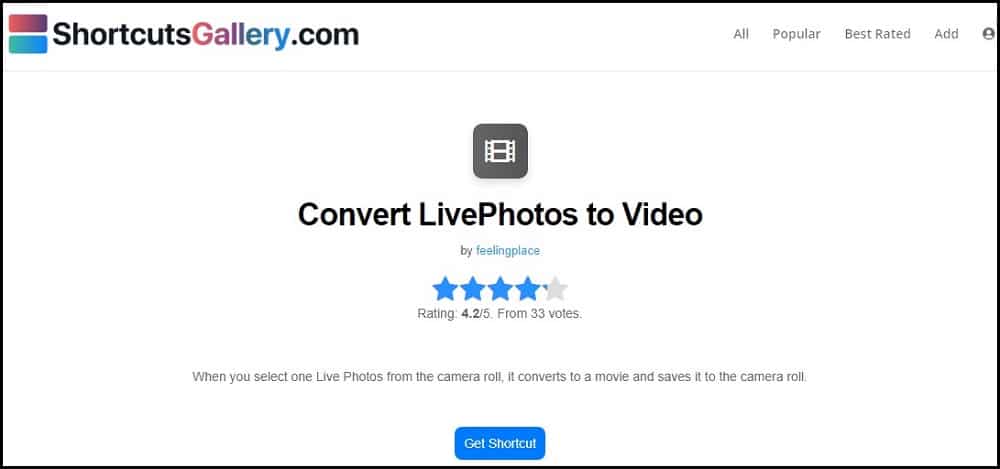 The Shortcut app on the apple phone offers the fastest way to convert your live photo to a video. As stated, this is just the reverse of your previous guides. You will have to shortcut applications to your shortcut galleries by opening this link here on the iPhone browser. Turn on the settings and allow the phone to install untrusted Shortcuts by following these steps:
Step 1: Go to your iPhone settings.
Step 2: Scroll down and click Shortcuts
Step 3: Toggle or tick  the allow untrusted Shortcuts and turn on
You now have the application saved, and the settings are on standby. Then follow these steps to turn the live photo into the video using the Shortcut app.
Step 1: Launch the Shortcut app on your iPhone
Step 2: Click convert live photo to video shortcut
Step 3: Navigate through and choose the live video you want to convert
Step 4: Select the video, and the Shortcuts will convert it automatically.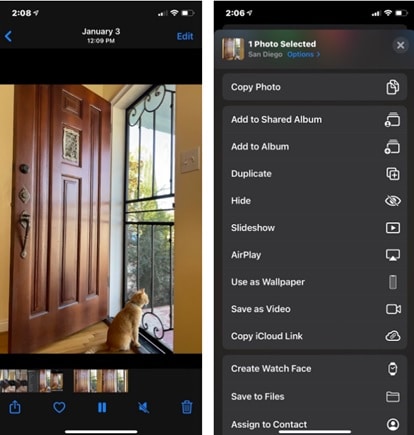 After that, the app will save your video on the camera roll. exit and go to the camera roll to find your new converted video for use.
---
How to Make a Live Photo Into a GIF
You can also convert a live photo into a GIF using an iOS shortcut. Let's assume the shortcut is already in your shortcut gallery from the above steps; you will not need to download another third-party tool again. Immediately use these steps to make your GIF using a short from your live photo.
Step 1: Launch your shortcut application
Step 2: Click the gallery button located at the bottom right corner of your screen
Step 3: Click make Gif on the search bar
Step 4: Click add shortcut option
Step 5: And click on my shortcut found at the bottom left side of the screen
Step 6: Scroll downwards to make a GIF shortcut, and press on it.
Step 7: Next, press the play icon at the bottom right corner,
Step 8: Navigate through the live photo, and select the one you wish to convert.
Like our above case, the tool will automatically run the conversion process and save the new GIF file on your camera roll. You can exit and open the camera roll to find your new GIF for use.
To this far, we hope that we have answered all your questions. technology has advanced, and so you should be taking your skills to another level. The above guides will help you convert files to different forms using different devices. Read it keenly. If you want to share a live photo on your social media account or Instagram, but you have a video, you can still make everything simple. As shown above, you can turn a GIF into any form or create a live wallpaper from a video. Therefore, converting your live photo to video and later to the GIF has become simpler than ever.