Are you a social media marketer or influencer? And do you find managing your Instagram comments tricky? Read through our guide to help you understand how to delete, hide, and manage all your posts and Instagram comments using simple steps.
Social media platforms are ever-growing and here to stay forever. However, you might comment on someone's post on social media, but unfortunately, you post with a typo error. Do you regret posting it? Don't worry; there is a way out.
Comments can't stick on Instagram if you want them out. So this means you can delete a comment on Instagram both on your post or other people's content. You can as well delete a comment other audience comments on your post. While all the above are possible, it is also practical to hide the comments.
Previously, people could not edit or delete a comment until 2013, when social media granted their users the capability. Therefore, the following steps, for instance, on the mobile phone, effectively help you manage the comments on your Instagram account.
---
How to Delete a Comment that You Wrote on Instagram
When you comment on your post, you can still delete it. However, restrictions depend on the types of comments you want to delete. We will cover each section. We have been in your situation but going back to erase your comment on your posts is simple. Here is how to go about it.
Step 1: Open the Instagram application and log in to your account. It can either be an iPhone or Android.
Step 2: Select the profile icon located at the bottom right corner to open the profile
 Step 3: Scroll down to find the post you commented on but delete the comment.
Step 4: After selecting, tap on the comments section on your post to select the comment summary page. on the 3  horizontal dots icon found on the top right corner, tap on it
Step 5: Pop up will appear and choose manage comment
Step 6: You will see a circle on each comment, then tap on the circle located at the comment you need to delete. A checkmark will appear, and then click the delete button on the bottom left of your page
Step 7: On the pop-up, choose to delete the comment, and then you will be done
Another effortless way to delete a comment from the comment section is to navigate to the comment you need to delete and swipe to the left. A red trash can icon will become visible; click on it to delete it. The comment becomes history. Simple! While Instagram allows you to delete your comments, you need to do it one by one since there is no explicit method of deleting all comments at once.
---
How to Delete a Comment that Others Wrote on Your Instagram Posts
The good news is that Instagram has now rolled out some of its new features to prevent bullying and remove unwanted interactions on Instagram. One of the future includes deleting bulk comments on your Instagram posts.
When it comes to an audience tagging or mentioning you on your content, you can select different options from everyone, none, or only people you follow. You can find the options in privacy settings via your Instagram profile. It is not only on Instagram but also on other social media platforms.
So, here is the situation. Follow these steps when you bulk delete others' comments on your Instagram content.
Step 1: Launch Instagram and log in to your account.
Step 2: Click on your profile and scroll down to find the post with the comments you want to delete.
Step 3: Click the comment icon and then click again on the dotted icons found on the top right corner of your screen.
Step 4: Choose the manage comments.
Step 5: Click delete or you can proceed with other options to either block or restrict accounts in bulk at once. (up to 25 comments to delete at once)
---
How to Delete a Comment in Instagram DMs
Sometimes, you might want to delete a wrongly sent message on Instagram. So, here is the step-by-step procedure. There is only one to do it; unsend the DM.luckily, we have you covered, and we will guide you.
Step 1: Open the Instagram account and log in using your details.
Step 2: Move to the message icon on the upper right corner and click.
Step 3: Scroll through to select a conversation, pick a message.
Step 4: Click on the message with your finger and hold; options will pop up.
Step 5: Choose unsend and again click confirm by clicking unsend.
when you unsend the message, it will no longer be visible to the recipient hence deleted. However, there is a high possibility that the recipient has read. Therefore, social media influencers or as a marketer, you should be keen when sending a message or comment. This is because it's the best method to communicate with your audience. we thought it might help you know how to delete unwanted comments on Instagram DM.
---
How to Delete a Comment on Instagram That You Can't Find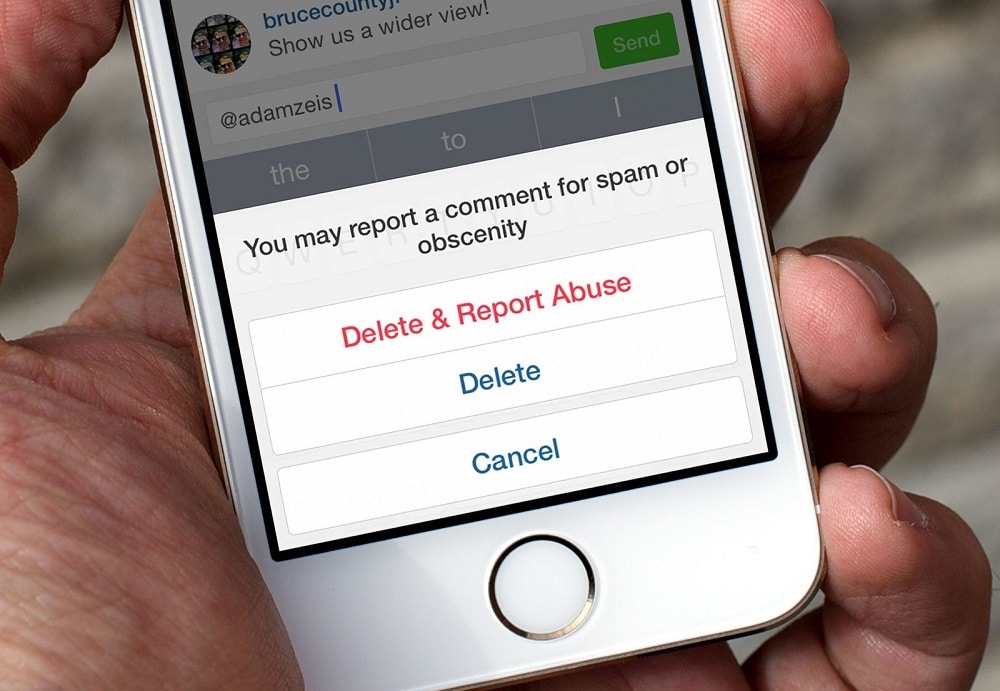 Things happen, and sometimes, you might make a comment and realize that it had a mistake or commented on the wrong place. Unfortunately, you search for it and can't find it. There is always a way out. The below steps work well when you are using your desktop. Here we go:
Step 1: Open your browser, go to the Instagram website, log in to your account
Step 2: Directly, press CTRL +F options or buttons, and type what you wrote. Then go through all available comments that display
Step 3: If you can't find them. Click on the load more content option. Scroll down until your comment appears. Then follow our first procedure from step 3 above and delete the comment.
---
How to Hide Comments on Your Instagram Posts
When you post your content on Instagram, you might restrict other audiences or followers. Instagram offers you the option to hide your comments from someone. here is the guide:
Step 1: Navigate through your iPhone or Android, and on Instagram application.
Step 2: Login, tap on your profile icon found at the bottom right corner to access the profile.
Step 3: Click the icon with 3 horizontal lines at the top right corner on the profile section.
Step 4: You will see a pop up then choose settings.
Step 5: When it opens, scroll and select the privacy.
Step 6: While on the Privacy section, choose comments.
There are different options. You can hide the comments using a comment control page. Using the filter section, you can swipe the button to hide all inappropriate comments other than offensive ones. You can again swipe the button besides hiding more comments and adding extra filters on the comments with potentially problematic information.
As stated, there are many options. Swipe the button close to the manual filter and hide comments containing specific phrases or words. When a text box appears, type in those phrases or words. The feature becomes enabled when the button turns blue. However, when it's grey, the feature is on disabled mode.
It is also possible to hide blocked comments from a specific follower. Click on block comments found at the top of your comment control page. On the search bar of the next screen and enter a user to block their comments. Immediately the users appear, click on a block that displays close to the name.
The process does not mean you have blocked the entire profile. Instead, you have blocked their comments on your Instagram content. They can't detect. Sometimes, Instagram might hide offensive comments or comments from blocked users, but you can unhide and access using the link beneath your post.
---
How to Disable Comments on Your Instagram Posts 
If you do not need engagement on your Instagram post, you can disable comments. When you turn off your Instagram comments, you prevent all audiences from commenting on your particular posts. Follow these steps to make everything happen within one minute:
Step 1: Launch and log in to your Instagram account.
Step 2: Navigate to your Instagram by pressing a person icon located at the bottom right corner on the screen and opening the profile.
Step 3: Scroll down and find a specific post that you want to manage or disable comments.
Step 4: Click on the 3 horizontal dots at the top right corner of your screen.
Step 5: Then choose to turn off commenting.
Upon successful process, you would have disabled commenting, and any comments available will stay hidden. You can restore the previous comments by turning comments on again. the audience can then have the opportunity to start commenting on your posts.
---
Why Can't See My Instagram Comments
When your Instagram comments are not displaying, then there could be an issue you should consider checking. First, ensure that you have a networking connection that is appropriately working. The network connection could be one of the problems why your comments are not going through.
Secondly, ensure that your Instagram version is the latest. This is because outdated tools are prone to crashing and experiencing some technical issues. It could also help you solve some of the Instagram commenting problems when you update it.
And lastly, your Instagram comment might be offensive and violate social media policies or terms of use when your comment goes against Instagram API.
These include more than five mentions in a single comment, using over 30 hashtags in your caption, duplicating comments on a post, using blocked words or phrases, or hitting the Instagram limits, e.g., 500 comments. When you go against the above, you cannot proceed to comment. Instead, log on and wait for the next day or consult the help center for further help.
1. What happens to Deleted Comments on Instagram?
When you delete a comment on Instagram, it automatically disappears from the comment section itself. Instagram does not send any notification to your audience, and thus no one can notice the activity. Otherwise, the person remembers the comment and makes a revisit.
2. Will others get notified when you delete their comment?
No. No one can get a notification when you delete their comments on your post. There is only one way to detect it, and that is when the audience comes to check on their comments. The chances are that they will find out when they revisit your post.
3. Can you undelete the Instagram comment?
You cannot undelete an already deleted comment on Instagram. You can never recover a comment in any of your posts once you delete it. This is why you must confirm a comment before deleting it since the process is permanent.
4. Can you comment privately on Instagram?
You cannot comment privately on Instagram, but instead, you can send a private message or  DMs.
5. Can you edit the comments on Instagram?
The correct answer is No. Whether you write to someone else or others write on your post, you can only edit your Instagram captions.
man is to error, and since comments are the best way users use to communicate and increase interaction with the audience on Instagram, you should be keen not to make a mistake. And in case you make a mistake, then our guide has highlighted the best approach on how you can manage them.
We hope this article has been helpful by providing you with essential options for deleting, hiding, and managing comments. That way, you can successfully manage your Instagram profile and build a strong relationship with the audience around you.