Do you need photo editing skills to add a watermark to a photo? The answer lies only in one conclusion. Our article guides you on various methods to easily add a watermark to a photo.
Photographers or graphic specialists and influencers' marketing can build a reputation through virtual content. One way to identify that the photo belongs to you is through watermarking. There are different methods you can add a watermark to your photo and create credibility.
The method works effectively, not considering the platform you want to post the photos. So, in this article, we will guide you on adding a watermark to photos on multiple devices and using different methods.
Therefore, a watermark can be a text or an image logo transparent on the photos. Watermarks tend to add more details to the photos, build a strong reputation through them, increase your professionalism, guide your copyright, etc. However, when you add a watermark to the photo, make sure it does not distract the actual image. Before going into details and methods, let us look at the benefits of adding a watermark to the photos.
---
Why Should Watermark Your Photos
Most people are creating virtual content in this modern world and then upload online tons of photos every day. and if you call in this category, you might be wondering why to use virtual watermark. Ideally, a watermark should not distract your image, and intentionally, it should serve the following purposes:
Prevent from Theft and Piracy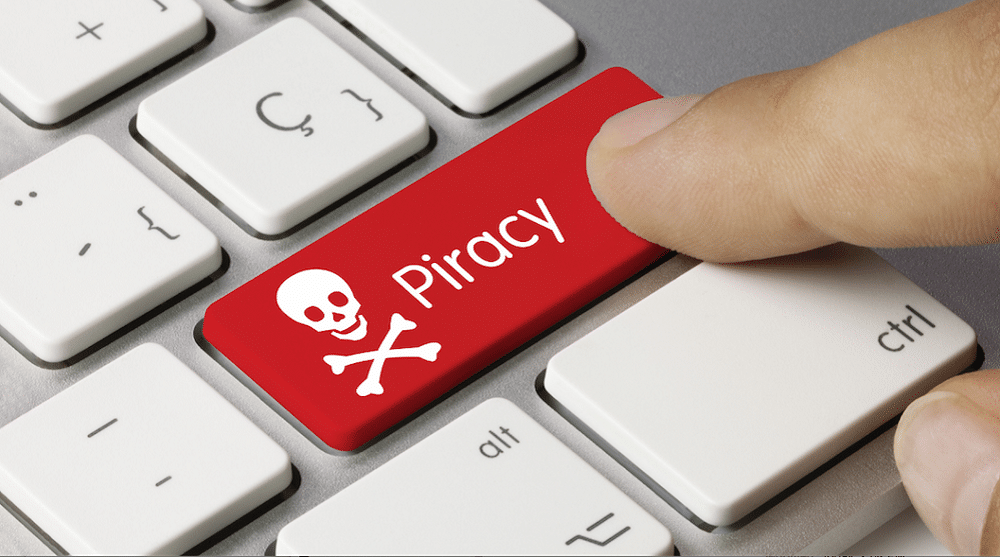 The first purpose a watermark serves on your photos is protecting your copyright. This helps prevent any possible image theft when you upload a photo online. You risk when you post your photo online without a watermark since anyone can download and use it to promote or attract an audience.
But when you put your watermark on photos, people avoid them since the photos can ut them into a terrible situation. This is because the watermark on a photo dictates the owner of the image. However, the position of your watermark also matters. hen you place it in the far corner and make it tiny, it doesn't guarantee you a total protection
---
Promote Your Brand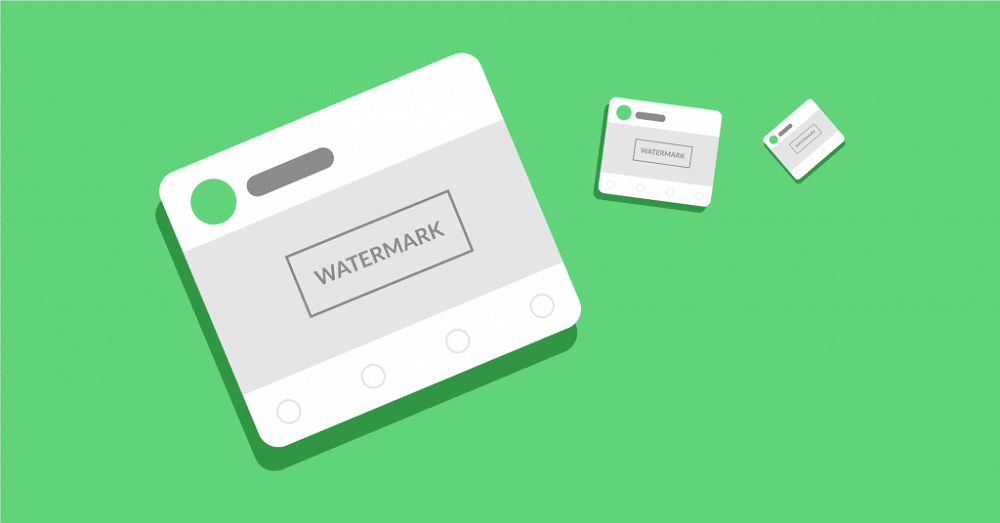 The next advantage of adding a watermark to your photo is one of the free advertisement strategies. Watermarking pictures promote and brands your business to look more professional. When your clients come across your photos with a watermark, they can easily locate you on social media or websites. Watermark makes it possible for clients to identify your brands. This is the easiest marketing strategy than playing detective games.
Also, people find it easy to associate with your brand based on the kind of photos and style. Therefore, watermarking photos promotes and increases the customer base. An image without a watermark is simply a click away from being stolen online. But when you add a watermark, it does not only increase sales but also promotes your brand and drives traffic to your website.
So, ensure you add a watermark to your photo before uploading it on the internet.
---
How to Add Watermark to Photos on iPhone
Use the 'Markup' Feature
Among the best methods to add a watermark to a photo using the iPhone is the use of the markup feature. This tool is right within your photo application on your iPhone. Primarily simple watermarks such as the photos should post on Instagram handles.
However, this method does not work well when you want to add a watermark for a complicated case since it becomes cumbersome. Then, if you want to use the markup feature to add a watermark to a photo, follow these steps:
Step 1: On your iPhone, open the photos app and locate the photo you want to add a watermark.
Step 2: Then click on the 3 dots found in the upper right corner of the screen and then select markup.
Step 3: Observing from the bottom menu, select how you want to watermark your photo. It is still possible to utilize simulated writing utensils when you want to draw or doodle. Select the + icon and then text to type in your watermark. This feature also gives you an option to add a signature to your photo. The option is found in the menu box.
Step 4: So, when you select a text menu, the option will appear at the bottom of your screen. It allows you to change your choice of fonts and select the color you want. Then when you are done adding text watermark, you can drag it to your target position using your finger.
Step 5: Then click done, followed by the upload icon, a box with an arrow, then save your final photo with a watermark to the camera roll.
---
Use the Third-Party Apps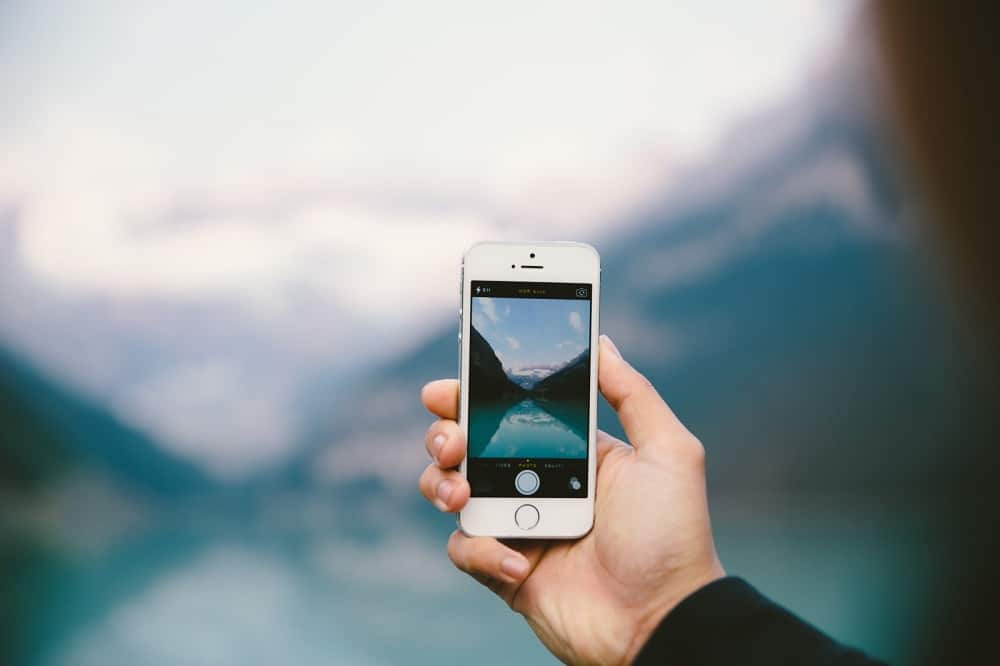 Many third-party applications can help you add complicated watermarks to your photos, such as Watermark Photo and Watermark X . These apps can also help you watermark several photos. Therefore, you need a very strong third-party application. However, there are still those free watermark applications, but we prefer premium apps since they always give you what you want to pay for.
This is because free apps have limitations. One of the best apps is watermarking photos. This application comes with unique features that can help you create some snazzy watermark to use in your photos often. This is a free downloadable application, but you can upgrade to the premium package to access advanced features. So, read our guides on how you can use this application to create a watermark:
Step 1: Go online and download the watermark photos application
Step 2: Install and launch the application
Step 3: Then on the menu, select watermark your photo.
Step 4: Give watermark photo permission to access the photos and then select the one you want to add watermark.
Step 5: Then the photo you have selected will open the above menu. Select sticker and text when you want to create a watermark within the application. You can also select tho important if you have a ready-made watermark on your device.
Step 6: When you are done adding a logo for this case or a sticker and text watermark, use your finger to move around the watermark to the position on your photo. The' made with watermark' logo will appear at the lower right corner of the photo. So, it would be best if you upgraded to the premium package when you want to remove the logo. You will also e able to crop your photos and remove the logo ' made with watermark.'
Step 7:  Then click on the checkmark when you are fine with the final photos. It will automatically be saved on your camera roll.
---
How to Add a Watermark  to Photos on Android
Besides iPhone, you can also add a watermark to the photo using an android device. The best and most reliable method is through third-party applications such as Add Watermark on Photos, Add Watermark Free, and  Watermark. The above are among the best third-party applications compatible with android and perfect for adding a watermark to your photo.
Therefore, when you want to be a bit creative on your watermark, we advise you to use Add Watermark on the photos application. This application is good for not only adding watermarks to photos but also good at adding watermarks to videos.
It has plenty of advanced features and is simple with an easy user interface. Therefore, when you do not know how to use this application to add watermark to your photos, then come on and read the below guide:
Step 1: Go to google play, search for the Add Watermark on Photos application and install.
Step 2: Launch the application and give it access to your gallery and other important permissions.
Step 3: Then click on apply on the image when you want to select the photo to add a watermark. It also gives you an option to add a watermark o the videos.
Step 4: Form the gallery, select the image, then click on create a watermark.
Step 5: You can add watermarks in the form of text, images, and art. You can also edit the background of the photo. Then when done adding the watermark, click on the tick icon found at the top right of your screen.
Step 6: You can resize the photos if you place a watermark on the photo and select different watermark types like freestyle and cross.
Step 7: Then click on the download icon, which is always at the top right of your screen and save the final photo to your device.
---
How to Add Watermark to Photos with Online Tool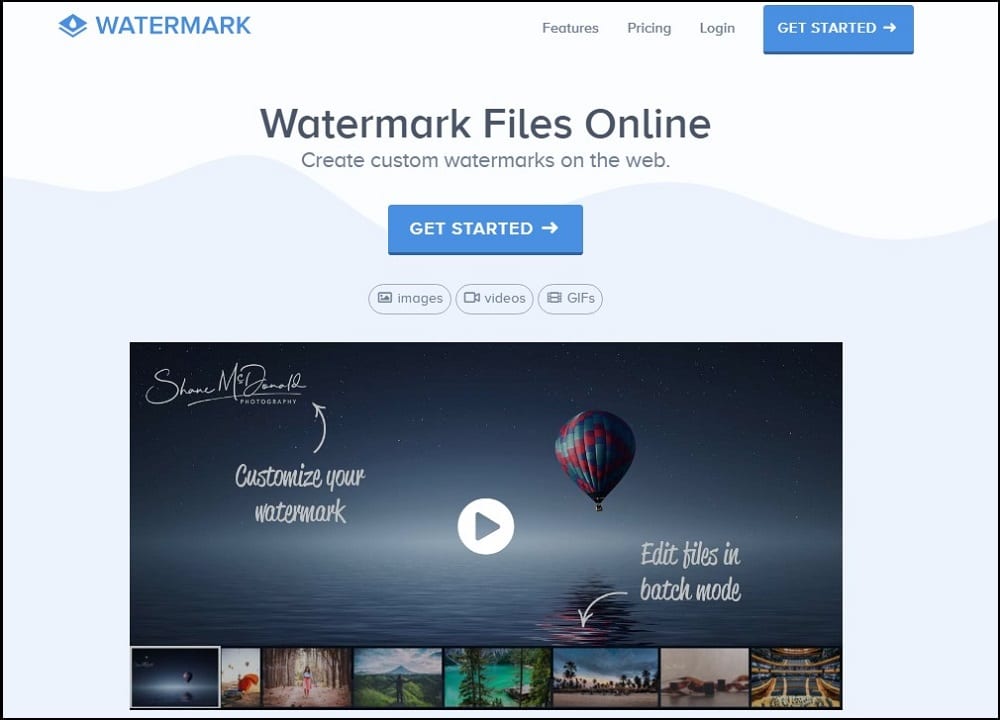 You can also add a watermark to your photos online. Many online platforms let you create batches of watermarks, such as watermark. ws. Therefore if you want to learn how to use this platform in adding a watermark to your photo or video, we have step by step guide here for you:
Step 1: First, visit the watermark.ws website using the browser on your device.
Step 2: Then attach files or import the photos from your computer. Still, you can import files from dropbox or social media platforms. It might take a long time, depending on your internet's upload speed or the size of files.
Step 3: Then after uploading, choose the photo you want to add watermark or edit each at ago by hovering over your files and clicking edit.
Step 4: Then create your watermark either use a text watermark or upload a logo as your watermark. When creating a text watermark, this platform offers you different options to select the fonts then customize them. You can as well include any copyright symbol.
Step 5: When you are done adding the watermark, tap on the apply button and save changes. The platform will prompt you to save the watermark as a template for future use when you click on the template button, a toolbar close to the editing opinion.
Step 6: Then you can perform any extra edits when you are still in the editor. Use the toolbar when you want to carry out extra edits to the photo. You can add another watermark or adjust the photo by cropping, adding effects, or resizing.
Step 7: After that, download your photo watermarked. First click on the finish button, then downloads to your computer the final file. You can also export it directly to your social media platforms or send it to a dropbox account.
---
How to Add Watermark to Photos in Photoshop
With the advancing technology, when the above methods do not work for you or seem too complicated, the last option is to use photoshop and add a watermark to your photo. It s a quick fix adding a watermark on a photo using photoshop. You can add a one-time watermark as a text or image/logo. In this section, we will describe each depending on your preference.
---
Creating the Text Watermark
Adding a text watermark to a photo is simple when using photoshop. You can combine simple words, letters, and copyright symbols. Here is a step by step guide:
Step 1: Launch Photoshop and create a new layer. So, first, open your photo using photoshop. To create a new layer, click on layer> new>layer, name it watermarks, and tap okay to create a new layer.
Step 2: When you have selected a new layer, select a text tool, tap anywhere on the image, and start typing your copyright. You should not be worried about the color, position, or font size. You can also insert a copyright symbol using windows character map, i.e. start> programs> accessories> edit>then special character ©. using a keyboard shortcut, hold alt and type in 0169 or press optin+G when using macOS.
Step 3: Go to the text tool, click, and highlight the copyright notice to tweak the fonts. If you want to change the font face and color, use the toolbar and modify it to suit your taste. Play around with different fonts and resize the watermark. The plain color on the watermark looks more attractive.
Step 4: Then select where you want to position the watermark. In most cases, prefer to place a watermark on a photo in place with roughly even color to avoid obscuring the main photo and specifically close to the corner. You can also use the free transform tool to resize the watermark but always remember to hold the shift button to maintain the proportionality.
Step 5: So far, the watermark is fine though not subtle adjust the opacity of the layers to correct it and get it to someone between 50 to 30%. But still, you can add some effects such as emboss and bevel to make it look good and separate it from the background of your photo. Always remember that simplicity is the best.
---
Add the Logo Watermark
The last option assumes that you are a professional photographer or blogger, already with ready-made logos. You can use your business or personal logo to add to your photos as a watermark. It looks more professional than using pan text. So, to effectively add a logo watermark to the photo, we have a well-explained guide here:-
Step 1: Prepare your image for a logo to work effectively as a watermark. It involves opening the original image and converting elements to black, white, and even a shade of grey.
Step 2: Add the logo watermark to the photo. Open both files on photoshop, then copy your logo to the photo and place it across to look like a watermark. Your position by dragging or resizing.
Step 3: Then choose the logo layer and use the blend mode to darken. Hence, the white background will disappear, which will leave only black and grey areas. And if you want to make the watermark look semi-transparent, then change the opacity of the logo layer.
For professionalism, the logo watermark looks more attractive as white than black. It is simple to do that. You only need to add 'invert adjustment layer that is layer>new adjustment layer> invert. Ensure that you position the inverted layer above the logo layer, thus linking the two. Again select the logo layer and change the blend mode to lighten.
---
Conclusion
Watermarks are vital for identifying the brand, guarding your image online, and helping you prevent theft and online piracy. Adding a watermark to your photo is simple when you know the procedure. We have discussed the most effective and efficient methods to add a watermark to the photo regardless of the devices. Read keenly, grasp the concept, and use it for personal and business benefits.